Showing appreciation to your family and friends are not just meant for special occasions. You can do it at any time of the day. But if you're finding it hard to show your love through words, why not show it by whipping up a delicious home-cooked meal? If they love Japanese cuisine, today's your lucky day because we've curated a fuss-free 3-course home-cooked Japanese meal that they will love and appreciate.
Appetisers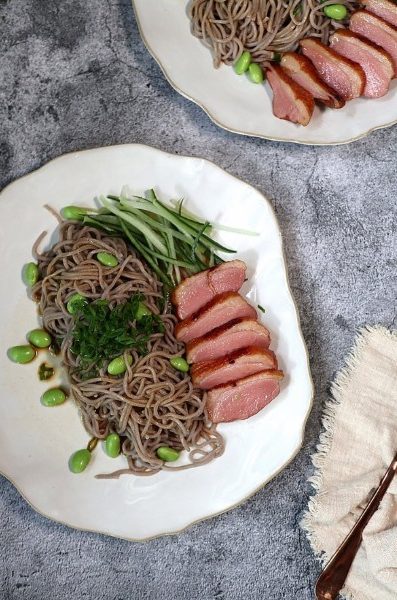 Source: Lace Zhang
If they love anything from the Land of the Rising Sun, this Smoked Duck Soba Salad is gonna be a hit! It is not only oishii, but so easy to prepare yet packs a flavourful punch. Created by food blogger Lace Zhang (@aroundthediningtable), you can serve this delight in smaller portions as appetisers.
Prep time: 15 minutes
Cooking time: 30 minutes
Servings: 2 pax
Ingredients:
•2 slabs of smoked duck (breast)
•Cucumber slices, fresh lettuce or any preferred vegetables
•Spring onions
•2 servings of soba noodles
•10 to 12 edamame pods
•2 tbsp of mirin
•2 tbsp of sake (optional)
•45ml Yuzu juice (lemon and lime juice)
•1 tbsp of sesame oil
Instructions:
•For Ponzu dressing, mix mirin, sake, Yuzu, sesame oil and set aside.
•Heat the smoked duck on a dry pan over medium heat. Remove from pan, set aside and slice once the meat has cooled down.
•Place soba noodles and edamame in boiling water for 5 minutes. Then quickly rinse under running water to prevent them from cooking further. Place in an ice bath after to stop further cooking.
•Chop the spring onions and slice the cucumber to your preferred size.
•Place noodles on a serving plate, add the vegetables, edamame and the smoked duck slices on the noodles.
•Drizzle Ponzu dressing and garnish with chopped spring onions.
Mains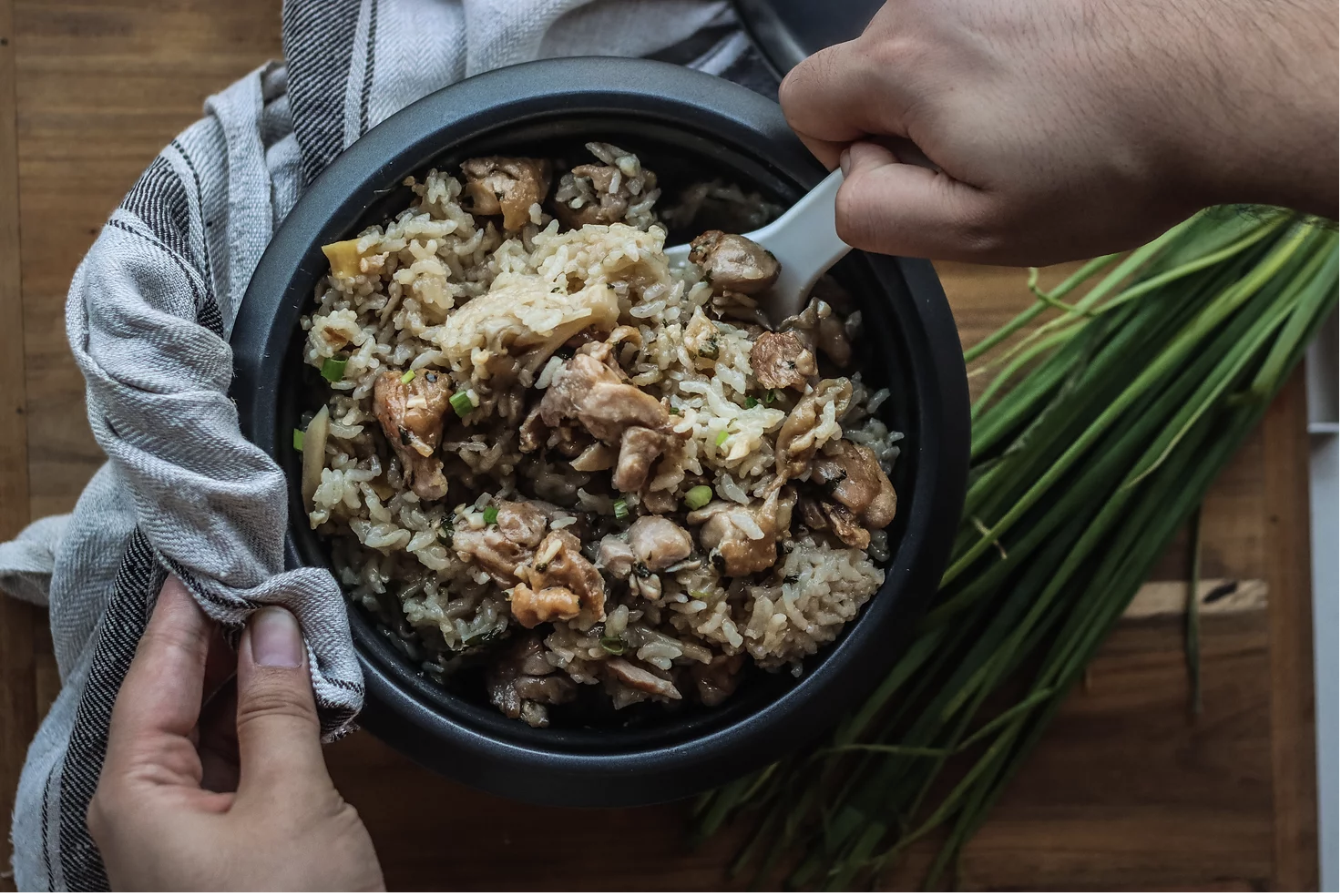 Source: Chocolat et Basil
We understand cooking can be a hassle, especially the thought of doing dishes after. But we're here to save you with the Takikomi Gohan (Japanese Mixed Rice) recipe. All you need is a rice cooker and a frying pan for light frying.
Prep time: 45 minutes
Cook time: 45 minutes
Servings: 4 pax
Ingredients:
•2 cups of Japanese or Calrose rice
•600ml of vegetable or chicken stock
•300g boneless chicken thighs
•100 shitake mushrooms
•2 tbsp soy sauce
•½ tbsp fight sauce
•1 tbsp sesame oil
•3 cloves of minced garlic and 4 cloves of whole garlic
•30g sliced ginger
•Chopped coriander leaves
•1 tsp sugar
•1 tsp cornflour
•1 tsp white pepper
•1 knob of butter
•Sesame oil for pan-frying chicken
•Sliced scallion and furikake for garnishing
Instructions:
•Wash and soak rice in water for 30 minutes.
•Cut chicken thighs in 1-inch cubes and marinate chicken with soy sauce, fish sauce, minced garlic, cornflour, sugar, coriander, white pepper and sesame oil.
•Remove stems of shitake mushroom and slice into smaller pieces.
•Drain the rice and set aside for 15 minutes.
•After 15 minutes, heat saucepan over medium heat and add butter, whole garlic, shitake mushrooms, ginger slices and rice.
•Stir-fry until rice is slightly browned and add sesame oil.
•Turn off heat, pour into a rice cooker and add 500ml of vegetable/ chicken stock.
•Using the same saucepan, give it a quick wipe with a kitchen towel, add sesame oil and pan-fry chicken until golden brown.
•Pour chicken into the rice cooker and cook for 15 minutes. If you like a bit of char, add another 5 to 10 minutes.
•Sprinkle with scallion, furikake for garnishing and dig in while it's hot.
Desserts
Source: Food Random
What's better than a Basque Burnt Cheesecake? Matcha Burnt Cheesecake of course! It is smooth, creamy, rich and we promise you'll wipe your plate clean. Go ahead and try this simple recipe, you'll thank us later. You'll need a 6-inch round cake thin, 1 layer parchment paper and mixer.
Ingredients & Utensils:
•250g cream cheese (room temperature)
•3 eggs
•75g caster sugar
•10g Matcha powder
•6g corn flour
•130g whipping cream
Instructions:
•Line cake tin with parchment paper and ensure it comes at least 5cm above the tin on all sides.
•Preheat oven for 220 degree Celsius for baking.
•In a mixing bowl, add cream cheese, caster sugar and beat until smooth.
•Slowly add eggs in batches, continue mixing until consistency is smooth with no lumps.
•Sift in the matcha powder and corn flour.
•Continue mixing until matcha powder is dissolved and evenly spread.
•While still in the mixer, add in whipping cream.
•Pour into the prepared cake tin and tap lightly to remove air bubbles and bake in preheated oven for 220 degree Celsius for 25 minutes.
•Let it cool slightly (note that the size will drastically fall as it cools). Carefully peel away parchment paper from sides of cheesecake.
•Tip: If time permits, bake one day ahead and let cheesecake sit for about 6 hours in the fridge before cutting.
This article was first written by Shopee SG, and repurposed with permission by meREWARDS. For proper and successful cashback tracking, please ensure you are signed in and shop through meREWARDS's Shopee page, and click 'Buy Now'.