Lao Huo Tang has been established in Singapore since 2008, when its first hawker stall opened in Chinatown Complex serving nutritious soups painstakingly boiled with the freshest ingredients. Only natural flavourings are used for their soups, which means they are naturally low in fat, sodium, and calories. All their soups are also free from MSG.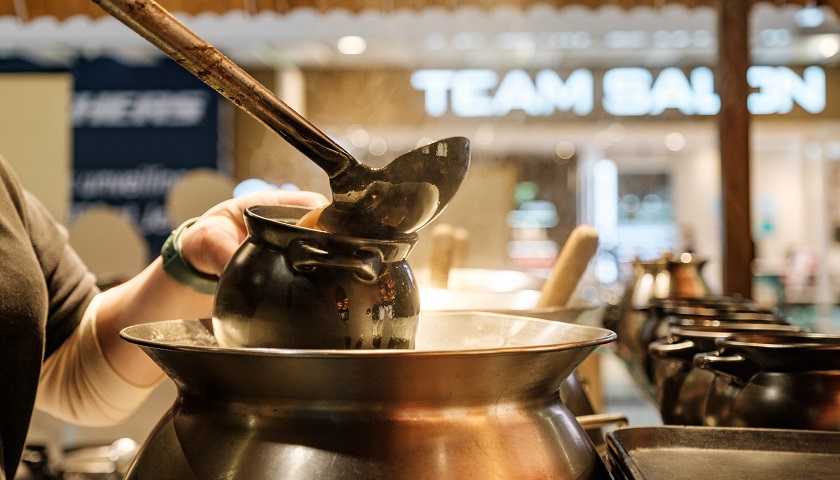 Lao Huo Tang are known for their nutritious soups made with the freshest ingredients
It is this dedication to serving high-quality and nutritious Cantonese-style soups and traditional home-cooked dishes to the masses that has seen Lao Huo Tang garner a huge following. Very soon it was clear the humble stall at Chinatown Complex was not able to handle the long lines and huge demand, and the owners decided to expand into the restaurant world in 2011. To date it counts 21 food court outlets and 10 restaurant outlets under its belt.
Some Lao Huo Tang all-time favourites include Lotus Root Peanut Soup, Chinese Old Cucumber Soup, Buddha Jump Over Wall, and Pig Trotters with Black Vinegar. For this taste test, we headed to the restaurant outlet at JEM and their concept store, Lao Huo Tang Canton at IMM, which specializes in traditional Cantonese Cuisine in a more atas setting.
The interior at all Lao Huo Tang outlets features a consistent theme - you'll find many of such red lanterns and wooden lattice decorating their outlets. It certainly gave off a homely and welcoming vibe, reminiscent of our favourite Chinese restaurants.
JEM restaurant interior - dining below the lanterns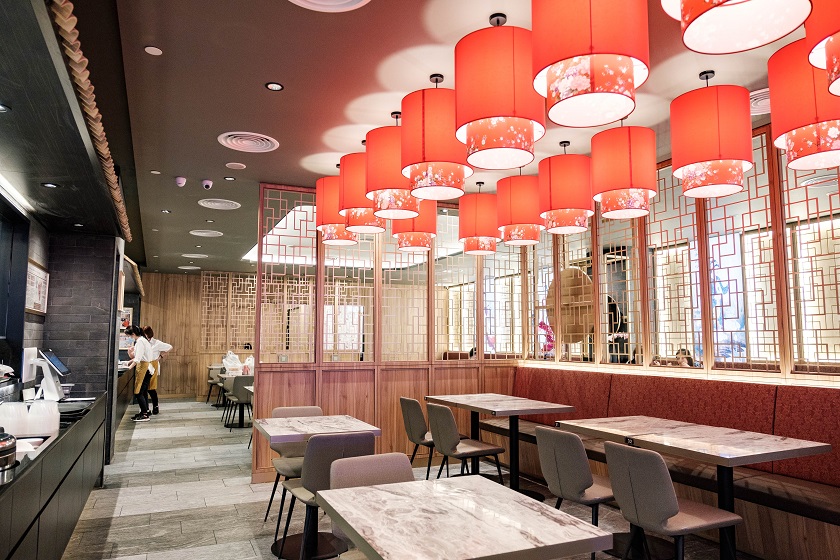 Similar concept at the Canton outlet, albeit with more atas tables
Now for the reason we're here - the food.
We got ourselves their famous Buddha Jump Over Wall, Pig Trotters with Black Vinegar, Handmade Crispy Tofu with Minced Meat, Crispy Cereal Prawn Ball, and the Crispy Salted Egg Lotus Root, which also happens to be one of the 1-for-1 deals on the meREWARDS platform. But more on that later.
First the soup.
1. Buddha Jump Over Wall
If you are looking for a light and refreshing soup, skip this and go for their other soups like the Apple & Snow Pear Soup with Pork Rib or the Fresh Watercress Soup with Pork Rib. Consisting of premium ingredients from land and sea, the Buddha Jump Over Wall is a hearty and nutritious soup bursting with flavours.
Hearty soup to soothe our souls
Combining ingredients such as sharks' fin, fish maw, oyster, scallop, shiitake mushroom, red date, wolfberry and a huge chunk of fleshy chicken, the soup is brewed over a long period of time. This delicate process brings out the sweetness of the seafood, while thickening the broth and bringing out the tenderness of the seafood and chicken meat.
Rich in protein, collagen, essential vitamins and minerals, this is one invigorating soup you will want to have after a long day at work.
2. Pig Trotters with Black Vinegar
Recommended to us by the staff, this is a dish that is said to be one of the best-sellers across all their outlets. This is also a notoriously difficult dish to find in local restaurants, probably due to the effort required to prepare this dish.
Look at that glistening pork
Simmered in a pot for hours and served with a generous serving of ginger slices, the pig trotters were immensely tender and struck a fine balance between the sweetness from the brown sugar and the sourness from the black vinegar.
Peel at the glistening meat with your chopsticks and you'll find the layers of meat coming off like morning dew on leaves - they glide off gracefully.
This dish serves as the perfect appetizer. Just a few bites of the tender meat and we were starting to feel even hungrier than when we first arrived.
3. Handmade Crispy Tofu with Minced Meat
Tofu is hard to go wrong. This dish is made by hand each morning and thrown into the deep fryer until the outer skin takes on a perfectly golden brown hue. Mushroom gravy with minced meat and eggs is then slapped over the tofu and served with steamed broccoli on the sides.
Add a protein boost to your meal
The outer skin was crispy and the inside, silky smooth. There is nothing to not like about this dish. Order it for the protein boost to your meal.
Serving size is also huge, and we reckon it is enough to feed 4 - 6 people.
4. Crispy Cereal Prawn Ball
We are not saying this because we are a sucker for anything with cereal, but we absolutely loved Lao Huo Tang's spin on one of Singaporeans' all-time favourite dishes at zi char stalls - Crispy Cereal Prawn Ball.
Upon first bite, you'll be pleasantly surprised by the crunch and aroma from the cereal. It was sweet, not too oily and complemented the tender and succulent prawns well.
A must-order in our books.
They pack a punch
5. Crispy Salted Egg Lotus Root
This was another dish that took us by pleasant surprise.
While we are all too familiar with anything coated in salted egg batter, this dish incorporates the juiciness of fresh lotus root slices with the spice and saltiness from salted egg. Every bite guarantees you a juice explosion.
Beware the crunch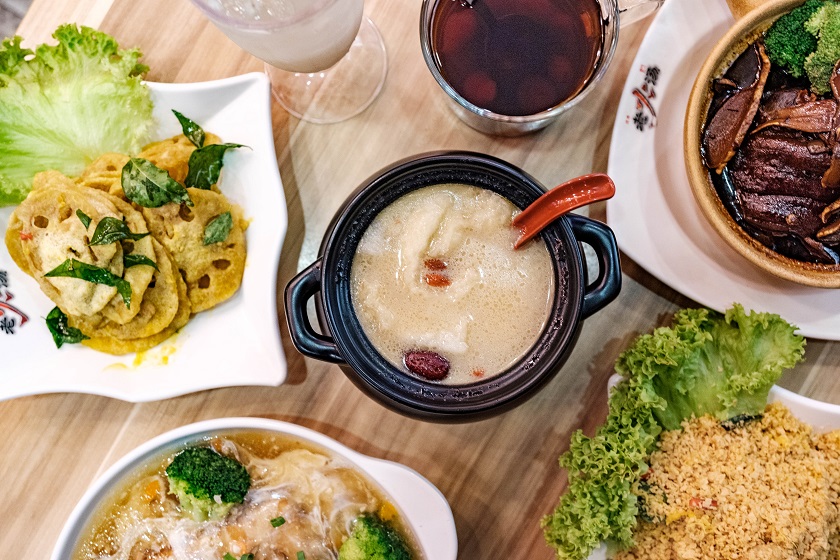 Sumptuous spread
Lao Huo Tang Canton (IMM)
At their Canton outlet, you get different offerings on the menu. Some notable additions to the menu at Canton are their signature Beauty Collagen Soup, Imperial Chicken Soup, seafood dishes such as Whole Prawns and Deep Fried Squid as well as an entirely new menu for H.K Roast Meats.
Same interior theme at their Canton outlet
We tried their Beauty Collagen Soup, Imperial Chicken Soup and the 3 Combination H.K Roast platter for this review.
1. Beauty Collagen Soup
The Beauty Collagen Soup was creamy, smooth, and delicious. Ingredients such as fish maw, peach gum, red date, longan, wolfberry, white fungus and chicken are boiled together in a pork bone broth for hours with no MSG or preservatives added.
Said to be good for complexion and our joints with the high levels of collagen, you will like this if you are into creamy soups. We especially liked how they were so generous with their servings of white fungus and fish maw.
Smooth, creamy and thoroughly savoury


The texture of the soup was extremely creamy, owing to the hours of boiling the soup has undergone before it is ready to be served. The chicken thigh was also soft and tender, having been brewed for at least 4-5 hours.
2. Imperial Chicken Soup
Compared to the Beauty Collagen Soup, the bittersweet Imperial Chicken Soup sits on the other side of the aisle with its herbal and light tastes. Brewed from different kinds of herbs such as dang gui, dang shen, yu zhu, gan cao, chuan xiong, wolfberry, and red date, this tonic of a soup provides the perfect nutrition boost to your body. This soup is also said to improve blood circulation as well as our body's immunity levels.
A herbal concoction

3. 3 Combination H.K Roast
The main thing that sets Canton apart from the other Lao Huo Tang outlets is their H.K Roast menu. Choose from individual roast meat like Roasted Crackling Pork Belly and Honey Glazed Roasted BBQ Pork, or go for their 2 or 3 Combination platter with the aforementioned meats, plus their Roasted Duck.
Quality meats galore
The Roasted Crackling Pork Belly was, through to its name, crackling. Expect to make lots of noise as you crunch through the crispy pork skin to the satisfaction of your taste and aural senses.
Their Honey Glazed Roasted BBQ Pork was the real winner. More often than not we get disappointed by char siew that are either too tough or layered with too much BBQ sauce. Canton's char siew was the perfect combination of tender and slightly charred meat with a BBQ sauce that was not too overpowering, allowing the texture and aroma of the meat to take centre stage.
Get this, you won't be disappointed.
Tender and succulent char siewOverall, Lao Huo Tang is an ideal place to go to for homely and soothing Cantonese-style soups in a comfortable environment. While their prices may be a tad higher compared to your regular zi char stalls, they more than make up for it with their quality and nutritious dishes. Remember, no artificial preservatives and MSG in their food!
meREWARDS 1-for-1 Deals
Now to the best part.
Are you a meREWARDS member? If so, you get to enjoy 1-for-1 deals on the aforementioned Crispy Salted Egg Lotus Root, Crispy Cereal Fish Skin, Longan Grass Jelly or Non-Alcoholic Drinks at all their regular Lao Huo Tang outlets.
Heading to their Canton outlet instead? Flash your meREWARDS app to enjoy 1-for-1 deals on their Soup or Non-Alcoholic Drinks.
Their Homemade Red Dates Longan Tea was the perfect drink to cleanse our palate withLooking for more 1-for-1 deals on the meREWARDS platform? Check our guide on Chinese Restaurants with 1-for-1 Deals to Get the Most Bang for Your Buck!
All Lao Huo Tang outlets open daily from 11am - 9.15pm. Lao Huo Tang Canton opens daily from 11am - 9.30pm.
Lao Huo Tang (Causeway Point)
Address: 1 Woodlands Square, #03-02 Causeway Point, Singapore 738099
Lao Huo Tang (NEX)
Address: 23 Serangoon Central, #03-08/09 NEX, Singapore 556083
Lao Huo Tang (Sun Plaza)
Address: 30 Sembawang Drive, #03-15/16 Sun Plaza, Singapore 757713
Lao Huo Tang (Century Square)
Address: 2 Tampines Central 5, #02-28 Century Square, Singapore 529509
Lao Huo Tang (Marina Square)
Address: 6 Raffles Boulevard, #02-202 Marina Square, Singapore 039594
Lao Huo Tang (Seletar Mall)
Address: 33 Sengkang West Ave, #B1-28/29 Seletar Mall, Singapore 797653
Lao Huo Tang (Jurong Point 2)
Address: 63 Jurong West Central 3, #B1-45 Jurong Point 2 Shopping Mall, Singapore 648331
Lao Huo Tang (The Star Vista)
Address: 1 Vista Exchange Green, #B1-31A The Star Vista, Singapore 138617
Lao Huo Tang (Waterway Point)
Address: 83 Punggol Central, #B1-22 Waterway Point, Singapore 828761
Lao Huo Tang (JEM)
Address: 50 Jurong Gateway Rd, #03 - 23, Singapore 608549
Lao Huo Tang Canton
Address: IMM, 2 Jurong East Street 21, #01-22, Singapore 609601
This is an independent review brought to you by meREWARDS.