Drum up celebrations for the upcoming Mid-Autumn Festival on 21 Sep with Mdm Ling Bakery's signature mooncakes. This year, the limited-edition box design features a game of Imperial Chinese Chess, International Chess and Snake & Ladder, making them the perfect unique gift to share with your family and friends. From now till 23 Aug, enjoy the early bird special, and grab 30% OFF when you buy their best-selling mooncakes. Psst... don't forget to join our exclusive Giveaway with Mdm Ling Bakery! Read more to find out how you can win attractive prizes.
Here are video teasers of how each box looks like.
Apply our promo code here at checkout to enjoy $5 OFF (Min. Spend $60).
Uniting families across different generations, these interactive game boxes allow you to bond while indulging in their best-selling mooncakes. From Mao Shan Wang Durian Snowskin, Insta-worthy Lavalicious, Signature Cookie-Inspired to Traditional Series Mooncakes, let us tease you with what to expect.
1. Mao Shan Wang Durian Snowskin Mooncakes ($69, U.P. $92)
Luxuriously satisfying, these snowskin mooncakes are classics and favourite amongst durian lovers. Made with only the best Mao Shan Wang durian, take a bite of the durian pulp at the centre, encapsulated with a thin and mochi-like snowskin. Each box contains eight mooncakes (560g in total) and comes with a board game.
2. MLB Insta-worthy Lavalicious Mooncakes ($58.50, U.P. $78)
Whip out your mobile phones and Instagram these delightful treats, as the rich flavours of matcha, salted egg, coffee caramel and Belgian chocolate oozes from the centre when cut in half. If you have a knack for sweets, this box is the right one for you. You'll receive four mooncakes (175g per pc) – Japanese Matcha, Nanyang Coffee Caramel, Hong Kong Salted Egg Custard and Finest Belgian & Italian Chocolate Hazelnut Mooncakes. All flavours are vegetarian friendly.
Apply our promo code here at checkout to enjoy $5 OFF (Min. Spend $60).
3. MLB Signature Cookie-Inspired Mooncakes ($46.50 - $58.50, U.P. $62 - $78)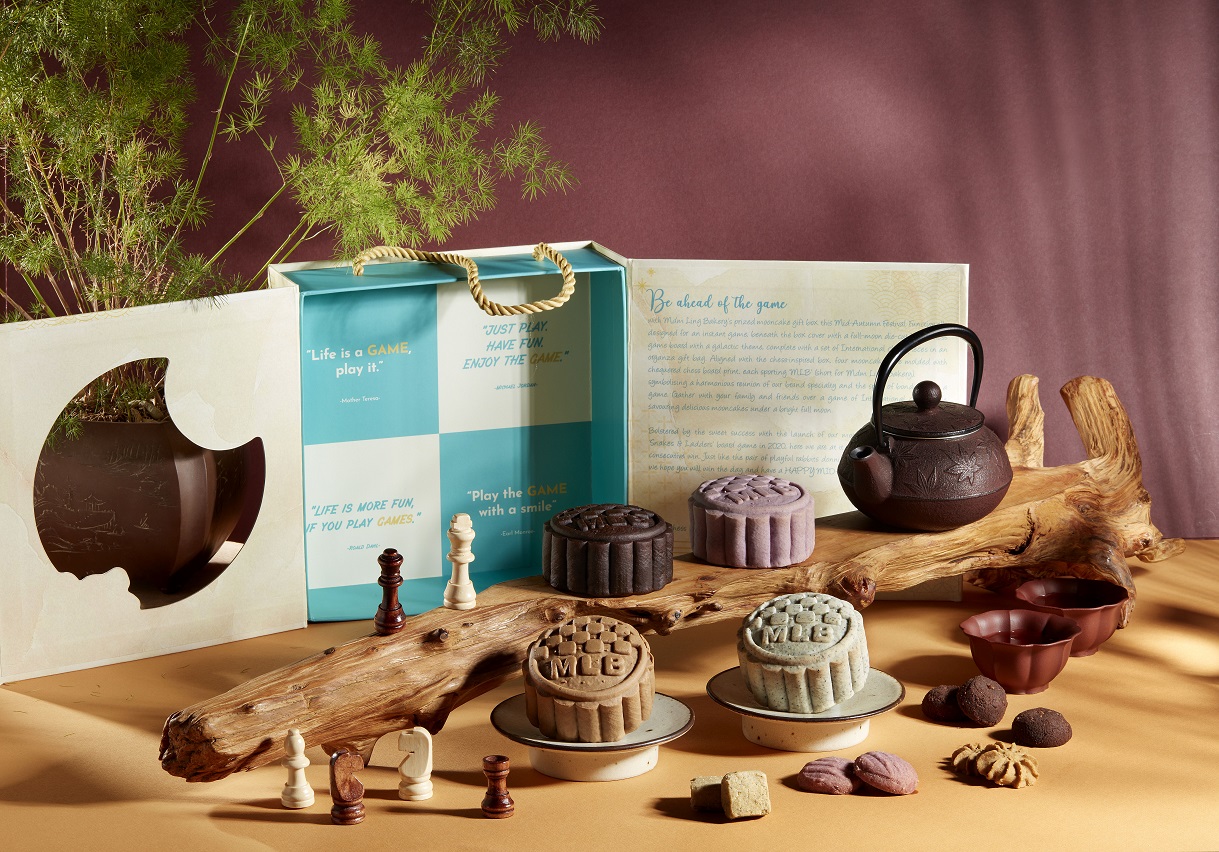 Halal-certified, vegetarian-friendly and made with low sugar, these cookie-inspired mooncakes feature four distinct flavours – Kopi Siew Dai, Japanese Purple Sweet Potato with Pandan Lotus, Mung Bean with Sesame-Lotus and Belgian-Himalayan Salt Chocolate Almond Mooncakes. For a surprise centre-filling with modern flavours, you ought to try this box.
4. Traditional Series Mooncakes
If you like the classic lotus paste in a golden-brown baked mooncake case, you can't go wrong with the Traditional Pure White Lotus Paste with Melon Seeds and/ or Salted Egg Yolk. An all-time favourite amongst our elders, these treats are even enjoyed by the young ones.
Please take note of these important points when making your purchase:
• Enjoy FREE delivery for all orders above $45.
• All deliveries are made from Mon – Sat and can be fulfilled 2 working days from the order and payment date.
• Self-collection and walk-ins are unavailable till further notice.
• Advance orders are allowed, such as ordering for a specific holiday or celebration.
• All products are Agri-Food & Veterinary Authority of Singapore (AVA) approved and have a Halal Certification and Good Manufacturing Practice (GMP) accreditation.
Apply our promo code here at checkout to enjoy $5 OFF (Min. Spend $60).
To apply our promo codes for Online stores, sign in to meREWARDS, click 'Get Coupon Code' and apply at the merchant's checkout page. For Physical stores, flash the voucher in your meREWARDS App to the merchant. More details here.
[meREWARDS National Day month GIVEAWAY SPECIAL]
Celebrate the nation's birthday with friends, family and Mdm Ling Bakery this National Day month! From their signature Butter Cookies, Pineapple Ball, Cheese Bangkit to Otah Macaron Buns, be one of the lucky 5 winners of a $30 e-Voucher. To join this giveaway, follow these 4 simple steps.
All images are credited to Mdm Ling Bakery.