A bakery should not just be a place where people come to pick up their bread, pay, and leave.
Born out of the idea of having a comfortable place where strangers come for good bakes but leave as friends is The Lunar Rabbit Boulangerie, a bakery serving freshly made and high-quality French bakes at 16 Hamilton Road.
Clean and modern layout which will make you feel at home
The driving force behind this mini community is Elaine, Le Cordon Bleu graduate and chief baker, and her husband Lee, a certified barista who also ensures the business runs like clockwork each day.
Coffee is brewed from carefully-selected and premium Arabica beans
Elaine was just like many of us pre-pandemic, working in the corporate sector despite her childhood dream of owning her bakery one day. She recounted to us the happy memories she holds dearly of her mum bringing her down to their neighbourhood bakery each day. That smell of the bakery and the sights of the fresh bakes were what ignited the flames of passion for baking.
Be wow-ed by the selection of bakes available
Determined to pursue her childhood dream, Elaine left her job in 2019 to enroll for the prestigious Le Cordon Bleu in Tokyo, Japan. Upon her graduation in 2020, Elaine continued to bake at home and share her creations with her friends and family. With their encouragement, she decided to take a leap of faith and start her own bakery. Fast forward to May 2022, The Lunar Rabbit Boulangerie was finally opened along 16 Hamilton Road, and boy are we glad they did.
meREWARDS 1-for-1 Deals
In partnership with meREWARDS, The Lunar Rabbit Boulangerie has offered 3 of their hot favourites - the Classic Croissant ($3.80), Sacristain ($4.50), and Brioche Chocolat et Crumble ($6.90) as 1-for-1 deals. Here is what you can expect.
1. Classic Croissant ($3.80)
Crispy and flaky outside - lots of crunch guaranteed
Not all croissants are made the same, and certainly not this one from The Lunar Rabbit Boulangerie. We all know that true croissants are hard to find outside of France, mostly due to the flour and butter used. The Classic Croissant from The Lunar Rabbit Boulangerie is made from French flour and AOP butter, French for "Appellation d'Origine Protégée" and English for "Protected Designation of Origin". It is a European label that identifies good quality products.
Of the different AOP butter brands in the market, the Classic Croissant is made from Lescure cultured butter, which gives the resulting bake different layers of flavours unlike normal butter. Its delicate, creamy, and distinct flavour (some say it tastes like hazelnut), coupled with a high butterfat content and high melting point makes it ideal for croissants, which require several rounds of rolling.
Airy and chewy inside will have you craving for more
The result is a crispy exterior with a soft and chewy inside. Most croissants in the market are made with margarine or hydrogenated oil and will not give you the same contrast.
We found the croissant to be different from normal croissants in the market in the sense that the butter was not overpowering to the extent that it was the only flavour we taste. Savour the croissant slowly and you will be able to taste the different layers to the flavour - partly sweet and partly salty. The crispy outside and soft, chewy inside resulted in a very pleasant munching experience - almost like we were munching on a fried chicken drumstick.
2. Sacristain ($4.50)
Crispy and crunchy sweet treat
Sacristain is French sweet treat that originated from Provence in the south of France. Think of it as a long and twisted croissant that is sweet and crispy. Layered with generous servings of ground almonds, cinnamon, and chocolate chips, it is easy to understand why they say that this item is a bestseller with children.
They are also usually a foot long, meaning it can probably make 2 children happy. Those looking for a simple and sweet treat with plenty of crunch will enjoy this.
3. Brioche Chocolat et Crumble ($6.90)
The highlight lays within
Rounding up the 3 1-for-1 deals is the Brioche Chocolat et Crumble, a sweet treat made from Valrhona chocolate containing no less than 64% cacao. What's so special then, you might ask? If you have had chocolate at a high-end restaurant before, chances are it was Valrhona chocolate.
Valrhona is a premium chocolate company based in France's Rhone Valley (hence the name), and probably the world's largest professional producer of chocolate. The reason why their chocolates are so expensive and sought after is due to their hands-on approach towards the entire manufacturing process, including where the cacao is grown (they use only cacao from their own plantations in the Dominican Republic and Venezuela) and how it is refined into chocolate.
Flowing chocolate lava made from Valrhona chocolate
What you get is a soft brioche (type of bread with high egg and butter content) filled with an intense and ultra-rich chocolate-y ganache (filling for pastries) guaranteed to take you to chocolate heaven. Chocolate lovers will not get enough of this, and why should they since these delectable treats are on 1-for-1 with your meREWARDS app?
In addition to the aforementioned pastries, other bestsellers include the Kouign Amann ($4.80), a traditional bread layered cake-like with brown sugar imported from France, Quiche ($5.70), a meaty and creamy pastry with Gruyère cheese filling, and Fleur De Framboise ($8.20), a flower-shaped viennoiserie (a kind of pastry made from a yeast-leavened dough like bread but with additional ingredients such as eggs, butter, milk, cream and sugar for a richer taste) filled with raspberry jam and raspberry confit and with all sides of the pastry cut and shaped separately.
Laborious? Yes. It goes to show just how much effort Elaine puts in into each and every bake to ensure nothing but authenticity and quality.
The highest level of honour and attestation to the bakery is perhaps its popularity within the French community in Singapore. Some are known to travel from outside of the area just to pick up these fresh and authentic bakes. Just as we were happily munching away, two French customers walked in to grab a few for themselves.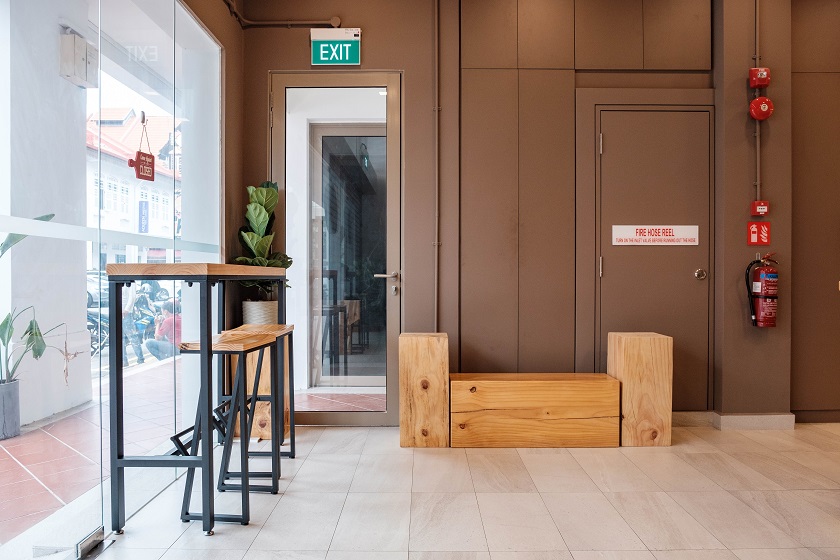 Window seat for those who enjoy people watching
The next time you are in the Lavender/Jalan Besar area, be sure to check out The Lunar Rabbit Boulangerie for some authentic French bakes. We are confident they will be some of the best ones you have tried in Singapore.
Walking distance from Bendemeer MRT Station
In the Jalan Besar area and hunting for more food deals? Check out our review on Dim Sum Haus, a Family Business Serving Fresh and Handcrafted Dim Sum at Wallet-friendly Prices.
The Lunar Rabbit Boulangerie
Address: 16 Hamilton Rd, #01-02, Singapore 209186
Opening Hours: Mon 8am - 5pm, Tue - Sun 8.30am - 5pm. Closed on Wed.
Nearest MRT Station: Bendemeer Station
This is an independent review brought to you by meREWARDS.