We all love our roti prata, or roti canai for our Malaysian readers.
But have you ever gazed at your neighbourhood roti prata uncle skillfully going about his prata flipping and thought to yourself "I wished I could flip like he does"?
Prata making, contrary to what many believe, is an art in itself. It requires rounds of masterful kneading and flipping of the dough to the point it becomes incredibly thin, before it is folded and pan-fried to golden perfection.
As our company has time and again emphasised the importance of upskilling and acquiring in-demand skills, the team decided to enrol for a prata-making workshop at Casuarina Curry (MacPherson Road). And while we are at it, we also tried out some of the signature dishes at Casuarina Curry. Read on to find out our verdicts!
The MacPherson Road outlet
1. Prata-Making Workshop ($34.90/pax, Wednesday Only. Includes All-You-Can-Eat Prata Buffet)
Casuarina Curry, with a history of over 50 years, is currently helmed by their 4th generation owners. Originally named Prata Shop, it was well-known among locals for being the to-go place for prata. It subsequently changed its name to Casuarina Curry to pay homage to its origins at Casuarina Road, where the first shop was located.
They are also the first restaurant in Singapore to offer prata-making workshops where you can learn about the origins of this humble dish and try your hands at flipping prata. Best part? You will be awarded a certificate so you can show off to all your friends that you are now a certified prata-flipper.
And to top it off, you get to fill your tummy from a wide selection of prata on their all-you-can-eat prata buffet menu (including hot drinks). New skill and a full tummy? We're sold.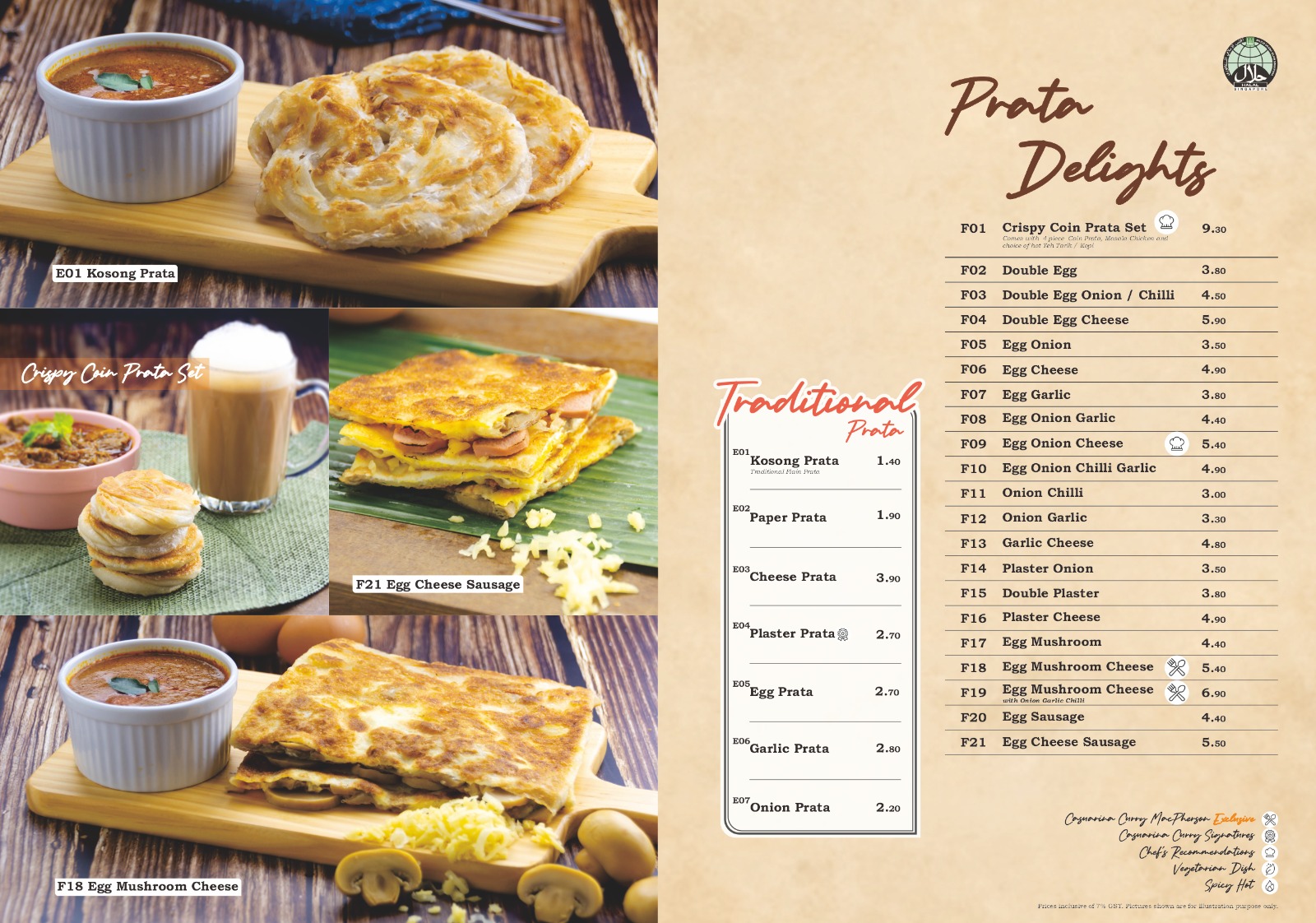 All-you-can-eat menu
The workshop instructor explaining the origins of roti prata
Dry run with a towelNo the towels you see are not for you to wipe your hands. They are used to simulate a prata while you learn the basics of flipping and folding one.
Who would have expected the ubiquitous 'Good Morning' towel to become a prata
If you think flipping a prata is simply about slamming that piece of dough on the table repeatedly until it becomes thin, you cannot be more wrong. You need to pay attention to how you hold the prata, as this affects the speed you can move on to flipping different parts of the prata in an efficient manner.
Remember, consistency is key.
Colleague imagining herself to be a prata master already
Once the instructors feel that you are ready to move on to the real deal, you will then be given clumps of dough, and this is when your journey to becoming a prata master begins.
First you learn to spread the dough out evenly
This is how NOT to flip a prata
We came to realise flipping a prata is not as easy as it looks. There are other intricate details involved, such as the position of your fingers and the twirling, that will play a big part in how well your prata turns out.
Not sure prata or goreng pisang
This colleague fared slightly better
You also get to learn how coin pratas, known for being small and round, are made.
Twirling the flattened dough to form a spherical shapeAnd the moment we have all been waiting for - the presentation of certificates. *drum rolls*
Yes, no WSQ certification, but these are still important skills you'll be heading home with!
Prata-flipper-elect during the next house party Feeling famished after all the non-stop arm movements, we ordered a few of their unique dishes with a local theme to fill our tummies.
2. Mala Murtabak ($14.50)
Originally meant to be a one-off menu item, the Mala Murtabak became such a hit with patrons that it has now found itself a permanent spot in the menu. Made with shredded chicken, Sichuan peppercorn, enoki mushroom, Chinese cabbage and a special mala mayonnaise sauce that is made in-house, we found it to be tongue-numbingly spicy, just like how all good mala should be.
Highly recommended for mala lovers.
Probably enough for 2-4 pax
A real spice kick guaranteed with each bite
3. Lamb Shank Briyani ($23.90)
This Rolls Royce of a briyani features slow-cooked and tender lamb shank in a tomato and onion-based gravy alongside fragrant yellow basmati rice cooked with herbs and spices, achar and papadam.
As a result of the slow cooking, the mutton was immensely tender and juicy, with some parts simply falling off the bones. The thick and spicy curry complemented the strong, gamey flavour profile of the mutton well.
Our colleague devoured the lamb shank in no time before we could even grab more pictures...
Salivating already

Juicy and tender mutton
4. Satay Prata ($9.80)
Hands up if you have ever ordered satay and roti prata separately at the hawker centre. There is something about the nation's most beloved meat skewer dish, and one of the most popular breakfast options around - roti prata. They taste so good when eaten together.
The minds at Casuarina Curry were quick to act. Out came the Satay Prata, featuring a creamy Chef's satay sauce filled with generous servings of marinated chicken, and layered atop their signature Casuarina crispy prata.
Crunch, crispy and spicy
The soft and juicy chicken bits contrasted well with the crispy prata and crunchy cucumber slices, providing for a very pleasant overall eating experience. We loved how the satay sauce was strong on the smokey and nutty flavour, unlike gimmicky ones elsewhere there were just sweet and spicy.
5. Ondeh Ondeh Prata ($4.90)
Created in 2016 when the ondeh ondeh wave hit Singapore, Casuarina Curry remains the one and only place in Singapore where this seemingly unconceivable combination can be found.
If you have been to Taiwan, you would have heard of the famous night market snack - the Taiwanese Ice Cream Burrito that is made with peanut ice cream, cilantro and wrapped in a thin jian bing, or Chinese crepe. This sweet and savoury snack is a hit with both locals and tourists alike, including myself.
The Ondeh Ondeh Prata by Casuarina Curry comes with ondeh ondeh ice cream, grated coconut, coconut jelly, gula melaka, and their signature crispy prata. Result is a sweet and savoury snack that reminded us of the many ice cream burritos we have gobbled down in Taiwan, but with a local twist.
My sauce don't drizzle drizzle, it flows
meREWARDS 1-for-1 Deals
Now to the good part.
Get more out of your money when you flash your meREWARDS app at Casuarina Curry. Redeem 1-for-1 deals on their signature crispy Roti Prata Kosong (Up to 2 pc), Chicken Masala Briyani, and Teh Tarik at no extra cost!
Feeling hungry already? Head on down to Casuarina Curry at MacPherson Road for these delicious pratas today!
Casuarina Curry (MacPherson Road)
Address: 187 MacPherson Rd, Singapore 348545
Opening Hours: Mon - Thu: 10am - 11pm, Fri: 10am - 12am, Sat: 8am - 12am, Sun: 8am - 11pm
Nearest MRT Station: Potong Pasir Station
This is an independent review brought to you by meREWARDS.