Springleaf Prata Place - the epitome of a local restaurant chain well loved by all Singaporeans. Think prata and more often than not Springleaf Prata Place comes to mind. They have grown from a humble prata shop at Thong Soon Avenue to today's 9 outlets across the island.
Springleaf Prata Place at SAFRA (Yishun)
Locals love them for their extensive range of prata - from classics such as their famous crispy prata with various fillings (egg, mozzarella cheese, portobello mushroom), to dessert prata comprising the likes of red bean, banana, chocolate, and strawberry. You can now add in a category of prata not found anywhere else - quirky and innovative fusion prata.
Imagine taking dishes like the Middle Eastern murtabak, the German bratwurst, or the Italian alfredo, and fusing them with the humble roti prata. Ingenious, we have to say.
And that's not the only reason we are here. Did you know that you can redeem 1-for-1 deals on their Ice Cream Prata, Regular Hot Masala Tea, and Mocktail (Shirley Cherry, Virgin Gula Melaka, Lychee-Tini or Cucumber Cooler) at Springleaf Prata Place with your meREWARDS app? Now that's more reason to head down to your nearest Springleaf Prata Place for a hearty breakfast!
Join us as we check out some of the must-try dishes at Springleaf Prata Place.
1. Prata Goreng
Take the prata that we all know and love, shred them into tiny bite-sized pieces, and stir-fry them with egg and lots of greens. Prata with wok hei, this is what it is. The Prata Goreng is the perfect choice for you when you are having those carb-craving days.
Prata Goreng - wok hei with every bite
After maggie and mee goreng, you now have prata goreng
2. Däs Prätwürst
The fusion prata idea first began in 2012 with their Ultimate Murtabak. They subsequently released quirky innovations such as the murtabak and Ramly burger fusion Murtaburger in 2013, Eggs Benedict-inspired Plaster Blaster in 2014, Umami 50 in 2015 to commemorate SG50, Salted Egg Prawn Prata in 2016 when anything with salted egg was the craze, Prata Alfredo, a collaboration with Unilever in 2017, Lā Ayam Parotta, which was inspired by the owner's holiday in Vietnam in 2018, and the Magic Meatless Murtabak in 2019.
Keeping in line with the tradition of releasing a new fusion prata item on their menu each year, the Däs Prätwürst was released in 2020 after the owners returned from their holiday trip to Germany. Inspired by the German fast food dish Currywurst, which typically consists of bratwurst cut into bite sizes chunks and seasoned with curry ketchup, Springleaf Prata Place's take involves chicken sausages seasoned with their homemade currywurst sauce and served with a side of sauerkraut.
Homemade currywurst sauce drizzled over the prata
Thick and juicy chicken sausage
It's like eating a crepe, but with the crispiness of prata and the juiciness of a thick chicken sausage. The home currywurst sauce tastes like the chicken curry that we are all used to, but sweeter.
3. Murtaburger (vegan option available)
This dish is inspired by Murtabak, a pan-fried pancake commonly found in Arabic countries and Southeast Asian countries like Indonesia, Malaysia, and Singapore, and the famous Ramly burger, an iconic burger chain from Malaysia.
If you have had a Ramly burger before you would know that they are known for the copious amounts of seasoning and sauces used. Springleaf Prata Place's take on this fusion dish includes juicy mutton patties topped with loads of black pepper sauce, chilli sauce, and mozzarella cheese and then carefully wrapped in prata dough and pan fried till crispy.
Murtabak + Ramly Burger = Murtaburger
The mozzarella cheese and generous amount of black pepper and chilli sauces did a good job at masking the gamey tastes of mutton. It felt like eating a murtabak but with the decadence of a Ramly burger. Plenty of oomph.
4. Ice Cream Prata
Yes, we know, this sounds like an impossible combination to most people. But there is a certain unspeakable charm to this unique creation. I find myself thinking about this dish at times when looking for dessert options. You know when you are not exactly fully satisfied after your meal but want something sweet at the same time. This is your answer if waffles with ice cream have become too mainstream for you.
Who needs waffles when you have prata?
The airiness of the crispy prata kosong allowed the chocolate ice cream to seep through and filling the prata with all the chocolatey goodness. Yums.
Corporate Social Responsibility
DId you know? 80% to 90% of the dough that is used to make their prata is made at their headquarter by persons with disability (PWD)? The same goes for around 50% of their kitchen staff, who are recruited from Autism Resource Centre (ARC), and more recently with SGEnable. They are also looking at increasing the percentage of dough made by PWDs in the future. Huge kudos to them indeed!
meREWARDS 1-for-1 Deals
Flash your meREWARDS app at any of Springleaf Prata Place's NINE outlets and indulge in 1-for-1 deals on Ice Cream Prata, Regular Hot Masala Tea, and Mocktail (Shirley Cherry, Virgin Gula Melaka, Lychee-Tini or Cucumber Cooler).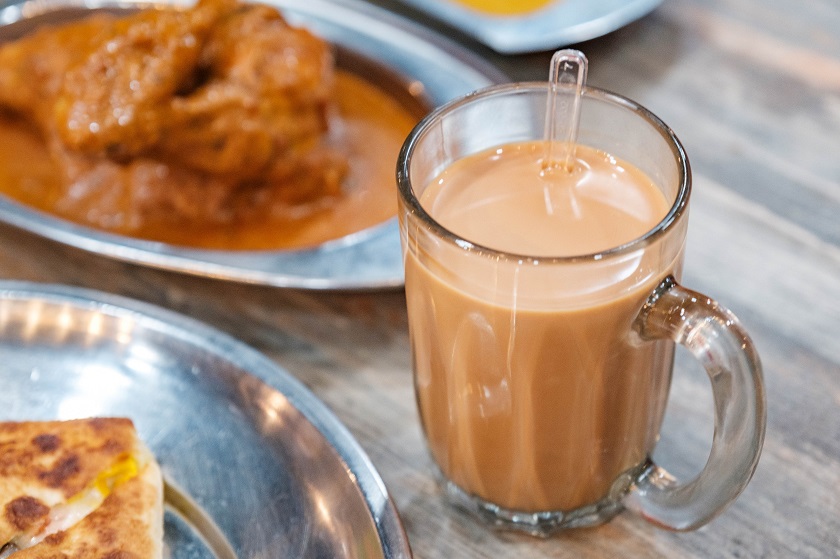 Hot Masala Tea - perfect with prata
Refreshing mocktails, now at 1-for-1

Prata spread
Springleaf Prata Place (Jalan Tua Kong)
Address: 57B Jalan Tua Kong, Singapore 457253
Opening Hours: Sun - Thu 8am - 11pm, Fri - Sat 8am - 12am. Closed on first Mon every month.
Nearest MRT Station: Bedok Station
Springleaf Prata Place (Junction 10)
Address: 1 Woodlands Rd, #01-25 Junction 10, Singapore 677899
Opening Hours: Daily 9am - 9pm
Nearest MRT Station: Bukit Panjang Station
Springleaf Prata Place (NEWest)
Address: 1 W Coast Dr, #01-108/109 NEWest, Singapore 128020
Opening Hours: Daily 24 hours
Nearest MRT Station: Clementi Station
Springleaf Prata Place (SAFRA Jurong)
Address: 333 Boon Lay Way, #2C-01, SAFRA Jurong, Singapore 649848
Opening Hours: Daily 8am - 10pm
Nearest MRT Station: Boon Lay Station
Springleaf Prata Place (SAFRA Tampines)
Address: 1A Tampines Street 92, #01-K1 SAFRA Tampines, Singapore 528882
Opening Hours: Daily 8am - 10pm
Nearest MRT Station: Tampines West Station
Springleaf Prata Place (SAFRA Yishun)
Address: 60 Yishun Ave 4, #01-07, Singapore 769027
Opening Hours: Daily Daily 8am - 10pm
Nearest MRT Station: Yishun Station
Springleaf Prata Place (Springleaf Garden)
Address: 1 Thong Soon Avenue, Singapore 787431
Opening Hours: Daily 8am - 11pm
Nearest MRT Station: Springleaf Station
Springleaf Prata Place (Sunset Way)
Address: 106 Clementi Street 12, #01-64 Sunset Way, Singapore 120106
Opening Hours: Daily 8am - 12am
Nearest MRT Station: Clementi Station
Springleaf Prata Place (The Rail Mall)
Address: 396 Upper Bukit Timah Road, Singapore 678048
Opening Hours: Daily 8am - 11pm
Neartest MRT Station: Hillview Station
Having those curry-craving days? Explore a world of tantaslising curries over at MANAM, an Indian restaurant located at Clarke Quay. Read our review of MANAM here.
This is an independent review brought to you by meREWARDS.