There are some places you have to see for yourself to believe your eyes, and cafe Q classified happens to be one of them.
cafe Q classified is a floral themed cafe that surrounds you with pastel coloured flora and fauna while you dine. Perhaps we can even say that they're a botanical garden masquerading as a cafe, but that would be doing injustice to their food.
A place for healing
With outlets at Takashimaya, Vivocity, and Parkway Parade, they are the perfect rest and recharge spots for shoppers looking to transport themselves into a temporary alternate universe.
We were invited for a taste test at the recently opened outlet at Vivocity, but all opinions expressed remain our own.
The lilac-themed outlet at Vivocity
Perfect for the gram
In addition to the abundant flora on display, there was even bird cage seating, the kind which you usually only find outdoors, and a bicycle on display to give off those European carnival vibes.
Complementing the floral theme are lush lilac and baby pink sofa seats and other mostly white and wooden furniture. Flower bouquets adorn every nook and cranny behind each table, giving you the perfect setting for your selfie shots.
No, the birds don't chirp
Lovely floral background for your selfies
Such is the allure of this place, after we were seated at our table, we observed countless passers-by stopping in their tracks to grab a photo or two.
Most tables were taken or reserved, and it wasn't even lunch time yet
Expect to see a variety of sides, salads, mains, desserts, and beverages at cafe Q classified. There is also a special menu consisting of outlet-specific items.
Exclusive items only available at the Vivocity outlet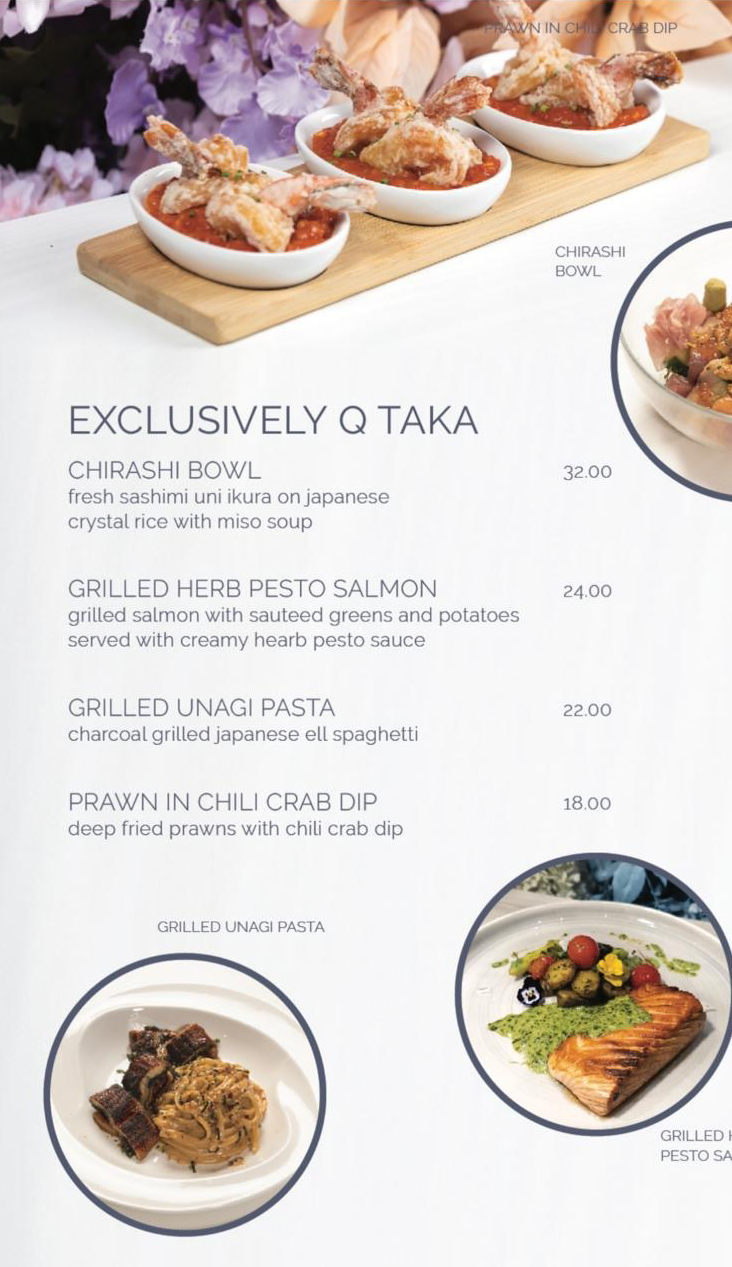 Exclusive items only available at the Takashimaya outlet
Planning a trip down already? Be sure to check out some of their bestsellers below.
1. Summertime Ahi - $20.90
Seared tuna slices are neatly layered atop a bed of rocket lettuce, roasted avocado, and topped with crispy wanton strips. Every bite of this dish was bliss - soft, buttery tuna meets tarty rocket lettuce and buttery avocado. A must-try.
A dish packed full of goodness
Look at the colour of that seared tuna
2. Trio Tacos - $18
Spoilt for choice and looking for variety? This dish will cover all bases. Each regular-size taco is filled with one of satay, shredded duck, or crispy cauliflower, with all three providing a completely different taste profile. Expect plenty of crunch with the tacos too.
Shredded duck, satay, and grilled cauliflower fillings
Get ready for crunch time
3. Signature Fruit Rojak - $20.90
Singaporeans' favourite salad dish gets a makeover here at cafe Q classified. In addition to the usual fruits, you get with your rojak, the likes of starfruit and grapefruit features in this colourful and flavourful dish. A whole soft-shell crab is also tossed in for an added crunch.
A unique bowl of rojak
We don't usually associate having soft-shell crab and fruits together, but I have to say it was a refreshing experience after trying this for myself. The savoury taste of the soft-shell crab helped to balance some of the acidity of the citrus fruits.
4. Longbeach Satay Holiday $18
It's hard to go wrong with satay. The Longbeach Satay Holiday came with 4 sticks of chicken satay and capsicum slices, 2 sticks of grilled bean curd, ketupat cubes, and their special peanut sauce. While $18 might seem a tad expensive for 4 sticks of satay, they made up for it with chunky chicken bits which were grilled to perfection. Their satay sauce was also a hit. It was not overly oily or sweet, and we really enjoyed the generous portion of finely chopped peanuts in the sauce.
Satay grilled to perfection
Generous amount of finely chopped peanuts
5. Seafood Paella (Sharing Plate) - $38
Paella soaked with the goodness of prawns, clams, mussels, mushrooms, and peas are served on a gigantic plate and topped with garnish. Seafood and saffron combine to give this savoury dish the flavours of the ocean. Serving size is also huge, probably enough for at least 4 people.
Squid, mussels, clams, and scallops are cooked together
Good for 3-4 people
Generous portion of fresh seafood
6. Crazy Rich Meepok - $45
Unassuming character makes way for rich and extravagent cousin. Korean drama? Nah, just cafe Q classified's take on the humble mee pok which we all love and enjoy. Tagliatelle, a long and flat type of Italian pasta, takes the place of mee pok. Soy sauce gives way for uni sauce, lean pork is substituted with a whole grilled lobster, with the icing on the cake (or mee pok) being the cavier which replaces minced meat.
The result? An incredibly decadent and mouth-watering creamy pasta oozing with umami flavours.
Uni, cavier, and lobster
Umami-packed
7. Sparkling Coffee with Orange/Yuzu - $8.50
Another item we found unique and specifically ordered was their Sparking Coffee with Orange/Yuzu. Coffee beans from renowned Italian coffee company Lavazza are used. This fizzy and mildly acidic drink was the perfect drink after all the heavy eating. with the caffeine kicking in shortly to stop us from going into our post-meal comatose.
Coffee beans from Lavazza are used

Wide selection of sweet treats available too
Conclusion? cafe Q classified feels like the kind of place you wished could be more frequently found in a built-up place like Singapore. It certainly was a breath of fresh air to see such an aesthetically pleasing and artfully decorated dining spot after navigating through the endless retail shops located at the gigantic Vivocity shopping mall.
Check out cafe Q classified for yourself the next time you are out shopping at Vivocity or Takashimaya!
merewards 1-for-1 Deals (Exclusive to merewards)
cafe Q classified is well known for its wide variety of food, and you'll be thrilled to know that you can enjoy 1-for-1 on all Sides, Salads, and Mains simply by flashing your merewards app! This is an exclusive partnership with cafe Q classified. Talk about the perks of being a merewards member!
Go on, try out these delectable and decadent treats the next time you need a break from your shopping sprees at Vivocity, Takashimaya, or their latest outlet at Parkway Parade!
The oasis in the dessert
cafe Q classified (Takashimaya)
Address: 391 Orchard Road #03-15 Takashimaya S.C., Ngee Ann City Singapore 238872
Opening Hours: Daily 9.30am - 10pm
Nearest MRT Station: Orchard Station
Phone: 6235 8812
Website: https://qclassified.sg/
Address: 1 HarbourFront Walk, #B1-02 VivoCity, Singapore 098585
Opening Hours: Daily 9am - 10pm
Nearest MRT Station: Harbourfront Station
Phone: 6252 2788
Website: https://qclassified.sg/
*NEW!* cafe Q classified (Parkway Parade)
Address: 80 Marine Parade Rd, #01-69A Parkway Parade, Singapore 449269
Opening Hours: Mon - Fri 10am - 10pm, Sat & Sun 9am - 10pm
Nearest MRT Station: Paya Lebar Station
Phone: 6517 9433
Website: https://qclassified.sg/
Grab 1-for-1 deals from cafe Q classified here
This review was brought to you in partnership with cafe Q classified.