Singaporeans' love for dim sum is true and enduring.
Perhaps it is this feeling of coming together with friends or family to indulge in a wide variety of bite-sized delights which makes dim sum such a popular option for group gatherings or family get-togethers.
Or that each piece of dim sum is a culinary art in itself - hours of preparation coupled with the freshest of ingredients are required for any good dim sum. The popularity of dim sum is evident in the fact that you can find a dim sum place in almost every shopping mall in Singapore.
Amongst this sea of dim sum restaurants, one brand stands out for both its food and the atmosphere - Black Society.
1. Black Society - Dim sum and more
Black Society prides itself on serving modern contemporary Cantonese cuisine in a beautiful and relaxing environment. It has two outlets - Vivocity and Great World, to cater to people looking for a mental and energy recharge.
Both outlets are also conveniently located at shopping malls that are right beside an MRT Station - Harbourfront Station and the newly opened Great World Station along the Thomson-East Coast Line respectively. It takes no more than 5 minutes to get to both outlets from the MRT station. All the more reason to check out Black Society on your dim sum-craving days!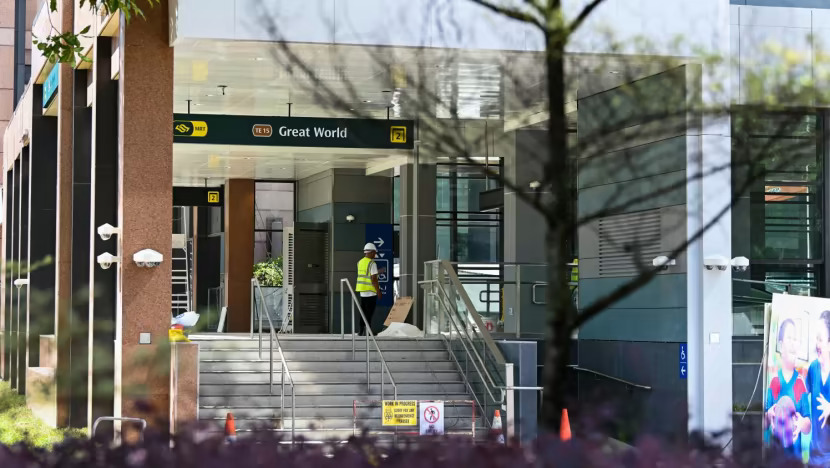 Photo credit: CNA/Hanidah Amin
Every outlet is modelled after a botanical fantasy - hanging vines and wall plants fill the restaurant, and potted flowers in varying sizes can be seen all around.
Black Society outlet at Great World
Black Society is both a restaurant and a garden
Feeling inspired to check them out yet? We find out some of the must-try dishes the next time you are heading to Black Society.
2. Custard Lava Bun ($6.50)
Most lava buns, or liu sha bao, are yellow or white in colour. Black Society's lava buns however, in true luxurious fashion, is decked out in black with a dash of gold powder, perhaps indicative of the flowing 'gold' you can expect when you bite into one.
Where the gold flows
The runny salted egg yolk infused with molten custard oozes out as soon as you break the soft and fluffy bun open. The lava itself is incredibly rich and creamy. Those with a sweet tooth will love this indulgent comfort food for sure.
3. Truffle Mushroom Bao ($6.50)
Yes, you can probably tell we are bao lovers. The Truffle Mushroom Bao is demonstrative of what we meant earlier by dim sum culinary art - each piece is expertly crafted to resemble a mushroom.
Mushroom or bao?
Break open the bun and be instantly greeted by the distinctive and earthy smell of truffle. Each bun consists of finely chopped mushroom bits dashed with truffle oil - perfect to get your appetite started.
Mushrooms within a mushroom
4. Spicy Shumai ($6.50)
Another bestseller at Black Society is their Spicy Shumai (siu mai) featuring pork filling made together with Lao Gan Ma chilli. A dash of pork floss is layered on top for added texture. The strong umami flavour combined with the tongue-numbing spice to deliver a sensation overload. Not to forget the dumpling skin was incredibly thin and soft, so the juice flows as soon as you sink your teeth into them.
Mala lovers will definitely enjoy this dish.
Mala lovers will enjoy the Spicy Shumai

Spoilt for choice? You can get the best of all worlds with their Dim Sum Tasting Platter ($18.80), consisting of the Spicy Shumai, Custard Lava Bun, Queen Shumai, Black Har Gau, My Little Green Apple (bun with apple jam filling), and a Swan Yam Pastry.
Looks good, but tastes even better
5. Baked Egg Tart ($6)
Who doesn't love a good egg tart? This timeless classic is enjoyed by millions of people all over the world, with varying adaptations and iterations. Black Society's baked egg tarts are inspired from traditional Hong Kong egg tarts made with shortcrust pastry.
The tart crust is crisp and buttery with a tinge of saltiness, and the egg custard smooth and lightly sweetened. Every bite was bliss.
Definitely one of our favourite dishes here at Black Society.
Buttery and crisp crust hugging the lightly sweetened egg custard
Our colleague's favourite dish at Black Society
6. Taiwan Porridge Set ($13.80)
Go for the Taiwan Porridge Set if you are looking for something hearty. This set includes thick congee with a meat pudding side, cai por omelette, and braised pig intestines - all the classics of Taiwanese homecooked meal. It also comes with a side of pickled lettuce and garlic chilli sauce.
All the Taiwanese favourites
We like our congee warm and thick, and this is exactly how their congee tastes like. Personally, for me at least, no comfort food in the world warms the cockles of my heart as much as a good bowl of congee does.
The best kind of congee - warm and thick
The braised intestines were another classic - chewy and perfectly seasoned with the unmistakeable aroma of grilled pig intestines.
Chewy and well-seasoned
7. Fried Seafood w/ XO Garlic ($24)
Rounding off the list of our must-try dishes is the Fried Seafood w/ XO Garlic. Prawns, clams, fish fillet, and squid are deep-fried with XO sauce, chopped garlic, and dried chilli. Despite being deep fried, the seafood - especially the prawns, were still sweet and juicy. Together with the savoury and spicy batter, this was a dish made in the heavens.
Plenty of crunch, spice and umami
8. Beverages
If you are looking for something else other than Chinese tea (tie guan yin, pu er, chrysanthemum) to wash down your meal with, you can also find an extensive range of beverages at Black Society. Choose from English Tea, coffee by illy, an Italian coffee company, or other concoctions such as the Chrysanthemum Wolfberry Snow Fungus ($6.80), a light and refreshing chrysanthemum drink infused with the sweetness of wolfberry and snow fungus, or the Fresh Orange Yuzu ($6.80), an ice-cold tangy beverage that will deliver you that vital shot of vitamin C.
Other drinks which we would love to try during our next visit include Hawthorne with Aloe Vera, Tropical Guava Sour Plum, Red Dates Ginger with Longan, and Soya Chendol. All drinks are priced at $6.80.
Light and refreshing drinks to wash down your meal with
Conclusion
With its beautifully designed interior and amazing food quality, it is no wonder Black Society sees long lines during peak hours each day. While they may not be your typical lively dim sum eatery with servers selling dim sum from pushcarts, they are the ideal place for catching up or having an intimate meal with your friends or family. Plus, plenty opportunities for the gram with their gorgeous interior as backdrop!
Perfect for the gram
meREWARDS 1-for-1 Deals
Being a meREWARDS member comes with plenty of perks. You can now taste more dishes at Black Society by redeeming the free 1-for-1 deals on Appetizer, Congee, or Dessert. Simply flash your meREWARDS app in-store to enjoy the offer!
Address: 1 Kim Seng Promenade, #01-121 Great World City, Singapore 237994
Opening Hours: Daily 11am to 10pm (Last order at 9.30pm)
Nearest MRT Station: Great World Station
Phone: 6235 9787
Grab 1-for-1 deals from Black Society (Great World) here
Address: 1 Harbourfront Walk, #02-156/157, Vivocity, Singapore 098585
Opening Hours: Sun to Fri 11am to 9.30pm, Sat 11am to 9.45pm
Nearest MRT Station: Harbourfront Station
Phone: 6376 9740
Grab 1-for-1 deals from Black Society (Vivocity) here
This post is brought to you by Black Society. All information correct at time of writing.