They say you are what you eat, and if you're constantly snacking on crackers, it's about time you swap to something healthier. While there are many organic cafes and eateries in Singapore, sometimes a little DIY at home doesn't hurt. Here are 6 stores you should check out to get their healthiest and tastiest organic goods. All these stores are available online, so you can order them and have them delivered right to your doorstep.
1. Scoop Wholefoods
Source: Scoop Wholefoods
Founded in 2013, Scoop Wholefoods hails from Australia and their mission is to improve people's health and overall well-being. Their products are sourced from Australia's best growers, and the team only works with responsible suppliers where they aim for zero waste. They have a range of organic products such as Buckwheat Soba Noodles, Gluten-Free Rolled Oats and Organic Acai Powder. Be sure to check out The Fermentary to load up on some delicious kombucha (fermented tea drink made with a bacteria that produces a high level of probiotics).
Scoop Wholefoods, Tanglin Mall, 163 Tanglin Rd, #02-17/18 S247933 / Great World City, 1 Kim Seng Promenade, #01-148 S237994 / Paya Lebar Quarter, 10 Paya Lebar Rd, #B1-07/08/09 S409057
2. Nature's Superfoods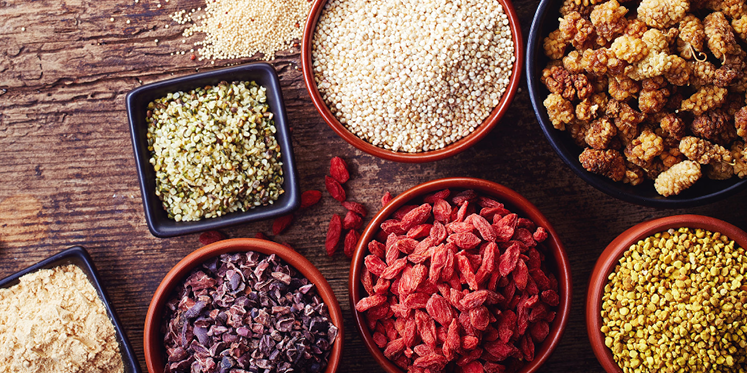 Constantly on the hunt for the highest quality organic food, Nature's Superfoods aims to provide its customers with the best price and value. During this period, the team has curated a list of product that'll help you boost your immune system such as the Camu-Camu Berry Powder. Be sure to follow their Instagram for deliciously healthy recipes you can try. Browse through their wide range of organic, plant-based, gluten-free and no preservatives superfood. You'll get free delivery for orders above $75.
Snack on the best superfoods from Nature's Superfoods here.

3. Amazin' Graze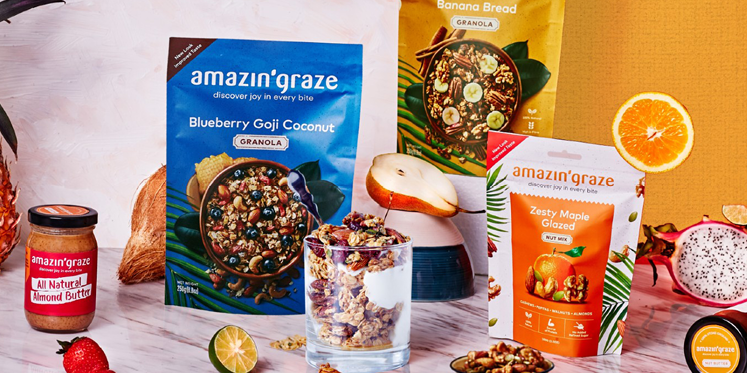 Prides itself as being authentically Asian, Amazin' Graze snacks are available in unique Asian flavours that your taste buds will thank you for. Their products are freshly baked weekly and are delivered to you within 3 days, ain't that amazin'? They recently launched a Couch Potato Kit (filled with healthy snacks of course), because they know staying at home can be challenging. You can also send an Amazin' Care Box 3.0 to that special someone, and let them know they're always on your mind. Each box comes with tasty and healthy snacks to help them tide through these trying times.
Earn Cashback when you buy goodies from Amazin' Graze.

4. The Source Bulk Foods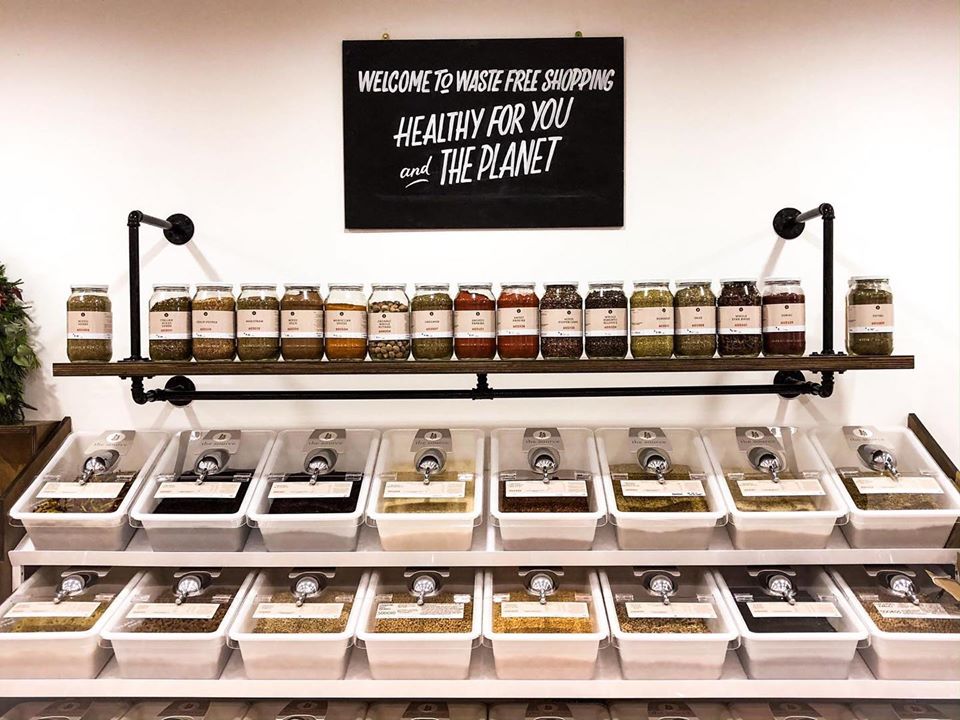 Source: The Source Bulk Foods
A notable brand in the organic food industry, The Source Bulk Foods, is an advocate for not only providing food but also doing its part for zero waste. They aim to use zero plastic from harvest to home, and they strongly encourage their suppliers and producers to reduce plastic wastage too. A purveyor of all things organic and making a positive impact on the environment, The Source Bulk Foods only wants the best for you.
The Source Bulk Foods, Great World City, 1 Kim Seng Promenade #B1-142/143 S237994 / Cluny Court, 501 Bukit Timah Rd, #01-05A S259760

5. Little Farms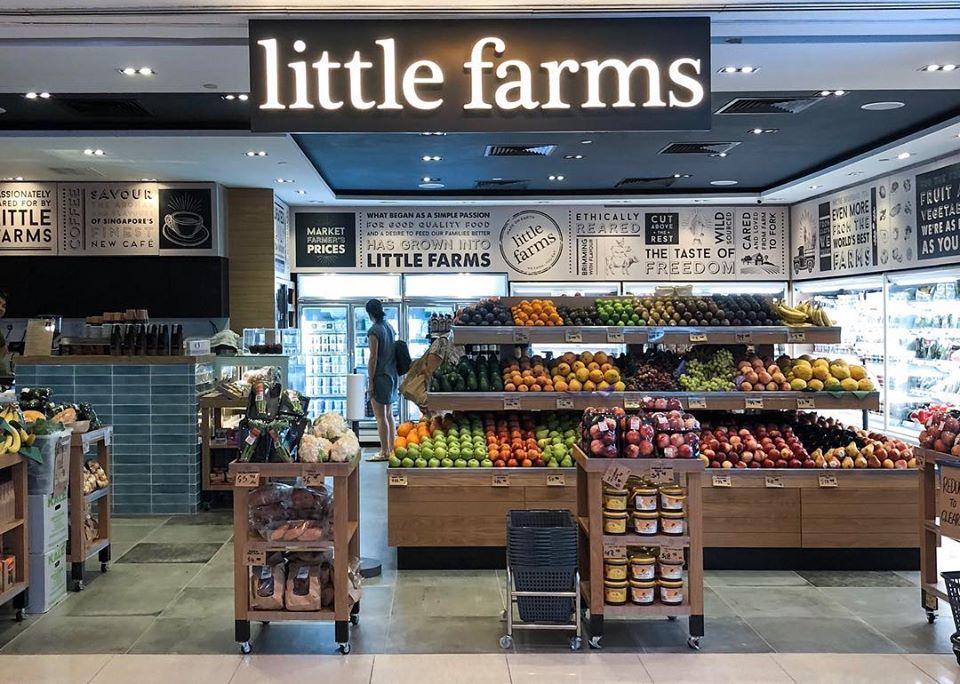 Source: Little Farms
From their humble beginnings in Valley Point Shopping Centre in 2016, Little Farms is no longer little as it has expanded to Novena, Tanjong Pagar and Holland Village. Their years of experience working with different suppliers around the world has allowed them to keep costs low. Every item at Little Farms are carefully curated so you'll get the best quality. Their view of customers as partners is heartwarming and after all, everyone just wants the best for each other. Their quaint café is also worth checking out, for a quick cuppa.
Little Farms, Valley Point Shopping Centre, 491 River Valley Rd, #01-20 S248371 / Holland Piazza, 3 Lorong Liput, #01-04/05/06 S2777725 / United Square Shopping Mall, 101 Thomson Rd, #B1-56J/K/L S307591 / Guoco Tower, 7 Wallich St, #B2-06 S078884
6. Foodsterr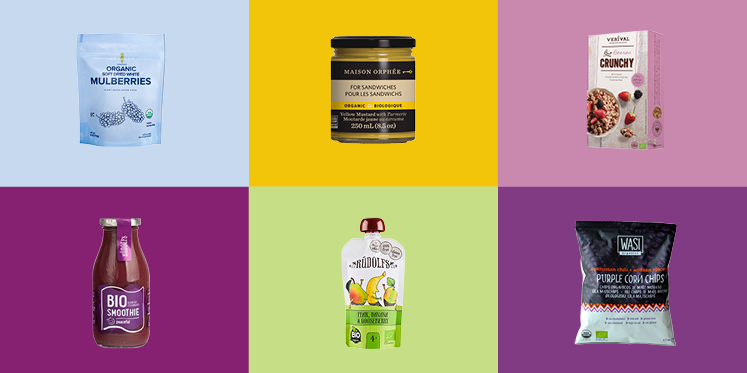 Founded by Ken Davis, Deepika Patel, Neha Patel, and Gareth Davis, Foodsterr is committed in food safety and quality. Their global connections with suppliers only mean one thing – they want the best value and quality for their customers. Their online store offers a myriad of health products such as dried fruits, nuts and even pasta sauces. If you're starting your health journey, look no further than Foodsterr for the best deals in town.
Earn Cashback when you shop at Foodsterr here.
For successful cashback tracking, sign in to meREWARDS and click 'Buy Now' in brands' pages. For more information on cashback, read here.