Staying in the North has plenty of perks, with numerous attractions such as our world-famous Singapore Zoo and the only hot spring in Singapore, Sembawang Hotspring. Neighbourhoods that fall under the North area are Ang Mo Kio, Bishan, Khatib, Yio Chu Kang, Sembawang, Woodlands and Seletar. To make your next makan trip easier, here are the best halal restaurants you should try in North Singapore.
Read: Best Halal Restaurants & Cafes in Central Singapore - from Shellout, Salad Bar, Steakhouse to Thai Cuisine

1. El Carbon Grill House
Source: El Carbon Grill House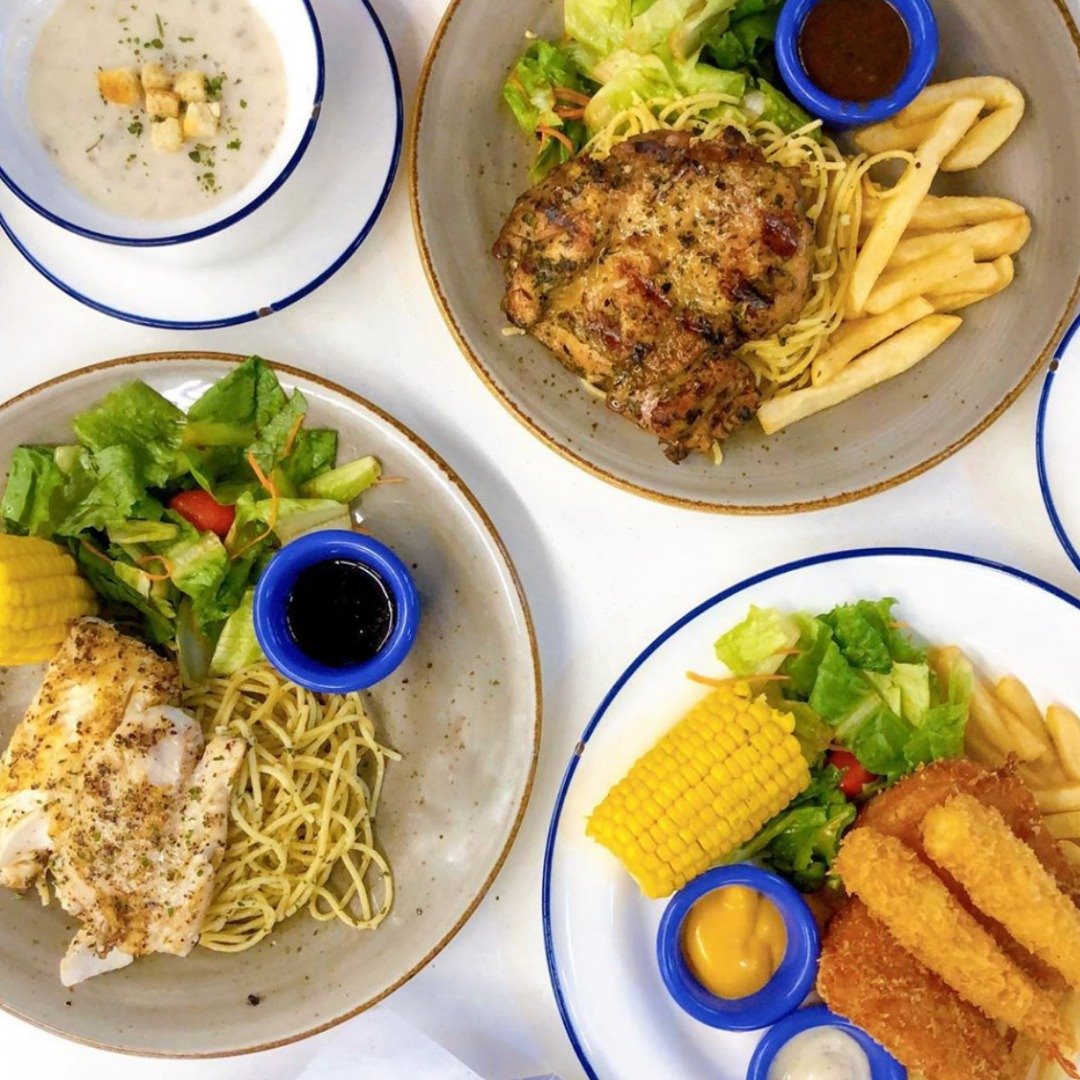 Source: El Carbon Grill House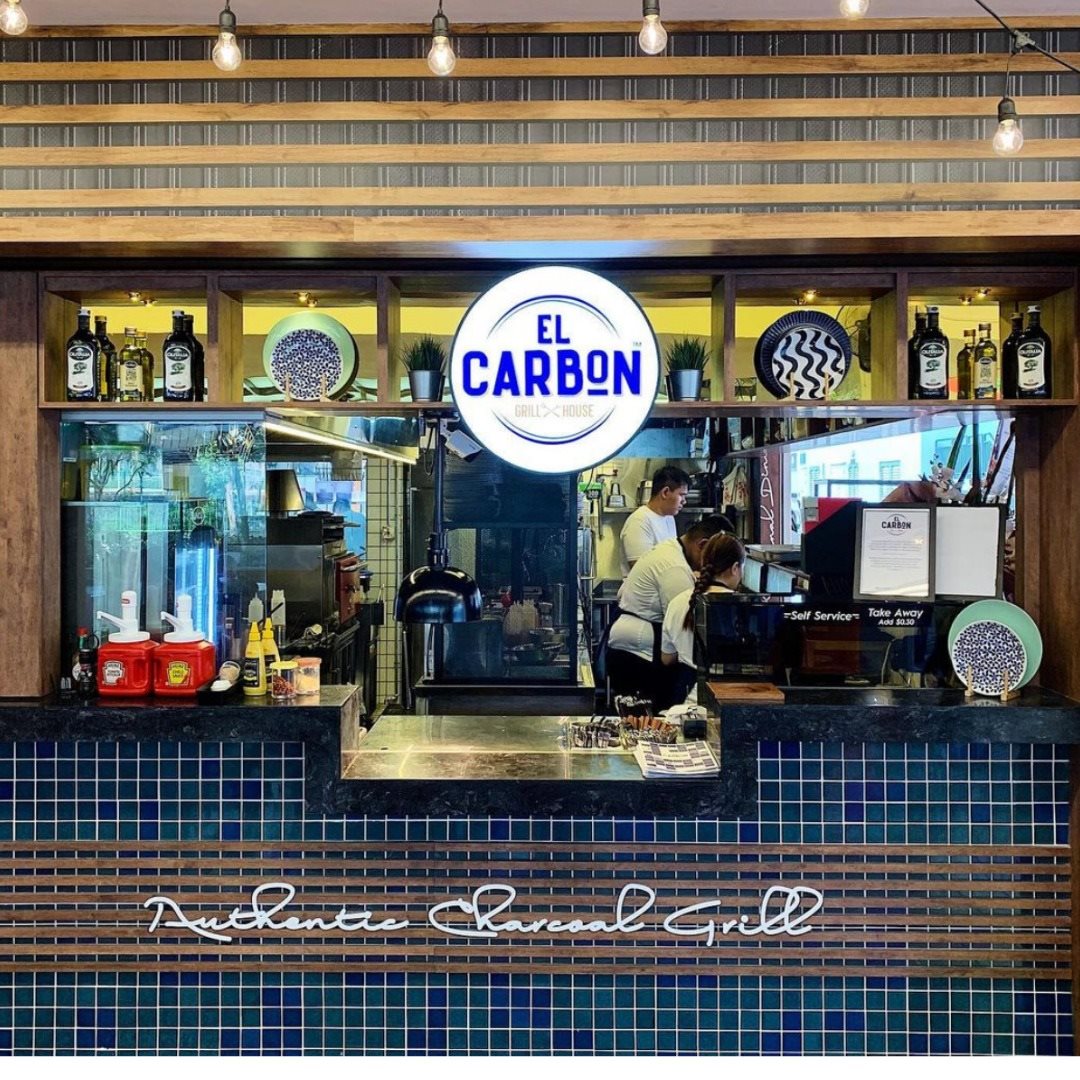 Source: El Carbon Grill House
For a no-frills Western food that's both delicious and highly affordable, El Carbon Grill House is your best bet. This authentic charcoal grill concept hawker shop had their first restaurant at Ang Mo Kio, but has since expanded to Yishun and Geylang. Not only does it have an aesthetic branding, but these good folks also go the extra mile with the matching plates and the overall white and blue colour scheme. Be impressed with their dishes too such as the Charbroiled Chicken Chop ($7.50), Grilled Norwegian Salmon ($11) and Carbonara ($5).

Address: 721 Ang Mo Kio Ave 8, #01-2823, S560721
Opening hours: Daily 12pm – 9pm

2. Coba Coba
Source: Coba Coba
Source: Coba Coba
Also known as "try try" in Malay, Coba Coba promises a satisfying Malay-Indo culinary experience. This humble café in the heart of Yishun serves Nasi Ambeng, a communal dining dish where everyone shares on the same tray. Starting from $32.90 for 2 pax and $43.90 for 3 pax, each tray comes with a variety of dishes. The Beef Rendang was tender due to its long hours of cooking, the Ayam Lemak was succulent, rich and creamy was just nice without being too jelak. Don't forget to snap a shot of the beca (trishaw) right outside their restaurant.

Address: 156 Yishun St 11, #01-106, S760156
Opening hours: Mondays to Wednesdays 8am – 8pm, Thursdays to Sundays 10.30am – 8pm

3. Fish & Chicks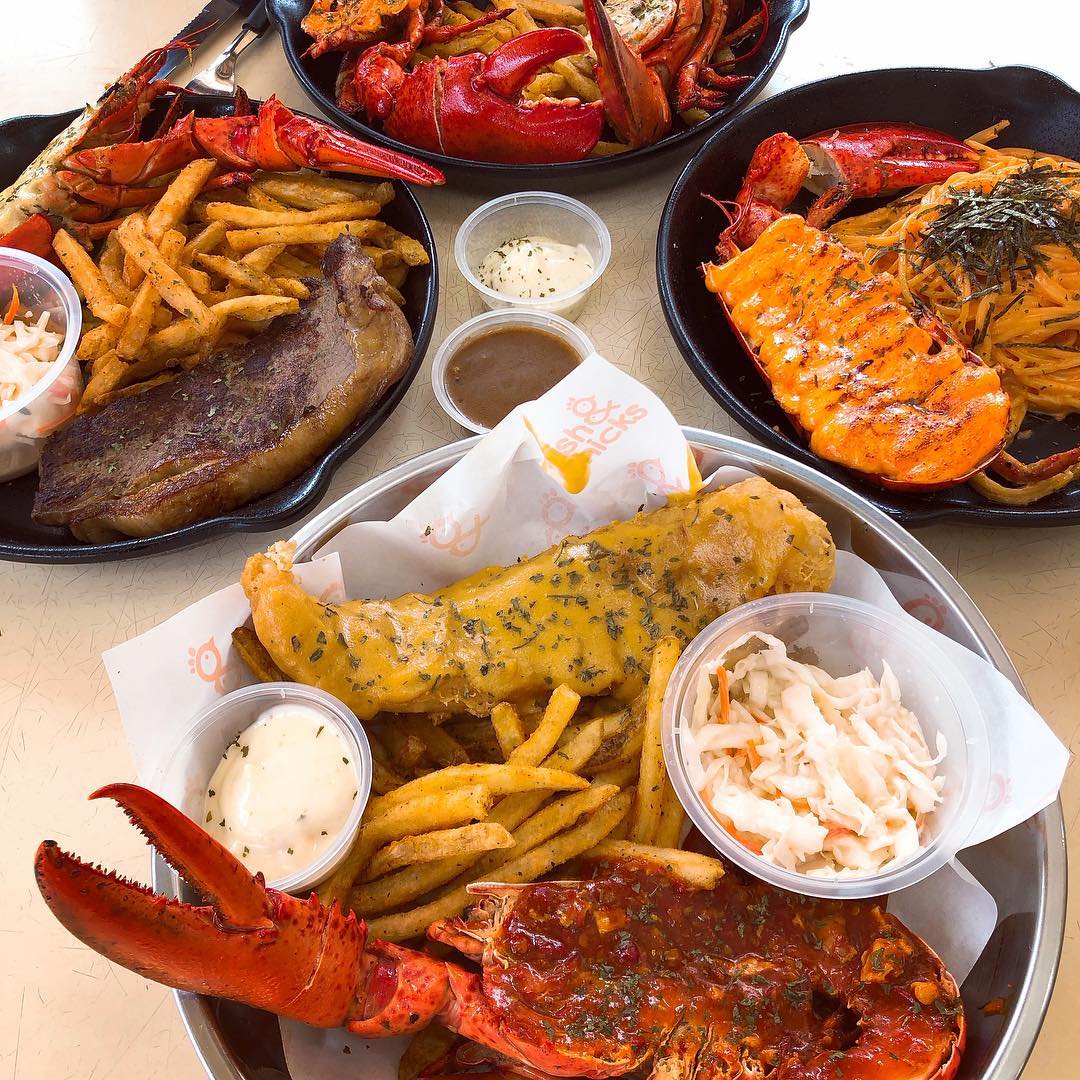 Source: Fish & Chicks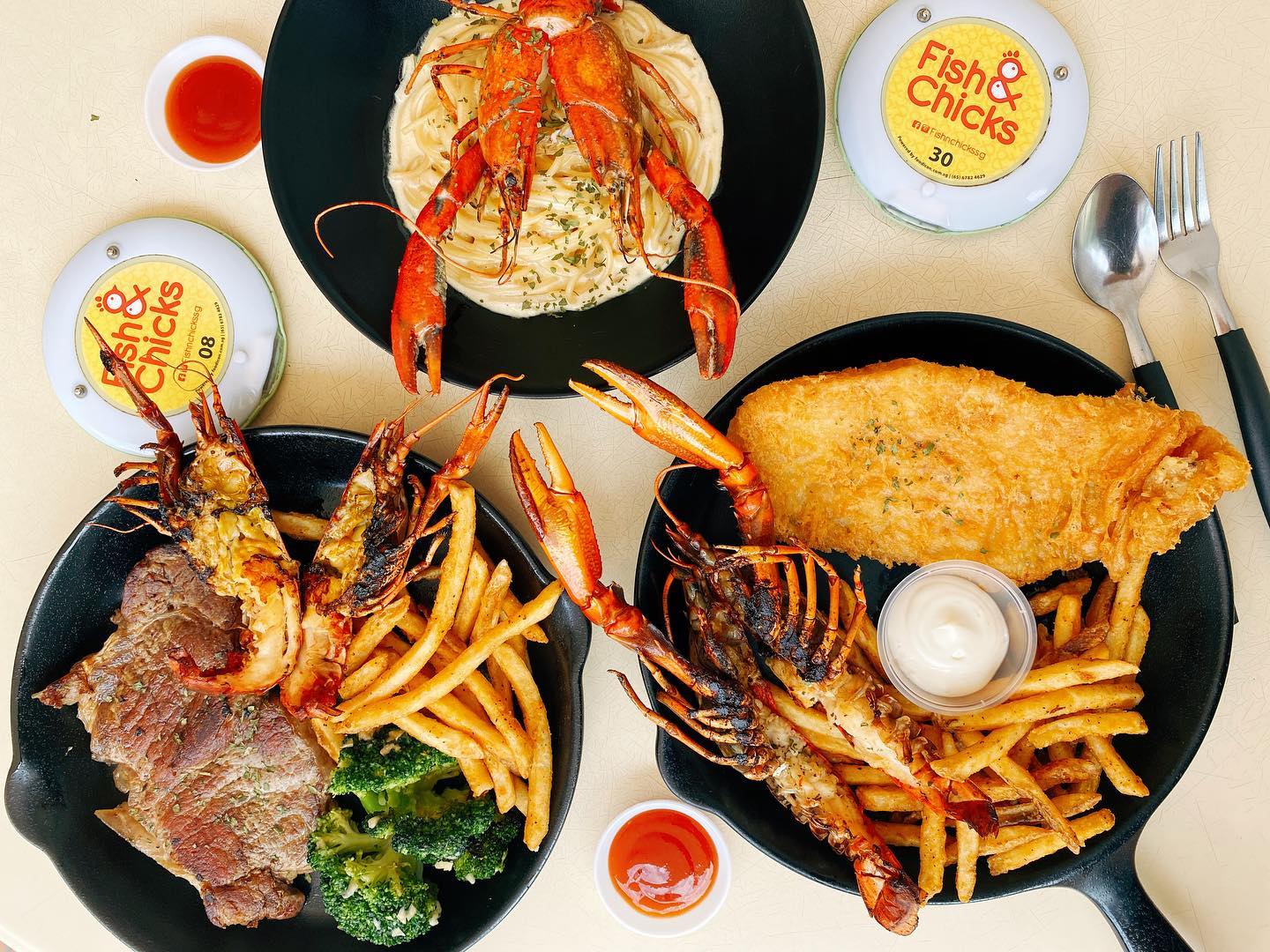 Source: Fish & Chicks
Fusion food is either a hit or a miss, and at Fish n Chicks, it's a hit for every dish. Their innovative take on incorporating Asian spices into classic Western dishes is praiseworthy. Their signature Mentaika Salmon Pasta ($10.90), is a hit with many of their customers for the al dente pasta and the thick slab of salmon topped with mentaiko sauce. Other fusion dishes include Tom Yum Pasta and Chilli Crab Fish & Chips ($9.90).

Address: Food Paradise Coffeeshop, 120 Canberra Crescent, #01-01 S750120
Opening hours: Daily 11am – 9.30pm
Read: Best Halal REstaurants & Cafes in West Singapore - from Prawn Noodles, Mexican to Japanese Cuisine

4. Yassin Kampung Seafood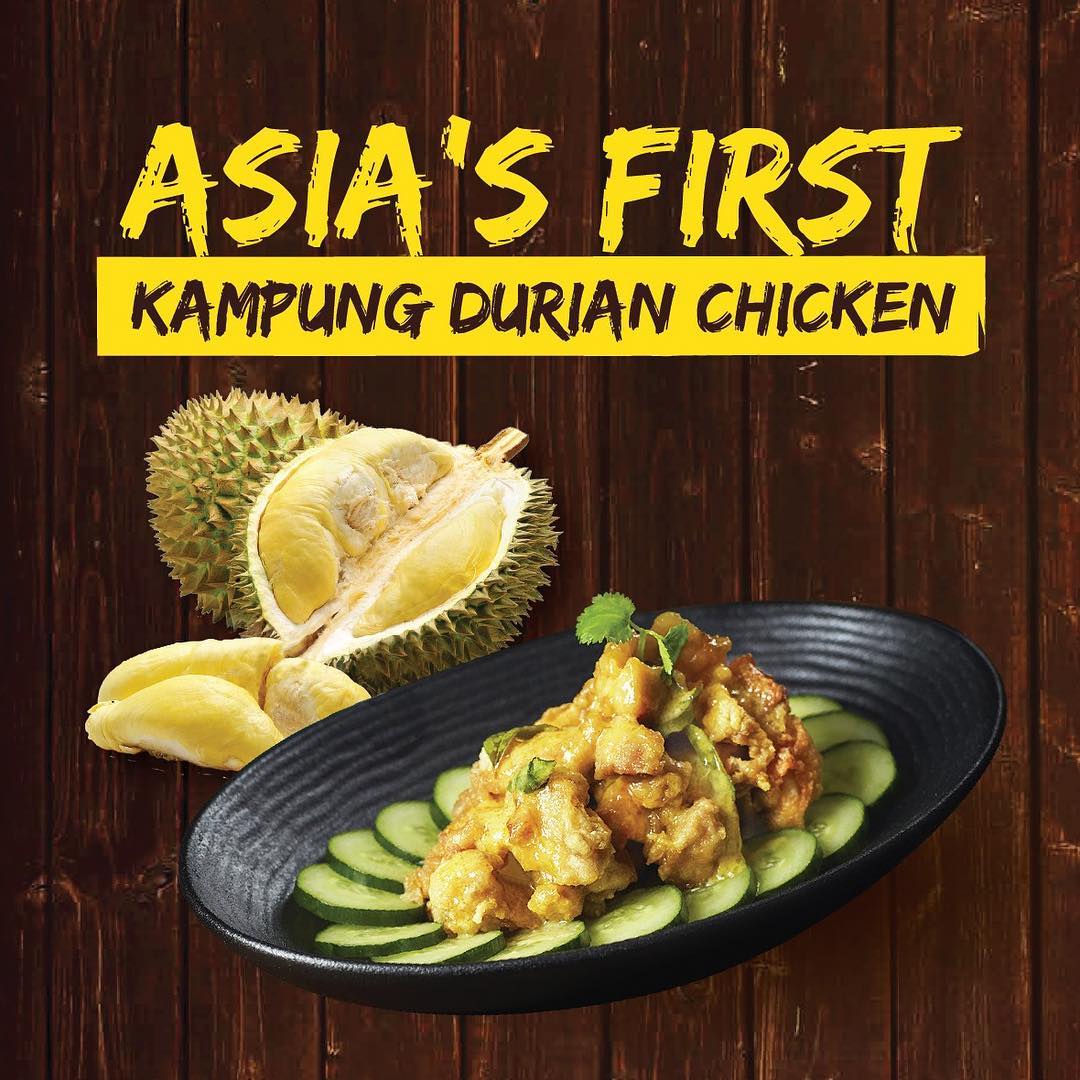 Source: Yassin Kampung Seafood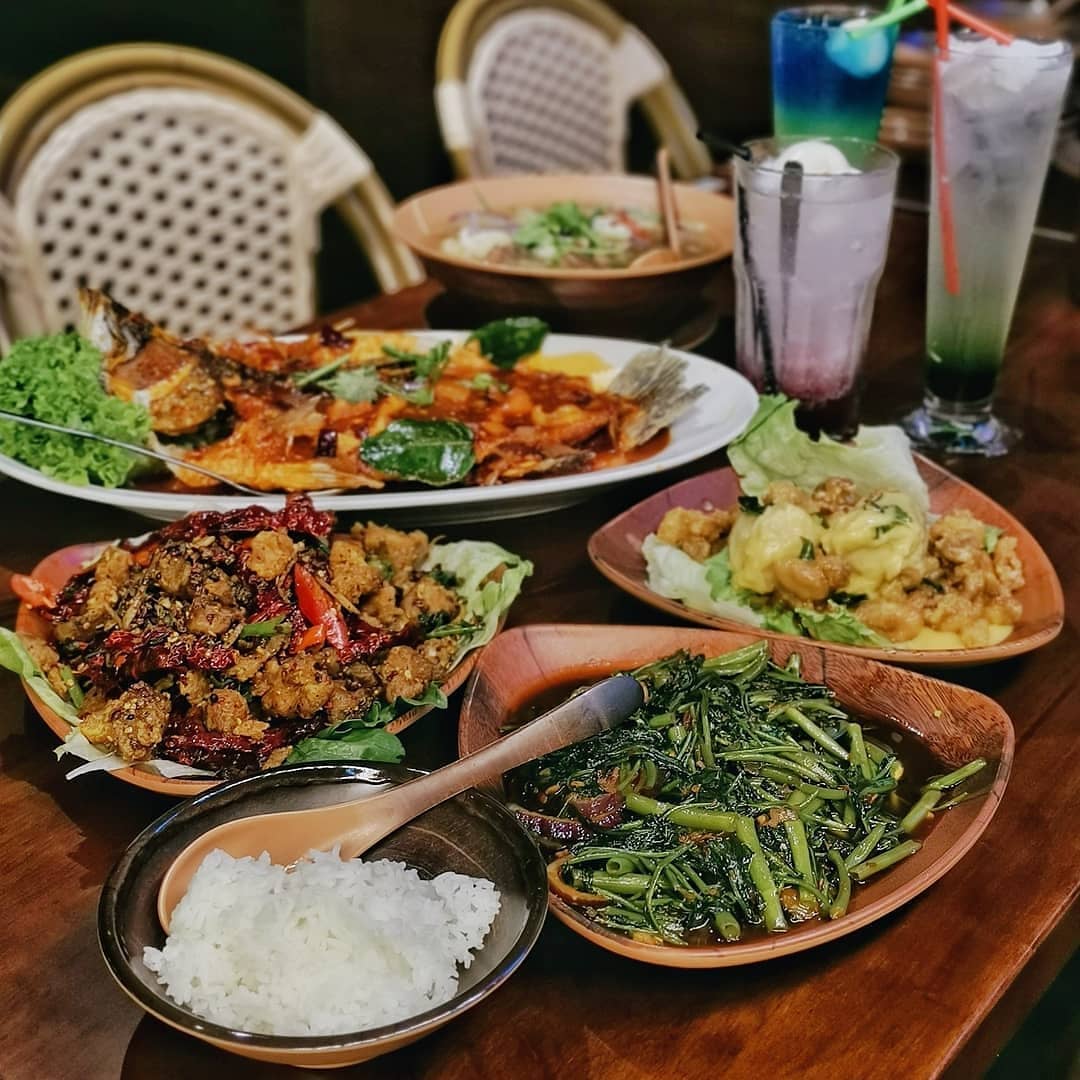 Source: Yassin Kampung Seafood
Reminisce the old kampong days and savour authentic Singaporean cuisine at Yassin Kampung Seafood. Established in 2002, the restaurant has four outlets in Clementi, Bedok, Admiralty and Woodlands. Helmed by Head Chef Muhammad Yassin Ng who has over 30 years of culinary experience, serves one of the best Halal zi char dishes in Singapore. Try their unique Kampung Durian Chicken ($20), an aromatic dish from the King of Fruits where the sauce coats every chunk of crispy chicken.

Address: 676 Woodlands Dr 71, #01-03, S730676
Opening hours: Daily 11am – 1am
Book a Table here.
5. Magic Wok
There's something magical about Thai food that we always find comfort in, and at Magic Wok, it's a match made in heaven. Located at Sembawang Shopping Centre, they serve authentic Thai-Chinese cuisine with price starting from $4.80. Their raved Thai Pineapple Rice ($5.80), Phad Thai Prawn ($4.80) and Thai Prawn Cakes ($8.80) are some of their best-sellers. Magic Wok is easy on the wallet and worth every penny and your go-to Halal Thai restaurant in North Singapore.

Address: 604 Sembawang Rd, #03-12/13, S758459
Opening hours: Daily 10am – 10pm

6. Citrus by the Pool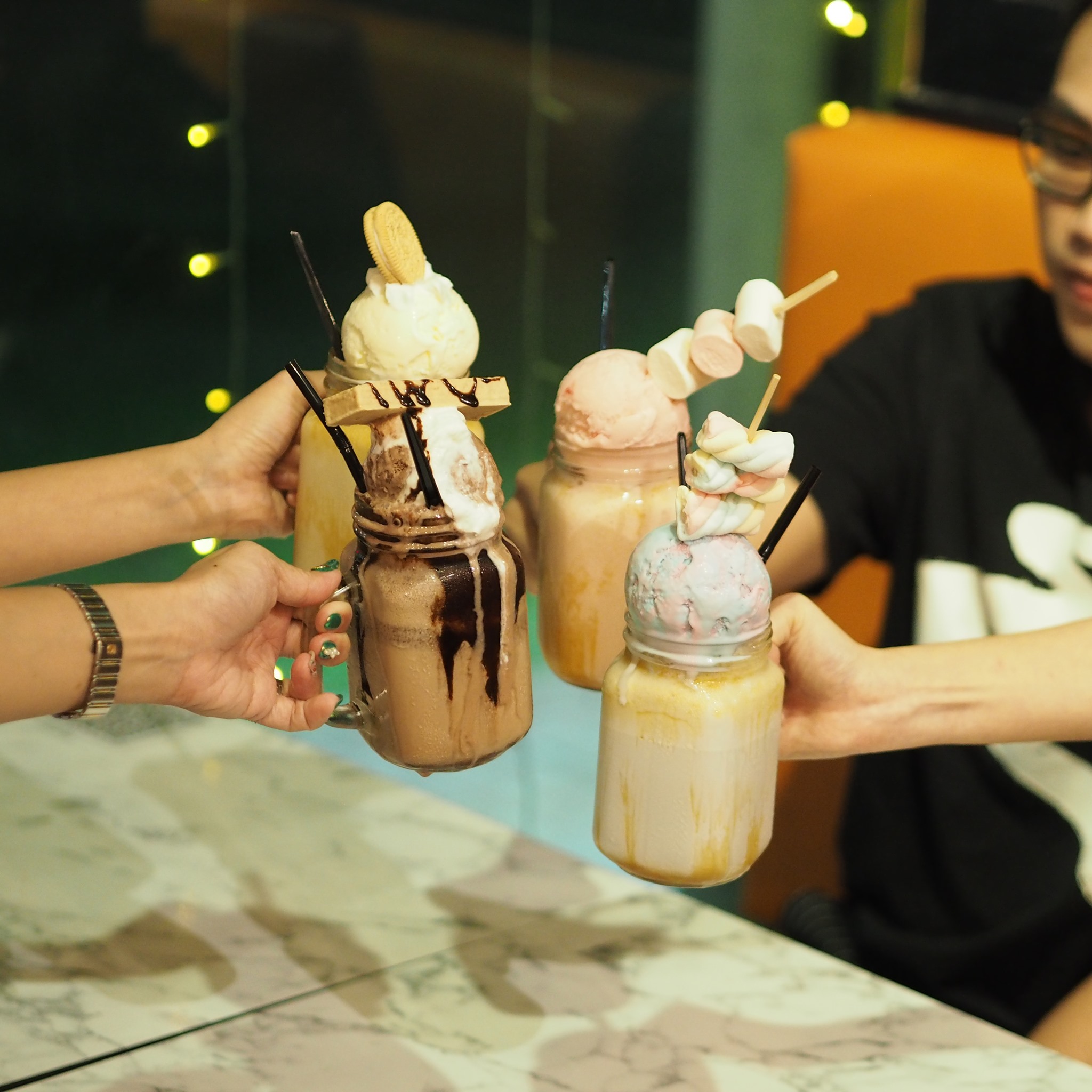 Source: Citrus by the Pool
Situated in Woodlands Swimming Complex, Citrus by the Pool is a Halal restaurant that prides itself in bringing people together over delicious comfort food. Started in 2013, the restaurant is a household name for not only residents in the North, but beyond.
Source: Citrus by the Pool
Just a 10 mins walk from Woodlands MRT, you'll get to indulge on their best-selling dish, Fried Chicken & Waffle ($15.90) – chunks of crispy chicken atop a fluffy waffle, served with butter and choice of maple or homemade Citrus syrup on the side. Also, try the Big Boss Burger ($17.90). This giant dish of juicy double beef and mutton patty, with crispy fried onion, tomato, cucumber, lettuce, purple cabbage slaw smothered in satay sauce on toasted charcoal buns.

Be sure to leave some room for dessert, because at Citrus by the Pool, their Mighty Milkshakes, such as the Caramel Popcorn and Snickerhead, will satisfy your sweet tooth cravings.

Address: Woodlands Swimming Complex, 3 Woodlands Street 13, S738600
Opening hours: Tuesdays 9am – 3pm & 4pm – 10pm, Wednesdays to Sundays 11.30am – 3pm & 4.30pm – 10pm, closed on Mondays
Book a Table here.

7. Rasa Istimewa Waterfront Restaurant
Source: Rasa Istimewa Waterfront Restaurant
Dining few metres away from the shore and above seawater are usually experiences we can only get overseas. However, at Rasa Istimewa Waterfront Restaurant you'll get just that. Enjoy an unblocked view of the sea and Johor Bahru from the comfort of your seat while you dine. Indulge on an extensive range of Halal Chinese-styled seafood dishes, such as BBQ Shellfish Lala ($8), Nonya Sotong ($16) and Kung Po Chicken ($13).

The limelight belongs to Rasa Istimewa Curry Fish Head ($25) - Red Snapper fish cooked perfectly in fiery curry gravy, resulting in delicate flesh that oozes with a tinge of sweetness from the fish's natural flavour. It is served with an assortment of vegetables such as ladyfingers, eggplant and taupok that soaks up all the gravy goodness.

Address: 6A Admiralty Road West, S757445
Opening hours: Daily 12pm – 11.30pm
Read: Best Halal Restaurants & Cafes in East Singapore - from Burgers, Tomahawk Steak, Italian to Peranakan Cuisine

8. Tenderbest Makcik Tuckshop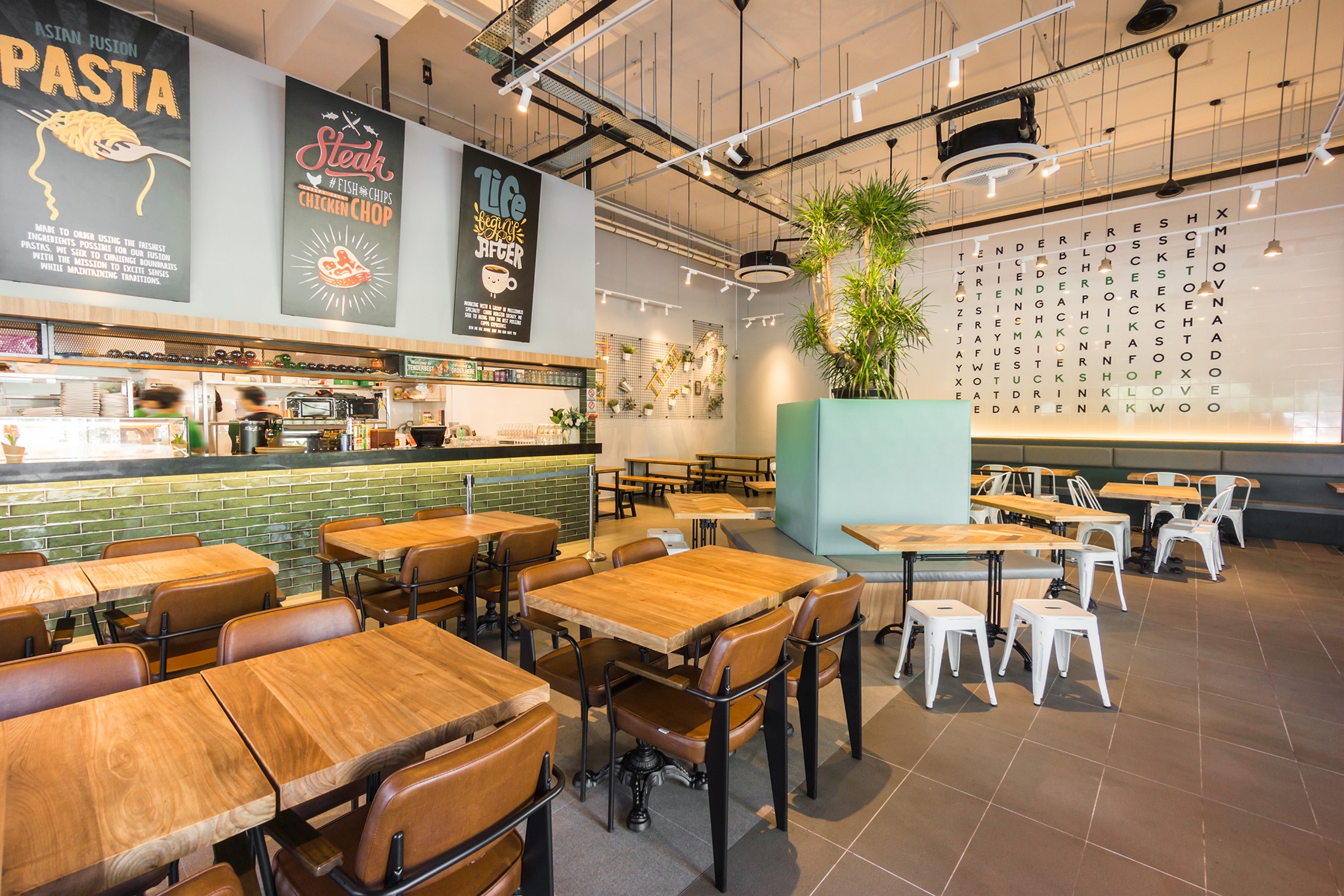 Source: Tenderbest Makcik Tuckshop
Source: Tenderbest Makcik Tuckshop
An extension to the Tenderfresh Tenderbest group, Tuckshop serves familiar comfort food that is both delicious and budget-friendly. Located in an industrial area in Woodlands, be left in awe by the jazz music playing in the background, and with the fancy wooden chairs and tables as their main furniture. Look up, and you'll see beautiful illustrations of some of their cheeky quotes that'll tickle your funny bones.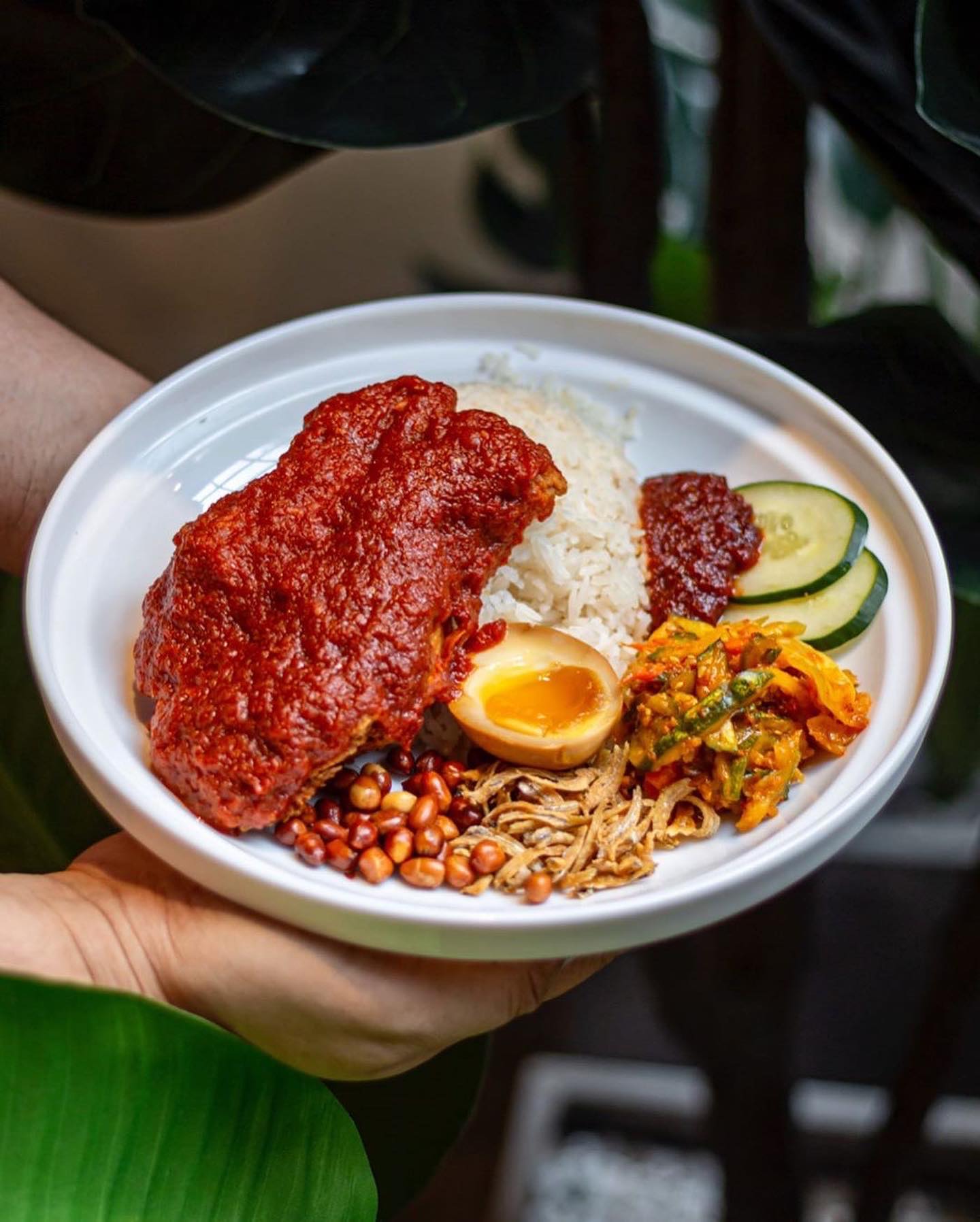 Source: Tenderbest Makcik Tuckshop
Try the signature Crispy Fried Chicken and Roasted Chicken Leg that comes with yellow butter rice or the Laksa Prawn Spaghetti. It's a Laksa-infused sauce, mixed with al dente pasta and fresh juicy prawns. Each bite exudes a familiar taste and pays homage to our favourite iconic local dish. Or try their mouthwatering Nasi Lemak served with fiery chicken.

Address: MEGA@Woodlands, 39 Woodlands Close #01-68, S737856
Opening hours: Daily 11am – 10pm
9. Taste Garden
Located about 10 mins walk from Khatib MRT, Taste Garden is nestled in ORTO, a recreational park located in the North of Singapore. Taste Garden is one of the 10 restaurants in ORTO, and it's Halal! Instead of your usual seafood options, the restaurant serves French cuisine, such as the special Confit De Canard – a classic French dish that comprises of a duck leg, served with mashed potatoes and sautéed mushrooms.

Here, you can try Miso Butter Chicken Roulade ($18.90), a fusion of Japanese and Western cuisine. If you're craving for local delights, be impressed by the Nasi Briyani Lamb Shank ($21.90). Due to the large area, you can also hold various events such as corporate meetings, wedding celebrations and birthday parties, that'll be sure to leave a lasting impression.

Address: 81 Lor Chencharu #01-02/03, S768198
Opening hours: Daily 12pm – 10.30pm

10. Royal Palm @ Orchid Country Club
Serving eclectic options of Halal dishes from Asian to Mediterranean, Royal Palm @ Orchid Country Club uses only premium ingredients, making it one of the best Halal buffet restaurants in Singapore. Come for their dinner buffet, and you'll get to taste their signature satay (chicken or mutton) from their barbecue station – juicy and tender meat with the right amount of char. Do note that they have a different menu every day, so it's best to check their website to know what you'll be expecting. Be sure to dine at the al fresco area, for a pool view and enjoy the breeze while you dine.

The restaurant is within the country club, with 350 seating capacity that allows you to hold private events. If you're coming from Yishun MRT, there's a free shuttle service to Orchid Country Club daily, with 15 minutes interval from 8am to 11.30pm (from Orchid Country Club).

Address: Social Clubhouse, 1 Orchid Club Road, #01-21/22, S768162
Opening hours: Daily 12pm – 10pm
Book a Table here.