Did you know Singapore is ranked 11th as the most Instagrammable country in the world? While the usual suspects such as Marina Bay Sands, Merlion Park and Singapore Botanic Gardens helped achieve this title, there are lesser-known spots that sparkle just as bright. These hidden gems exude a charming vibe that beckons you to put on your explorer hat.
Read: Things to Do with the Kids - Fun Activities & Attractions this School Holiday
1. Gallop House No. 5 – Atbara House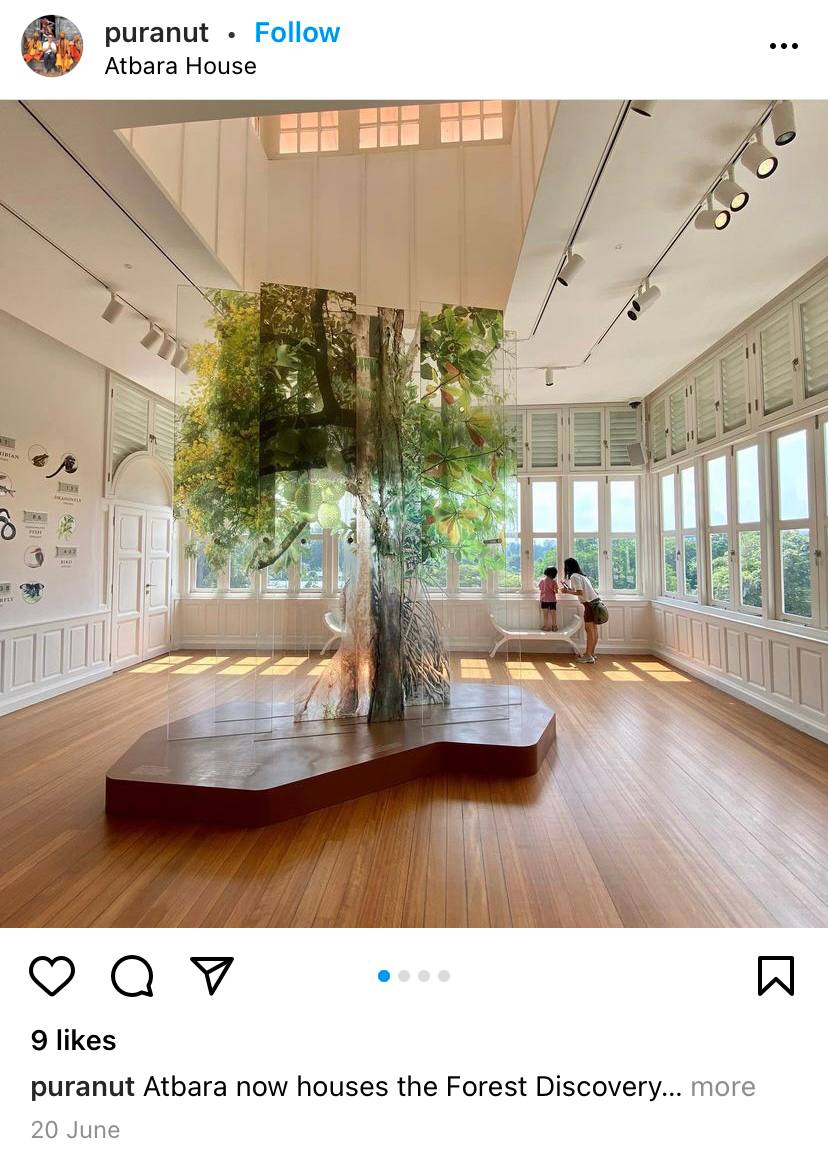 Source: @puranut
The iconic black and white bungalow at Gallop Road is now opened to the public. Known as the Forest Discovery Centre @ OCBC Arboretum, the building was built in 1898 and now serves as an education gallery showcase of our forest ecosystems. Be amazed by the various interactive installations that include viewing footage of camera trap videos and recording of bird calls in their habitat.
Don't forget to also visit Gallop House No. 7 (Inverturret), just a stone's throw away. The building was built in 1906 and now serves as a Botanic Art Gallery.
How to get here: Park at Gallop Extension or Tyersall Gate carpark. If you're walking, it'll take about 20 mins from Botanic Gardens MRT.
Read: Best Hiking Trails in Singapore Suitable for All Ages
2. Swan Lake Gazebo at Singapore Botanic Gardens
Source: @lyricalight
Source: @daisybunch
Traverse through the beautiful Singapore Botanic Gardens and chance upon the picturesque Swan Lake Gazebo. A hotspot for a wedding photoshoot, this iconic structure is made of Victorian cast iron with a wooden roof. Come by during the weekday, for a picnic and unwind while overlooking the elegant swans in the pond.
How to get here: 20 mins walk from Botanic Gardens MRT or 5 mins walk from Botany Centre (Cluny Rd)
Capture panoramic images with DJI.
3. Victoria Lily Pond at Gardens by the Bay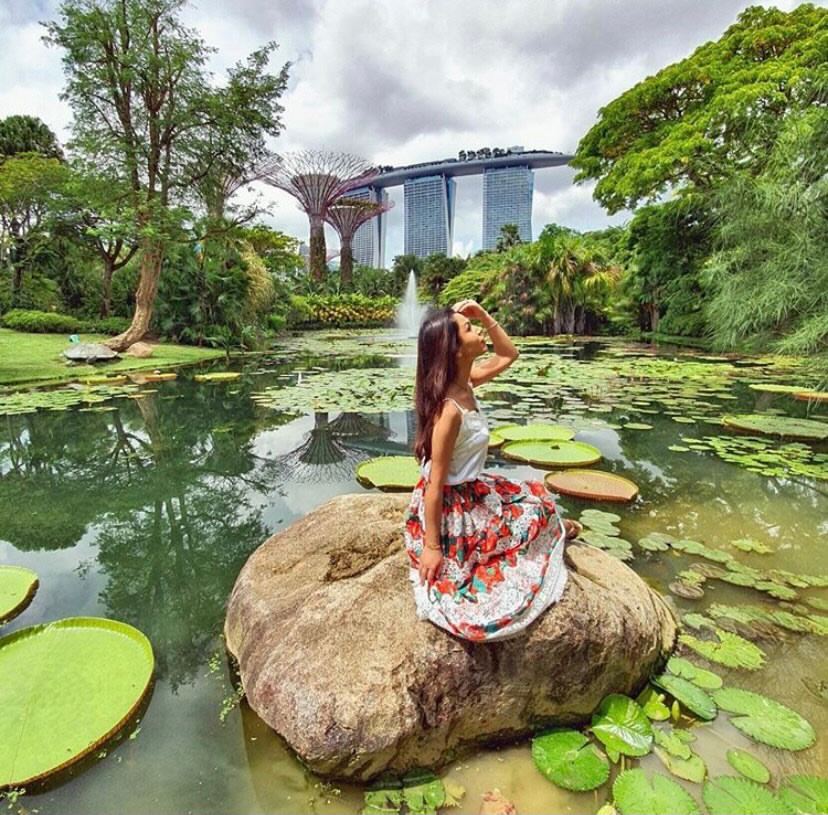 Source: @1sama1
Get a picturesque shot of both the Marina Bay Sands and Supertree Grove from a different angle. Instead of walking towards both structures and snapping that typical shot, head over to Victoria Lily Pond. The lush greenery with a rock boulder in the centre creates an ideal frame with you as the focal point, overlooking the stunning view ahead.
How to get here: 10 mins walk from Gardens by the Bay Drop-Off Point
4. Peranakan Houses at Koon Seng Road
Source: @zippyzeng
Add colours to your Instagram feed and visit the iconic Peranakan Houses located at Koon Seng Road, Joo Chiat. It's one of the most famous locations among tourists that beautifully captures the architecture of Peranakan houses built in the 1920s. Do practice caution and be respectful when having your photoshoot as they do have residents. We also recommend taking a stroll to Kim Choo Kueh Chang for some yummy chewy rice dumplings, a classic dish in Peranakan culture.
How to get here: 15 mins walk from Eunos MRT or board bus number 33 and alight at Opp Maranatha Hall stop
Dress fashionably in footwear from Aldo Shoes, Charles & Keith and VIVAIA.
5. House of Tan Teng Niah at Little India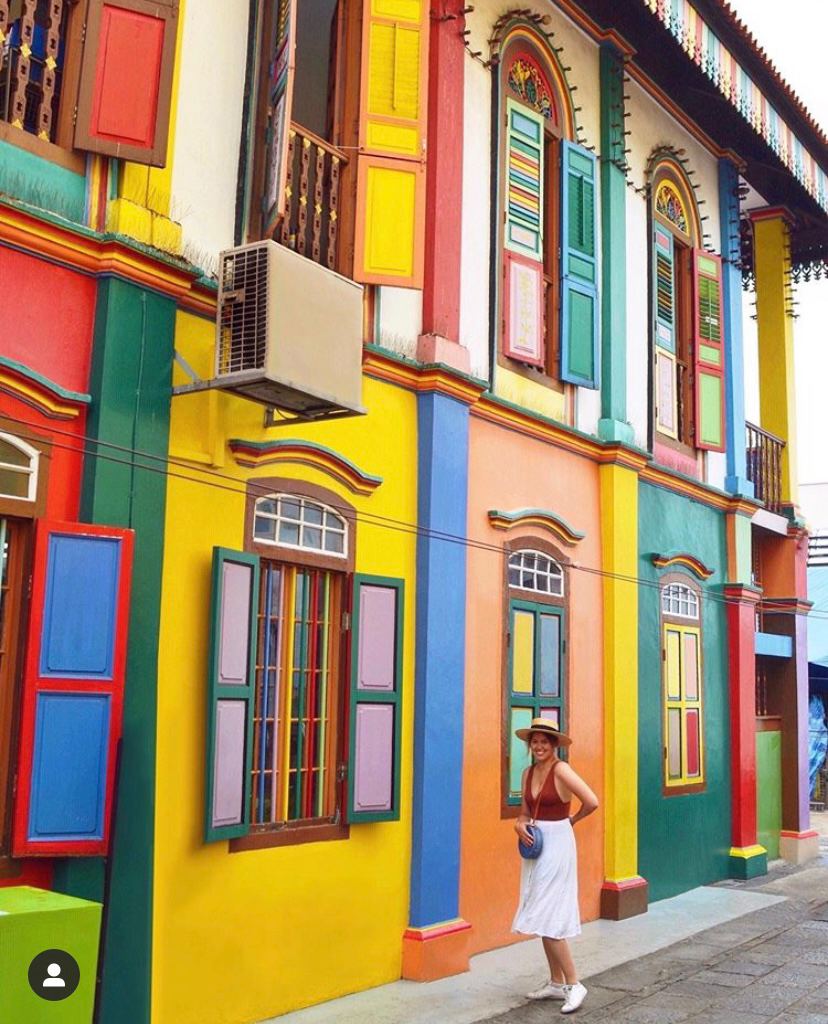 Source: @kimmaly_p
The last thing you would've thought exist in Little India is a Chinese temple. But here, witness the last surviving Chinese villa in Little India that was built in the 1900s. It was home to the former House of Tan Teng Niah, a Chinese businessman in Singapore who owned multiple factories at Serangoon Road. The villa boasts a vividly colourful façade – from sky blue, luminous orange, bright yellow to avocado green. One of the most impressive historic villas left in Singapore, making it the best spot in Little India for an #OOTD.
How to get here: 5 mins walk from Little India MRT
6. Old Hill Street Police Station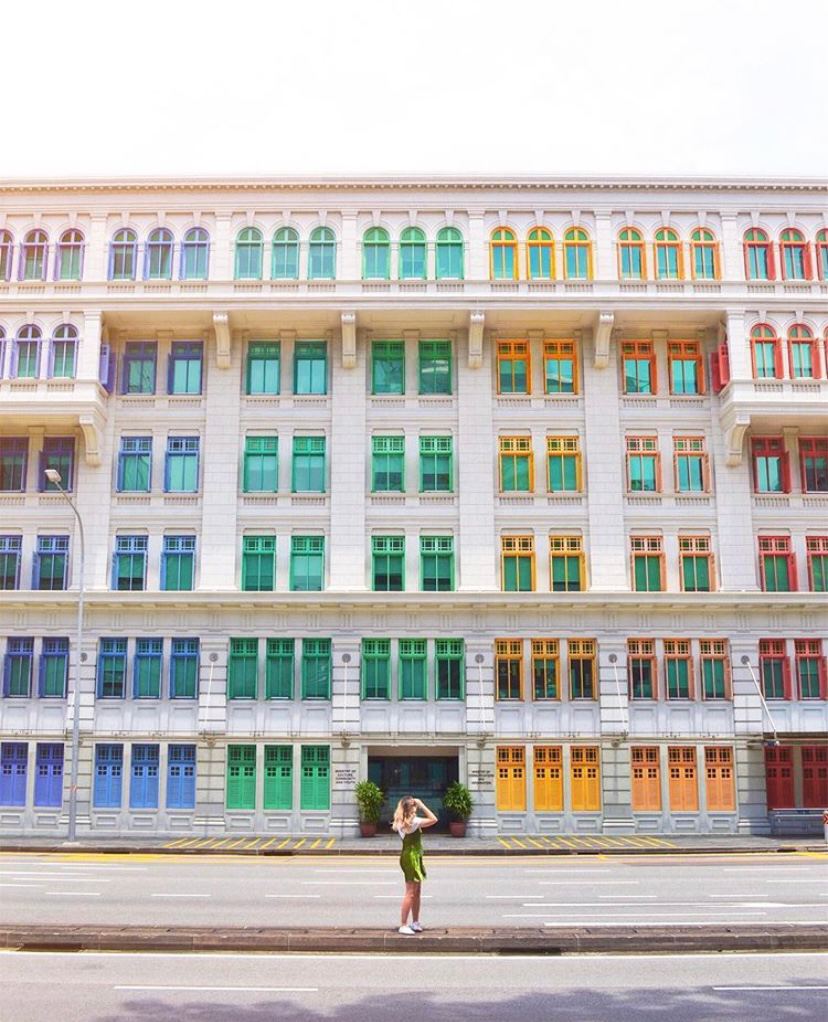 Source: @kimmaly_p
Ever drove past that colourful window building at Clarke Quay and wondered what it was? It is the Old Hill Street Police Station which has been a go-to spot for many tourists. Now used as an office space, the iconic windows painted in the shades of a rainbow was constructed in 1934 and restored in 1997. Here's a tip – come close to dawn and you'll see the majestic building light up boasting its beauty.
How to get here: 5 mins walk from Clarke Quay MRT
Explore Singapore by foot with sneakers from SKECHERS, Nike, Adidas, Puma Singapore or HBX.
7. Redhill MRT Station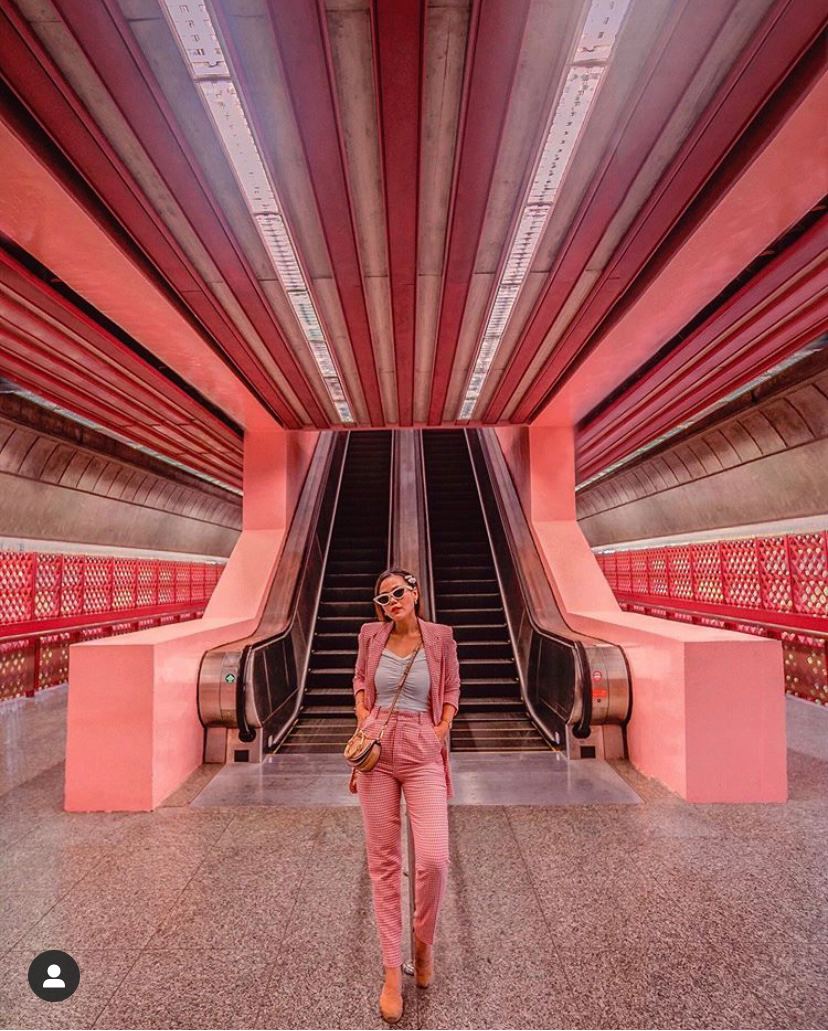 Source: @yuniqueyuni
Who would have thought we have an MRT station that's fully painted in pink?! At Redhill MRT station, you can have a photoshoot with a pastel pink background that looks similar to a Wes Anderson film. It is one of the most-Instagrammable MRT stations in Singapore and we are here for it. Position yourself at the base of the staircase and snap the shot for a beautifully symmetrical photo.
How to get here: Alight at Redhill MRT
8. Japanese Cemetery Park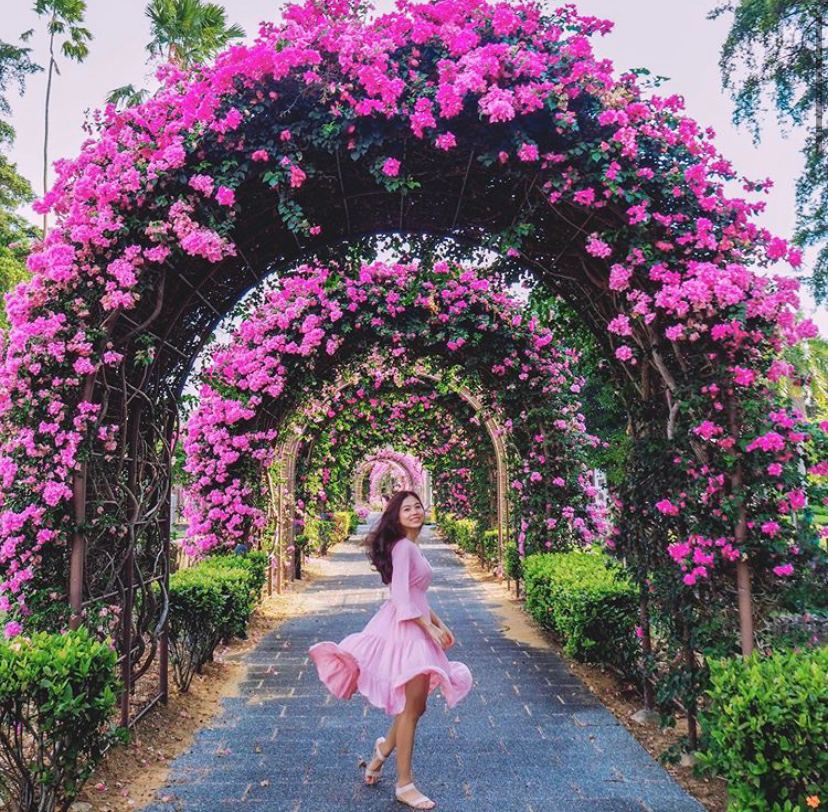 Source: @thet_diary
If you live in Hougang, did you know there's a Japanese Cemetery Park right in your backyard? It is the largest Japanese cemetery in Southeast Asia and is home to over 900 tombstones. Step into a sakura blossom wonderland and feel as though you're in Japan. During flower season, be awe-inspired by the bougainvillea that blooms in abundance. Please be respectful during your time here, as it is after all, a cemetery.
How to get here: Board 43, 70 or 116 from Serangoon MRT, alight at Blk 133 bus stop and walk for 8 mins.
Read: Best Things to See & Do in East Singapore
9. Sang Nila Utama Garden
Source: @rustydizon
Source: @daisybunch
Dreaming of visiting Bali but can't get on a plane? Make your dream a reality at Sang Nila Utama Garden, located at Fort Canning Park. Just a short walk from Clarke Quay and feel as though you're in the Land of the Gods with the luscious greenery, ponds and iconic brick structure – similar to Tanah Lot and Lempuyang Temple Bali.
How to get here: 10 mins walk either from Clarke Quay or City Hall MRT. You can also access via the stairs behind the Registry of Marriages building.
10. Spiral Staircase Photo Spot at Fort Canning Park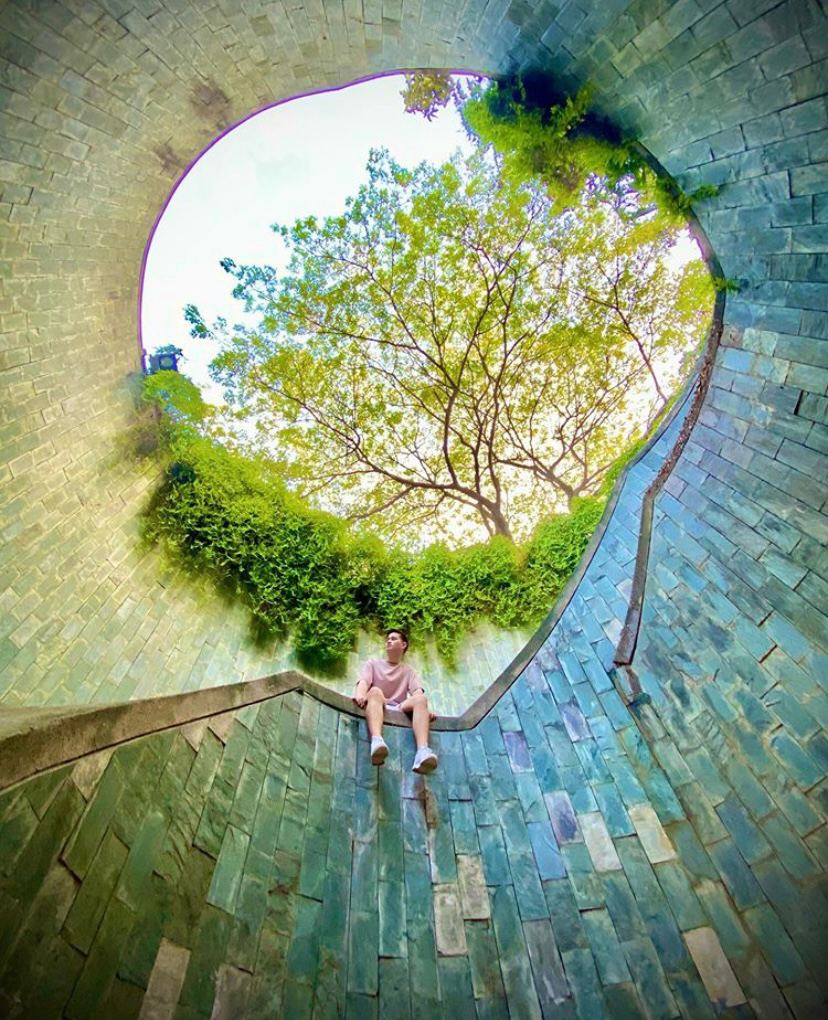 Source: @rustydizon
Source: @_megantsy
Take a scenic 10 mins to walk to the famous Spiral Staircase Photo Spot! This spot has been a go-to Instagram spot in Singapore and is one of the hidden gems you must check out. Angle your camera upwards and capture the vastness of the space. Get here early as we heard through the grapevine that there's even a queue to shoot here! And please be careful if you're seating on the ledge – no Instagram shot is worth injuring yourself for.
How to get here: 6 mins walk from Dhoby Ghaut MRT