Picnics are a great way for us to be surrounded by Mother Nature's embrace. True to our label as a 'City in a Garden', there are plenty of picnic spots all around us where we can go to for a day out in the open. This weekend, skip the malls, grab your picnic mat and head to any of these picnic spots not named Marina Barrage or East Coast Park to bask in all of nature's goodness.
1. Changi Beach
As one of the oldest coastal parks in Singapore, Changi Beach is popular among East-side residents as well as fishing and water sports enthusiasts. Food options are aplenty here with the Changi Village Food Centre located right around the corner. Need picnic accessories? Head to any of the numerous fishing/picnic equipment shops located at the foot of the HDB blocks, and you can find anything and everything including picnic chairs, mats, footwear etc.



Image credit: @chris_chow_rd

2. Marina South Pier
Far flung corner of Singapore, check. Unblocked view of the sea, check. Accessible via MRT, check. Greenery all around, check. The grassland next to the Marina South Pier MRT Station stretches all the way to the Gardens by the Bay. Marina South Pier is slowly but surely gaining popularity among people looking for green spaces around the Marina Bay area. Need snacks and water? There are shops located at the Marina Bay Cruise Centre, which is right next to Marina South Pier MRT Station where you can get all your picnic essentials.
We have even seen people working on their laptops at this prime picnic location. Certainly seems like a good spot to get all those creative juices flowing!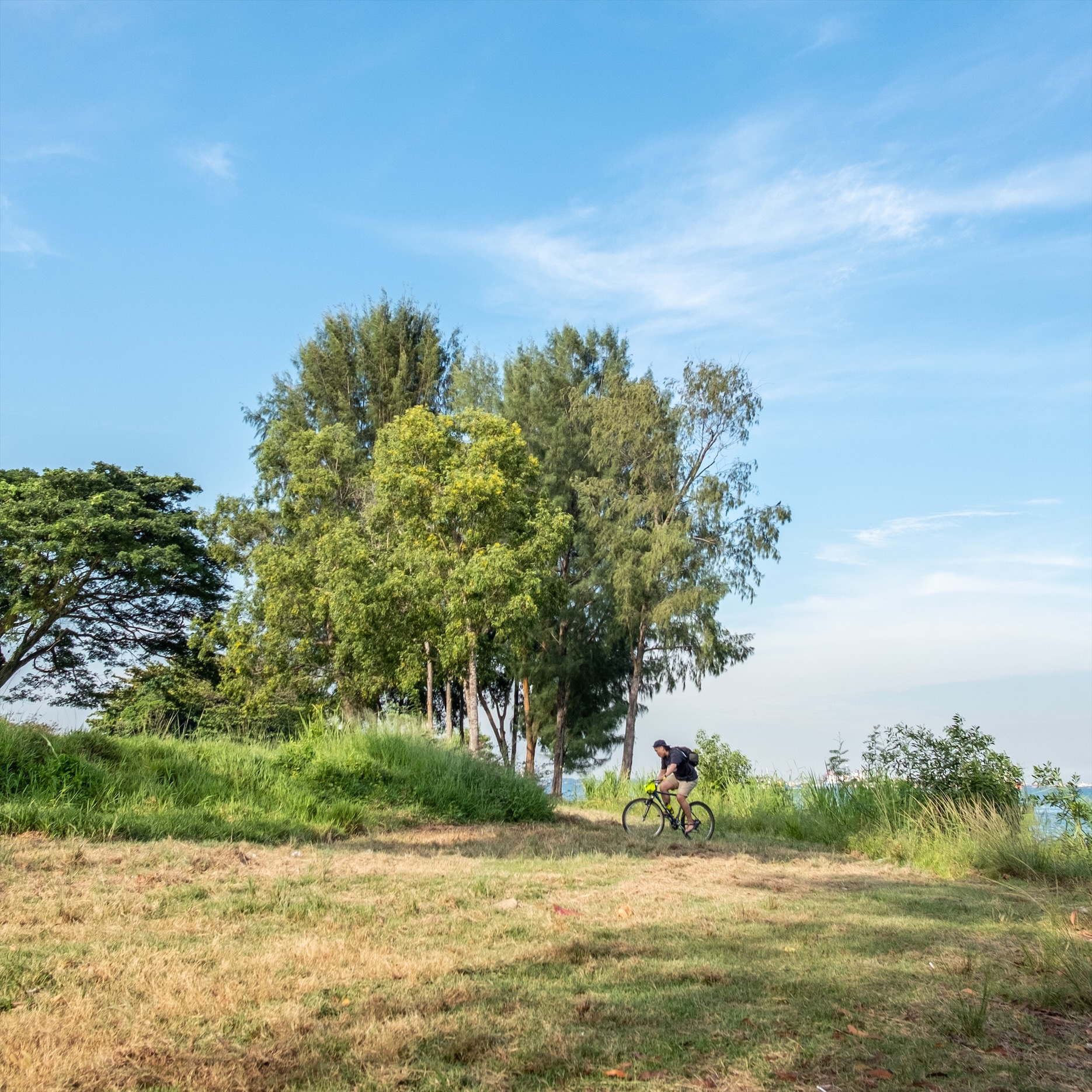 Image credit: @iamnynynny

3. Bay East Garden
This place is famous for two things - the breakwater where you can enact your favourite Korean drama scenes (think the scene where Gong Yoo hands over a bouquet of flowers to Kim Go-eun), and also where you can catch a majestic view of the Marina Bay skyline from the southern-most part of mainland Singapore. The garden is currently still a work in progress, and getting to this location by public transport is almost out of the equation at the moment, but if you are looking for a quiet place near the sea with a magnificent view in the other direction, this may be it.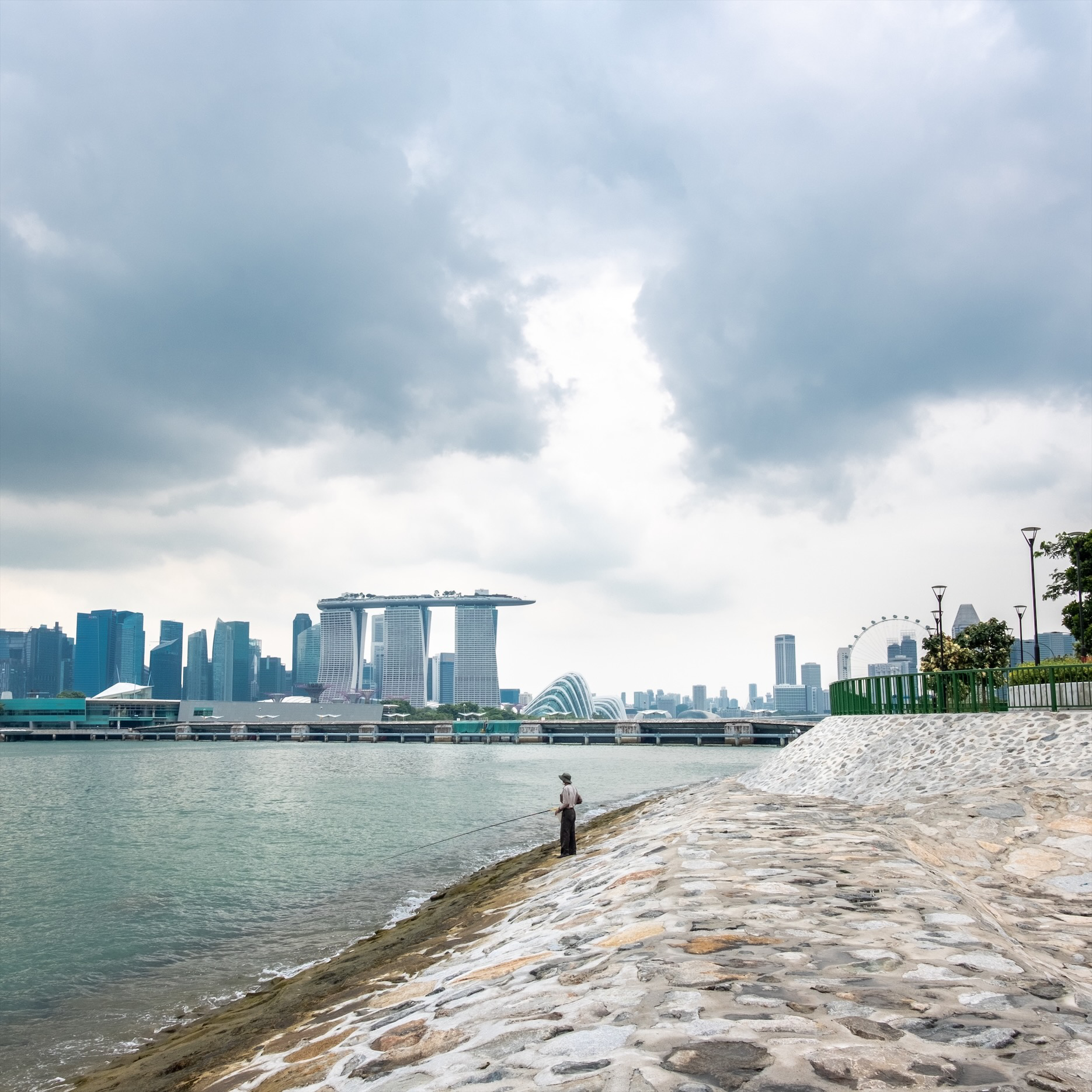 Image credit: @iamnynynny

4. Sembawang Park
Away from the hustle and bustle of the city, Sembawang Park provides visitors a glimpse into Sembawang's history past as a British naval base from 1938 to 1968. Discover restored old pathways used during the British occupation as well as Sembawang jetty and the remains of the 1920s Seletar Pier. Spend a day by the seaside and enjoy the sea breeze or even sights of neighbouring Johor!



Image credit: @erhanerdogar

5. Labrador Park
Labrador Park needs no introduction. Built on the edge of a secondary forest, Labrador Park finds itself host to migratory birds who might have been crowded out at Sungei Buloh Wetland Reserve. Berlayer Creek, running parallel to the length of Labrador Park is also home to over 60 species of birds, including the Collared Kingfisher, Oriental Pied Hornbill, White Bellied Sea Eagle among many others.

Besides boasting plenty of flat and shaded spots for visitors to lay their picnic mats, park goers can also check out other amenities such as a children's playground and a boardwalk running along the outer perimeters of Reflections at Keppel Bay, which would eventually lead you to a private yacht marina with a cafe.



Image credit: @iamnynynny

6. Telok Blangah Hill Park
Popular among trekkers taking the 1.3 kilometre-long walk between HortPark and Telok Blangah Hill Park, the park is well-equipped with picnic tables with tall trees providing shade. Get treated to a breathtaking 360-degree view of southern Singapore atop the Terrace Garden, consisting of a stretch of semi-circular terraces.



Image credit: @yuki_naito26

7. Keppel Marina East Desalination Plant
Some may call the Keppel Marina East Desalination Plant(KMEDP) the second Marina Barrage seeing that it is also another desalination plant with a green rooftop open to the public. Whatever you may wish to call the KMEDP, there is no denying that people are not complaining the addition of another picnic spot with a vantage view of the city. That said, it is still not as well-equipped with F&B options as Marina Barrage, so do remember to pack your own food before going down for a picnic at KMEDP.



Image credit: @archigardener

8. Pasir Ris Beach
Eastsiders will love Pasir Ris Beach for its peace and tranquility. Located in a far-flung corner of the island, getting there may require a little bit more determination on your end if your postal code does not start with a 4, 5 or 8. That said, you will enjoy the incredible views of Pulau Ubin and Pulau Tekong together with the never-ending groups of people enjoying their water sports in the sea. This beach is also among one of the largest in Singapore, with a mangrove swamp within the park.



Image credit: @bluwaters2

9. Upper Seletar Reservoir Park
Did you know that the Seletar Reservoir was declared open by Her Royal Highness, Princess Alexandraon 10 August 1969? It was later renamed to the present Upper Seletar Reservoir in 1999 and marked as a historic site. Picnic goers will love the abundance of lush green spaces surrounded by flora and fauna. The park is also a popular spot for couples on their pre-wedding photo shoot. Judging by the picture below, we can certainly understand why.



Image credit: @rachietxx

10. Woodlands Waterfront Park
Another scenic waterfront park overlooking the Straits of Johor. This park is well-known and well-visited by people staying in the north. There is also a halal-certified restaurant named Rasa Istimewa Waterfront Restaurant located right on Woodlands jetty with an unparalleled view of Johor from Singapore. Probably as close as we can get to Johor for now.

That said, Woodlands Waterfront Park at 11-hectare is also one of the largest waterfront parks in Singapore. Find a shaded spot among the abundance of green spaces, lay your picnic mat and enjoy your day out in nature!



Image credit: @guoshengz

Living on a island in the tropics means we can probably count on visiting scenic seaside parks when we want to go for a picnic. To be able to enjoy the sea breeze under a tall tree providing you shade, life's pleasures do not get much simpler than this. Dust that picnic mat of yours and head to these scenic picnic spots this weekend!
Not a fan of picnics? Check out our guide on other 7 Best Outdoor Activities to Gather the Gang for here.
Photo by Evangelina Silina on Unsplash