제주도에 가카마시? (che-ju-do-eh ga-ka-ma-shi, or "Shall we go to Jeju Island" in Jeju dialect)
For those looking to get away from the hustle and bustle of the major cities, Jeju Island, known as one of the most relaxing spots in the whole of South Korea, provides the perfect escape with its stunning nature and picturesque landscapes. Formed by the eruption of an underwater volcano millions of years ago, it is also home to not one but three UNESCO World Heritage Sites - Jeju Volcanic Island and Lava Tubes, Halla Mountain and Seongsan Ilchulbong Peak.
There is a reason why over 3.45 million people (according to Jeju Tourism Association) have visited Jeju Island from January to April this year - other than its idyllic scenery, it represents the perfect healing spot for many South Koreans yearning to escape the pandemic fatigue, as well as to restore some semblance of normalcy back to their lives.
Singaporeans looking forward to the same escape can now do so, as Scoot has recently announced their new non-stop flights from Singapore to Jeju Island - a first for both countries.
Looking to get away from your monotonous daily routines and explore this island that is known for its natural wonders, good food and amazing hospitality? Look no further as we present you a local's guide to the best relaxation spots in Jeju Island. Ga ja! (Korean for "let's go")
1. Seongsan Ilchulbong (Sunrise Peak)
Long considered one of South Korea's top scenic locations and one of Jeju Island's three UNESCO World Natural Heritage Sites, Seongsan Ilchulbong is known to be the only hydromagmatic volcano in the world with a well-preserved tuff (ash that has weathered into rock) cone and diverse internal structures along a sea cliff. Hikers to the peak will be treated to a breathtaking panoramic view of the ocean, Udo Island, Halla Mountain, and the volcanic landscape of eastern Jeju Island.
Catch the haenyeo, or female divers, in action as they dive 10m under the sea for a minute to gather sea produce such as shellfish and sea urchin, all without an oxygen tank. The culture of Jeju haenyeo has been inscribed in 2016 on the Representative List of the Intangible Cultural Heritage of Humanity. Believe it or not, some of these divers are aged in their 80s and yet they still go diving on a daily basis!
2. Hallasan (Halla Mountain)
Not only is Hallasan the tallest peak in the whole of South Korea (and the second highest on the Korean peninsula, after Paektu Mountain of North Korea), it is also one of three sacred mountains in Korea where spiritual immortals were said to reside. Well-loved and respected by the people of Jeju Island, Hallasan is seen as a great pride and the spiritual home of the locals.
In addition to being designated a National Park, it also carries titles such as UNESCO Biosphere Reserve, South Korea's first UNESCO World Natural Heritage Site as well as being recognised as a Global Geopark. Quite the overachiever isn't it?
3. Seopjikoji Coastal Walk
Located on the eastern end of Jeju Island, Seopjikoji is a combination of "narrow land" and "promontory" in Jeju dialect. What makes it different from the other coastal walks is that it is made up of a red volcanic ash called "scoria". During low tide, you can also see strange yet spectacular rock formations littered along the coast line.
Come during spring and you can expect to see vast lands filled with canola flowers. Grab a selfie in the flower fields with the magnificent Seongsan Ilchulbong in the background - you won't get a better background in Jeju Island than this.
4. Manjanggul (Manjang Lava Tube)
The Manjang lava tube was formed thousands of years ago and remains in a very well-preserved state, making it a rarity in the world of lava tubes. Expect to see stalactites, stalagmites, flowstones, lava tubes, lava shelves, and lava rafts as you move along the cave formations. The highlight at Manjang Lava Tube is the 7.6m high lava column at the end of the tourist zone, which also happens to be the world's highest lava column.
5. Udo (Cow Island)
Literally translating to "Cow Island", Udo is named as such because the locals thought it looked like a cow lying down. Udo is a lava plateau formed by basaltic lava and as such has fertile lands where some of Jeju Island's most famous exports like sweet potatoes, garlic and peanuts are produced. To get to Udo, you will need to take a ferry from Jeju Island's Jongdal or Seongsan Port, with the latter being the more widely used port.
Udo is also one of the most visited spots in Jeju Island thanks to its beautiful scenery. To get around Udo, make use of the shuttle buses which will bring you to most of the attractions scattered around the island.
6. Jeju Dongmun Traditional Market
No visit to Jeju Island is complete without a visit to Dongmun Traditional Market, Jeju Island's largest and oldest traditional market. This is the place to go to if you are looking for local delicacies, produce and cute souvenirs.
One item which tourists do not leave the place without is the Hallabong tangerine - probably the most famous type of Korean tangerine in the world. Resembling a gourd with its protruding stem, this oddly shaped tangerine contains crunchy pulp and is rich with sweet juice. Expect to find all kinds of food products with the Hallabong tangerine added to them. Some common ones include Hallabong tangerine flavoured chocolates, biscuits, coffee, Korean rice wine, the list is endless.
7. Jeongbang Falls
Jeongbang Waterfalls is one of the top three waterfalls in Jeju Island alongside Cheonjiyeon Falls and Cheonjeyeon Falls. What is special about it however, is that it is the only waterfall in South Korea where the water flows directly into the sea.
This 23m waterfall is a sight to behold, with its steep cliffs and old pine trees lining the fall. Look for the ajummas (Korean for middle-aged lady) selling fresh seafood in their tents. Savour the freshness of these sashimi dishes while you take in the unspeakable beauty of the waterfall. There is a reason why Jeongbang Falls has been called one of the most beautiful spots in Jeju Island.
8. Jeju Folk Village
One of Jeju Island's main attractions, this is the place to go if you want to learn about Jeju folk village culture and the history of the island. The Jeju Folk Village showcases over 100 carefully-preserved houses and facilities that were once used by generations of people. When you are there, take part in activities such as traditional games, making of traditional crafts such as pottery and wood carving, or even horse-riding!
9. O'sulloc Green Tea Field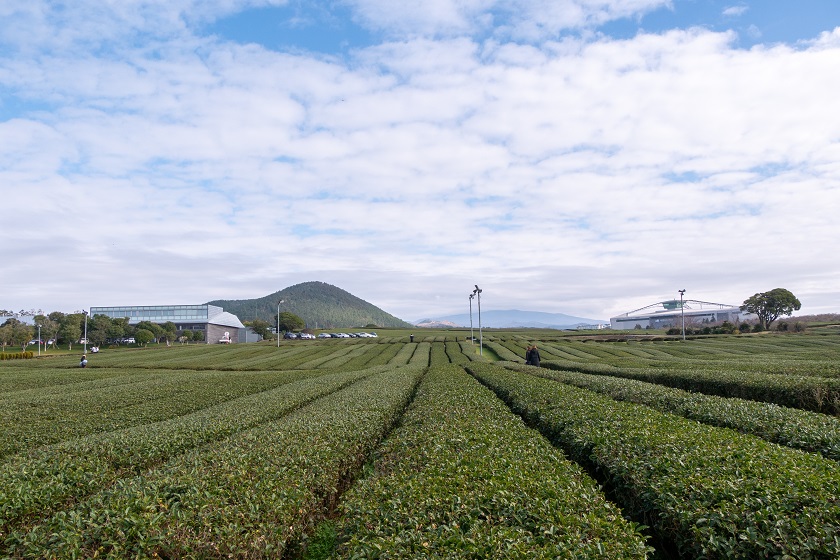 If you have not heard of O'sulloc by now, you may have to get out and explore your neighbourhood supermarkets just a little bit more. O'sulloc is the largest producer of tea in South Korea, and all their four tea gardens are located on Jeju Island (due to its subtropical climate).
As you might have already read by now, Jeju Island was formed as a result of a volcanic eruption, and the island's volcanic soil has a special texture that filters underground water tremendously well. Coupled with the ideal climate and sufficient rainfall, these resulted in cleaner tea leaves which are well-loved by tea connoisseurs from all around the world.
There is also a O'sulloc Tea Museum & Tea Roastery where you can learn about the history of tea drinking in Korea or shop from the mind-blowing wide range of green tea products such as premium loose-leaf teas, blended teas, herb teas, tea lattes, tea cocktails, soft serve and other souvenirs.
10. Jeju Loveland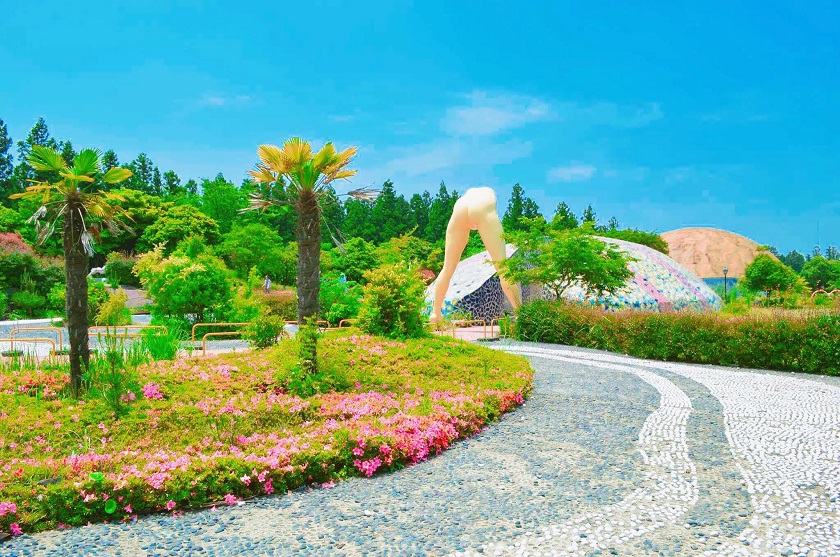 Remember, this is NOT A THEME PARK FOR THE KIDS.
According to their own words, this sex-themed sculpture park is "where eroticism and sexuality join together". Be prepared to be greeted by countless sculptures in all kinds of imaginable love-making positions, phallic sculptures in more shapes and sizes than you can imagine, and sexual artwork decorating every crook and cranny.
It is also one of the few theme parks where admission is till midnight. Do note that there is an admission fee of KRW12,000, or roughly $13.50.
Whether or not this location can help with your relaxation, we shall leave that up to you.
Looking for more travel guides? Check out our section on Travel Stories here for all exciting places to check out from around the world!
This is an independent article brought to you by meREWARDS.
Powered by Froala Editor