We get it. You have already browsed through tens of phone cases at the store and none of them have caught your eye. If convention is not your thing, why not consider customisation?
Decoden art, short for "decorated denwa" or "decorated phone" in Japanese, is a captivating and whimsical form of crafting that has gained immense popularity in recent years.
Fancy a 3-dimensional phone case adorned with your favourite charms?
Originating in Japan, this unique art style involves embellishing everyday objects, particularly phone cases, with an abundance of colourful and intricate decorations.
The concept behind decoden is to create a visually stunning and personalised piece by adorning it with various materials such as resin, rhinestones, pearls, miniature charms, and even small trinkets.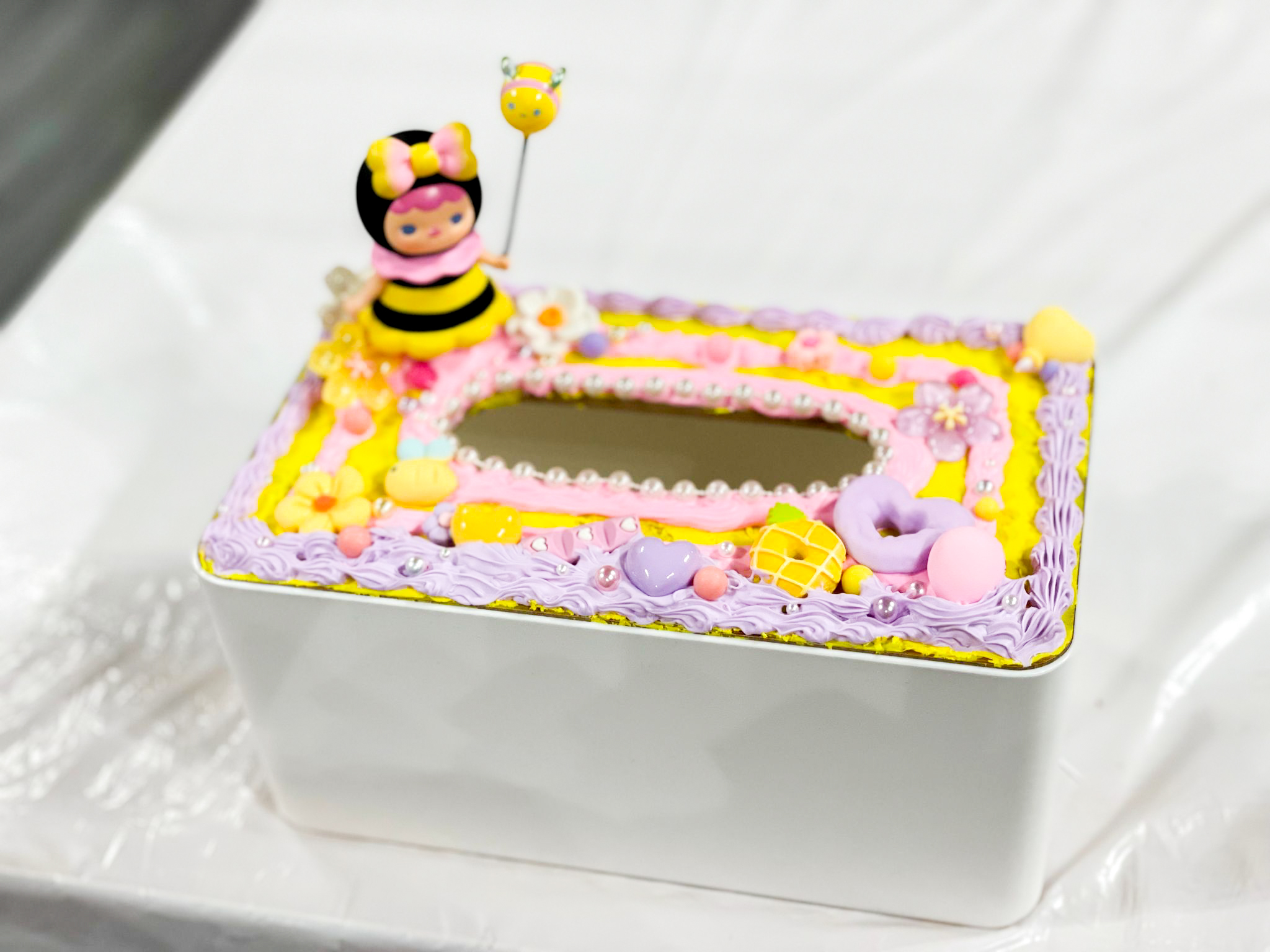 Why settle for ordinary tissue boxes when you can have a pretty one like this?
A decoden-decorated mirror
The result is a dazzling, three-dimensional masterpiece that showcases individual creativity and reflects the artist's personality.
Decoden art is not only limited to phone cases but can also be applied to other items like jewellery boxes, keychains, and even furniture, adding a touch of whimsy and joy to everyday objects.
Decoden art is not just limited to phone cases
H&H Studio - Decoden Art Studio
Located at 111 Somerset, H&H Studio is a studio specialising in the decoden art experience.
You can choose to work your hands on a wide variety of everyday objects such as handphone case, mirror, tissue box, and even a mini table lamp.
For those who prefer painting, you can choose between the acrylic fluid bear or a plaster doll.
Prices range from $12 for a top loader to $78 for a large acrylic fluid bear.
Choose your own colour combination for your acrylic bear
Plaster doll painting costs $35
The entire process was clear-cut - select the item you wish to work on, choose from a wide assortment of charms, pick up the glue (they come in various colours), and you're ready to get started.
Contrary to what you may be thinking, it's easy to choose your charms from over 200 designs. The tough part is knowing when to stop.
Choosing the charms is the tough part - there are over 200 of them
Feel free to choose as many as your canvas allows
Fret not if this is your first time trying decoden. The friendly staff at H&H Studio is around to guide you at every step. You can even practise the application of the resin on a blank paper before you work on your item.
The various ways you could apply the resin (or glue)
As you master the different ways to apply the resin, the next step is to think of how you want to decorate your item with the charms.
Place your charms onto the resin and allow it to set
Let your imagination and creativity juices flow. The possibilities are endless with over 200 assorted charms and resin of various colours.
One by one, plastic decorations of various shapes and colours are added, and glitter powder and rhinestones are sprinkled onto selected areas for the finishing touch.
Our phone holder and hair clips after 30 minutes of intense piecing together
Items nicely packed into a box - it makes for a great gift too!
Decoden art is perfect for those girls' day out, or as a fun activity between couples and families. Kids will love the cute charms and extravagant embellishments. Adults will love the experience of creating something that screams "me".
We all have countless options for everyday-use items like handphone case and hair clips. Walk into any mall and you'll be easily swarmed with choices. Decoden allows us to create something which no one else has. Whatever we create is "the special one".
merewards Deal
Want to give decoden a try? For a limited time only, use our promo code in the link below for a 10% discount at H&H Studio.
Enjoy 10% OFF workshops at H&H Studio here
H&H Studio at 111 Somerset
Find H&H Studio
Address: 111 Somerset Rd, #01-44, Singapore 238164
Opening Hours: Mon - Fri 11am - 8pm, Sat & Sun 11am - 9pm
Nearest MRT Station: Somerset Station
Contact Number: 96207261
Website: https://www.hnhstudio.sg/
This article is a collaboration with H&H Studio.