Fans now have the opportunity to secure their seats to their favourite Mediacorp shows in a more engaging and equitable manner!
The ticket balloting system was launched in August 2023 on the merewards platform, allowing all meconnect users to ballot for tickets to Mediacorp shows such as The Sheng Siong Show, Golden Age Talentime 2023, and Te:Ra Seh! 5.0, with tickets to more shows soon to be listed on the platform.
The Sheng Siong Show hosts Kym Ng and Desmond Koh
Want to experience the magic of Mediacorp's captivating productions in person? Here's what you have to do.
1. Register for a meconnect account
Registering for a meconnect account is easy. Simply head over to the link below to create one. A meconnect account gives you access to all of Mediacorp's digital platforms such as mewatch, melisten, and merewards.
Create a meconnect account here
2. Download the merewards app or go to our website
Want to enjoy a seamless way to ballot for tickets while relishing on 1-for-1 dining deals and earning cashback on your online shopping? Download the merewards app from the Apple App Store or Google Play Store to enjoy all the free dining, shopping, and travel deals!
If you prefer to ballot for your tickets from your internet browser, head over to the link below instead.
Click here to enter merewards site
3. Log in to your meconnect account
On your merewards app, tap on the menu icon on the left followed by 'Sign In'. On the merewards site, click on 'Sign In' on the top right hand side of the page.
4. Go to 'Tickets' page and ballot for tickets
On the top of the page, tap or click on the 'Tickets' tab. Select the show which you would like to ballot for, followed by the quantity of tickets and click 'Confirm'.
That's it! The results of the ballot will be sent to you both via email, as well as indicated on the 'Tickets' page of your merewards app or site.
Choose the show which you would like to attend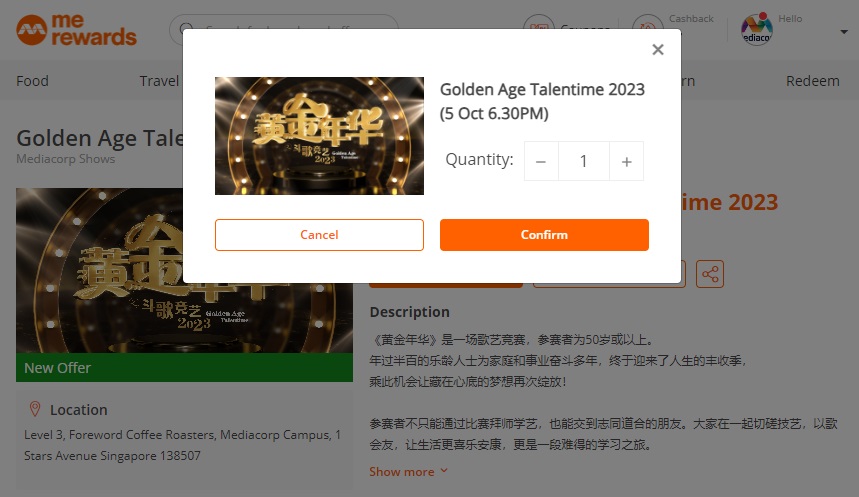 Select the number of tickets you would like to ballot for and click 'Confirm'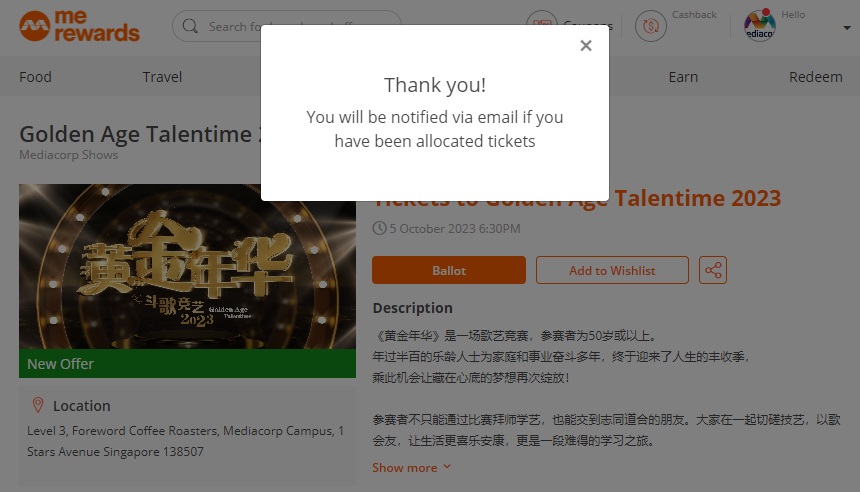 Wait for our email!
5. Present QR code to staff on event day
During the event day, you may present the QR code to our ushers either as a hard or softcopy. Please follow the ushers' instructions before entering the studio or theatre.
6. Enjoy the show!
That's all you need to enjoy Mediacorp recordings and productions in person! We look forward to seeing you at Mediacorp!
Check out all the recordings and productions available for balloting via the link below.