Sink your teeth into a juicy meat patty, layered with toppings and condiments packed between fluffy buns. Making a mess is inevitable, but it's the only way to chomp down a burger. There are many restaurants and cafes serving burgers, but finding the best ones can be overwhelming. Here's our guide to the best and must-try burgers in Singapore that will suit any budget, from fancy restaurants to hawker eats (with deliveries available). Please leave the calorie calculator at home, you won't need one here!
Read: Lola Faye Cafe Review: New Café in Jalan Besar Serving Waffles, Gelato, Croissants & Frappe Opens till 2am
1. Hard Rock Café Singapore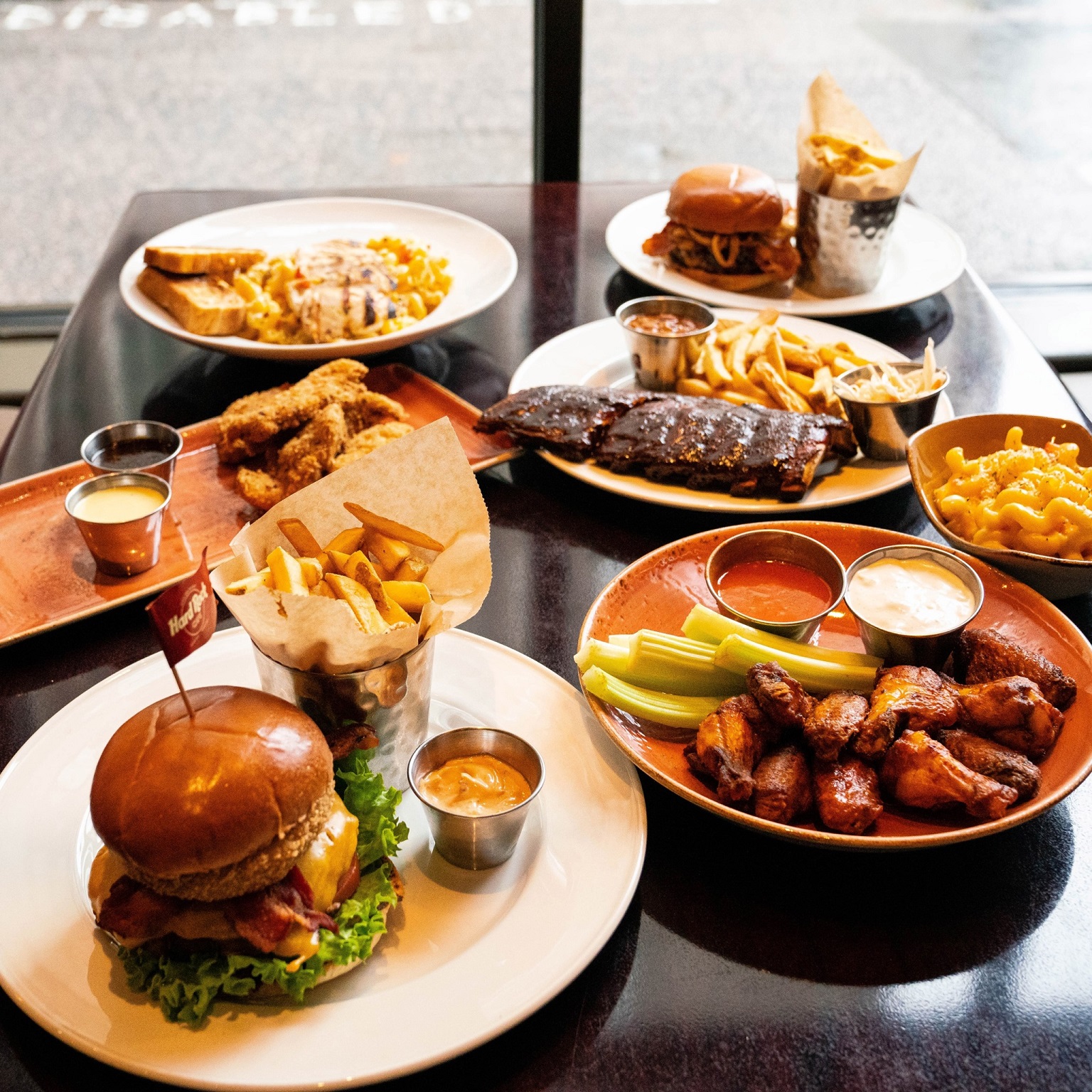 Source: Hard Rock Cafe Singapore
A notable family-friendly eatery, Hard Rock Café Singapore has the ultimate burger you must try at least once in your life. Behold the Original Legendary Burger – 227g of black Angus beef, smoked bacon, cheddar cheese, crispy onion ring, lettuce and tomato, served with their signature sauce on the side. Sink your teeth into this bad boy and forget all your worries.
Get more bang for your buck with our 1-for-1 offers at Hard Rock Café Singapore here – from Hard Rock Cafe Baby Back Ribs ($41.95), Original Legendary Burger ($29.95) and Hot Fudge Brownie ($18.95). Promo is applicable for self-pickup and takeaway too, valid till 24 Oct only.
Address: 50 Cuscaden Road, Hpl House #02-01, S249724
Opening hours: Daily 11.30am - 9.30pm
Read: Best Ice Cream & Gelato Shops You Must Try in Singapore
2. Butcher The Burger Bar (Sembawang)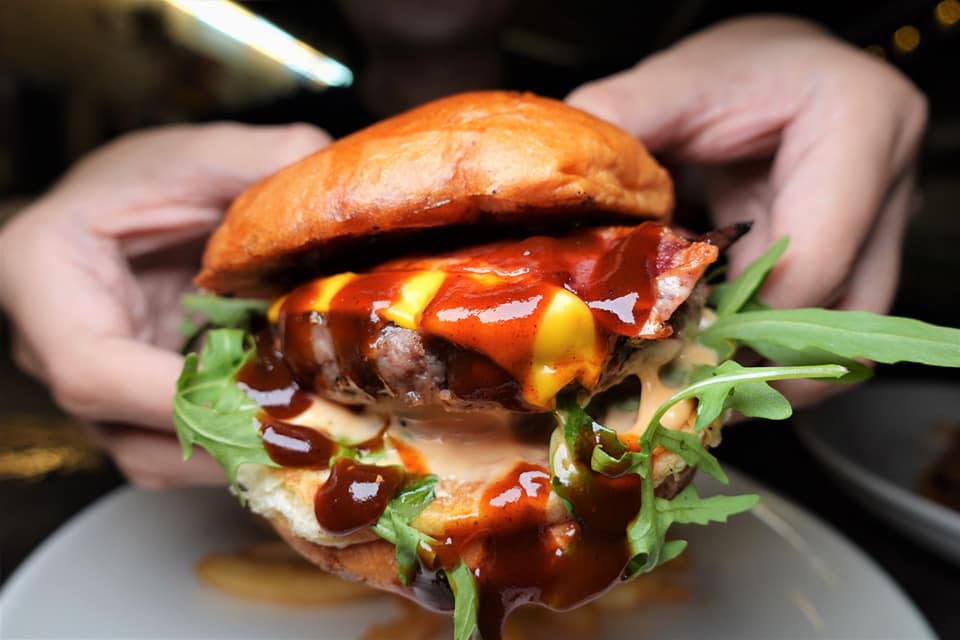 A hearty burger usually doesn't come cheap but at Butcher The Burger Bar, they're affordably priced starting from just $9.80. Tender and juicy patty in between buttery brioche buns, their burgers includes fried shallots for that extra crunch. Take your pick from Truffle Shuffle, Crispy Stack or Bacon Cheese ($12.80 each) or add $1 for a plant-based patty. Don't just stop at burgers, try their delectable sides too such as Mentaiko Fries ($7), Cheese Sticks ($7) and Beef Cubes ($12.80).
Two is better than one, go ahead and redeem our 1-for-1 offers with our meREWARDS app at Butcher The Burger Bar here.
Address: The Patio, 1018 Sembawang Road S758495
Opening hours: Mon 3pm - 9.30pm, Tue to Sun 11.30pm - 9.30pm
3. Eggslut
Source: Eggslut Singapore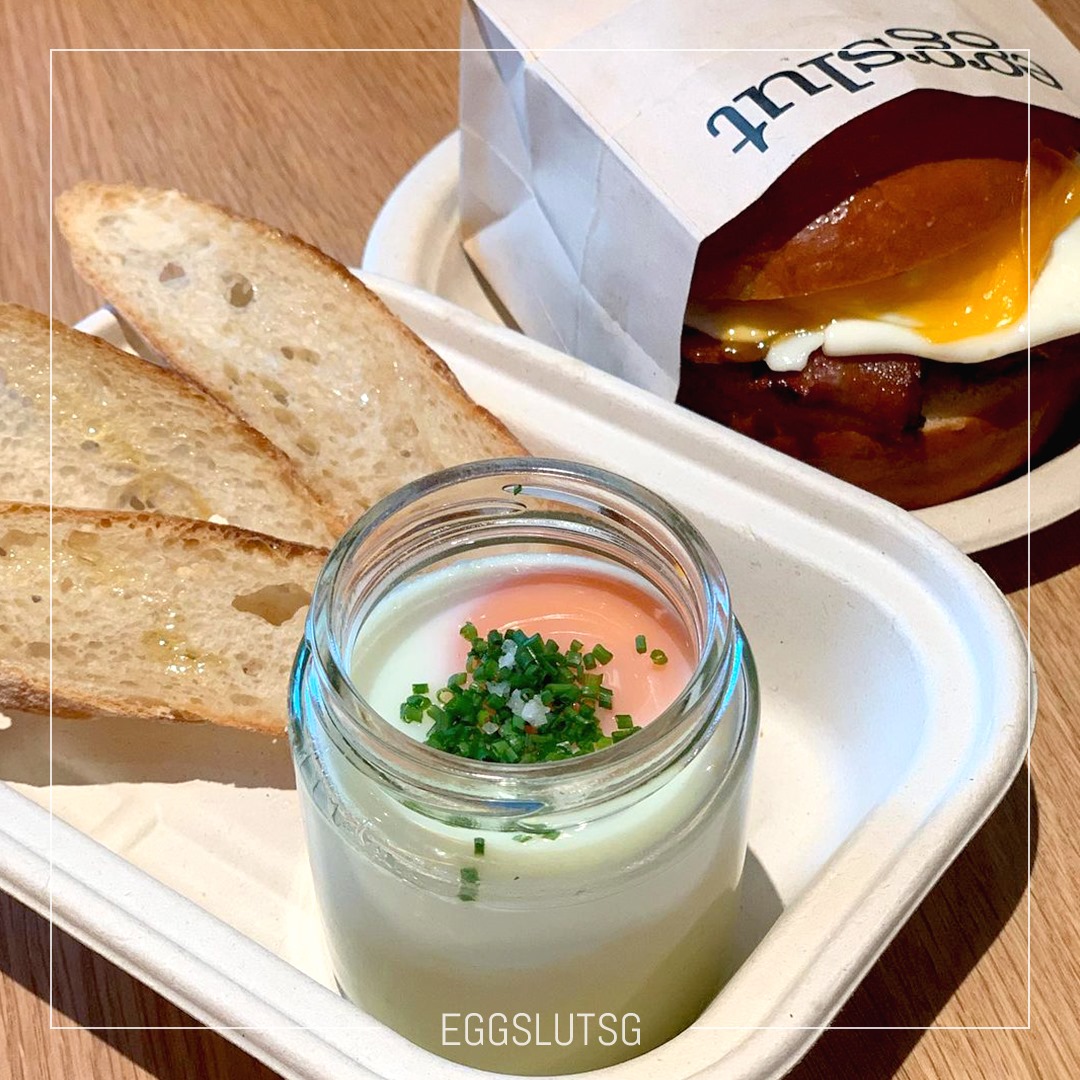 Source: Eggslut Singapore
Pillowy brioche buns sandwiched between fluffy cage-free scrambled eggs, chives, caramelized onions, Sriracha mayo, and cheddar cheese - the Fairfax Sandwich ($12) is the ultimate burger to try from Eggslut. This famous burger joint hails from Los Angeles and has opened outlets around the world including Korea, Japan, UK, Kuwait City and Las Vegas. If burgers aren't your thing (but why?) try the Slut ($11) – a small jar filled with potato puree, topped with a coddled egg, sprinkled with chives, grey salt and served with sliced toasted baguettes for dipping. It's eggceptionally good!
Address: Scotts Square, 6 Scotts Road, #01-12, S228209
Opening hours: 8am – 10pm daily
4. Be Frank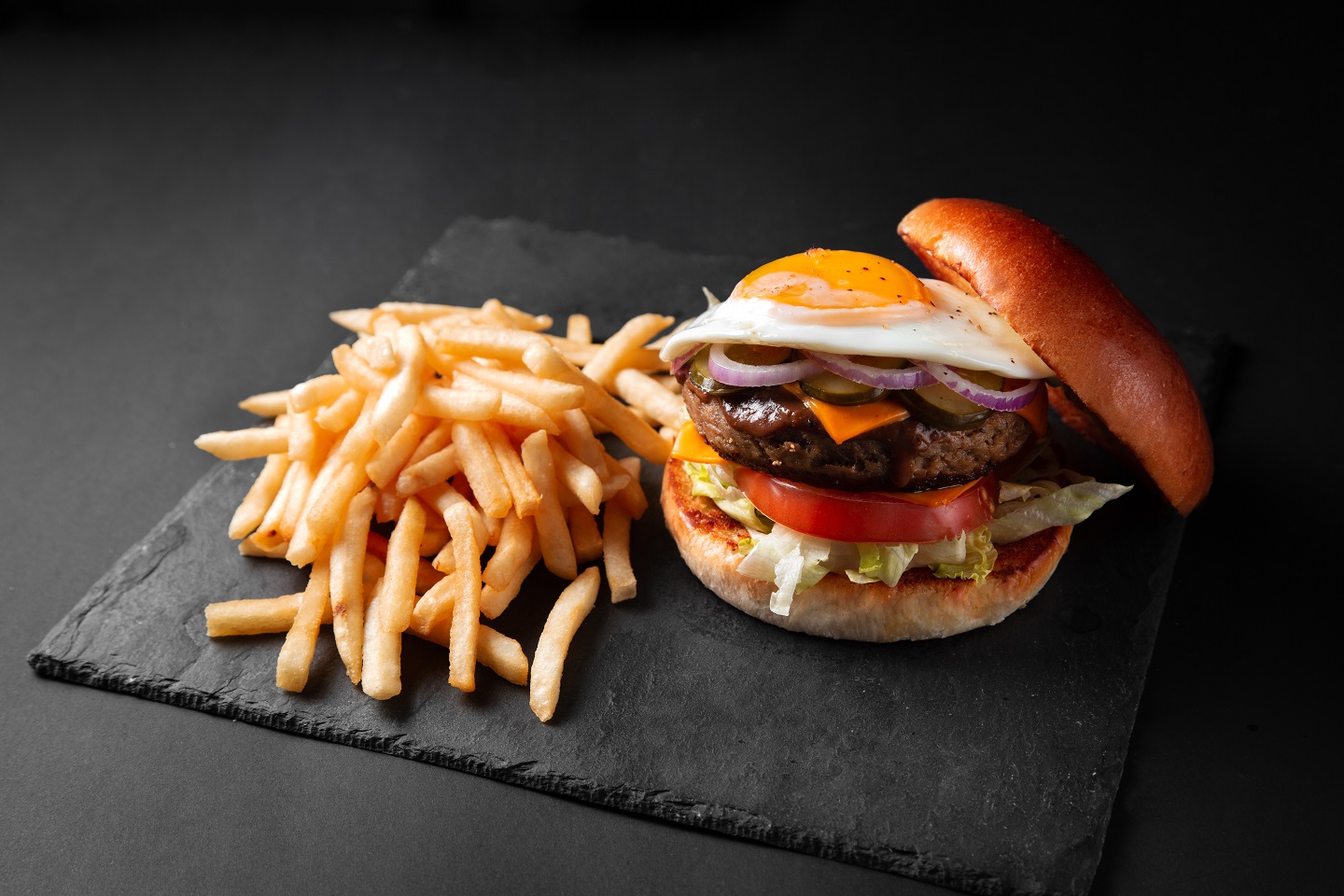 Source: Be Frank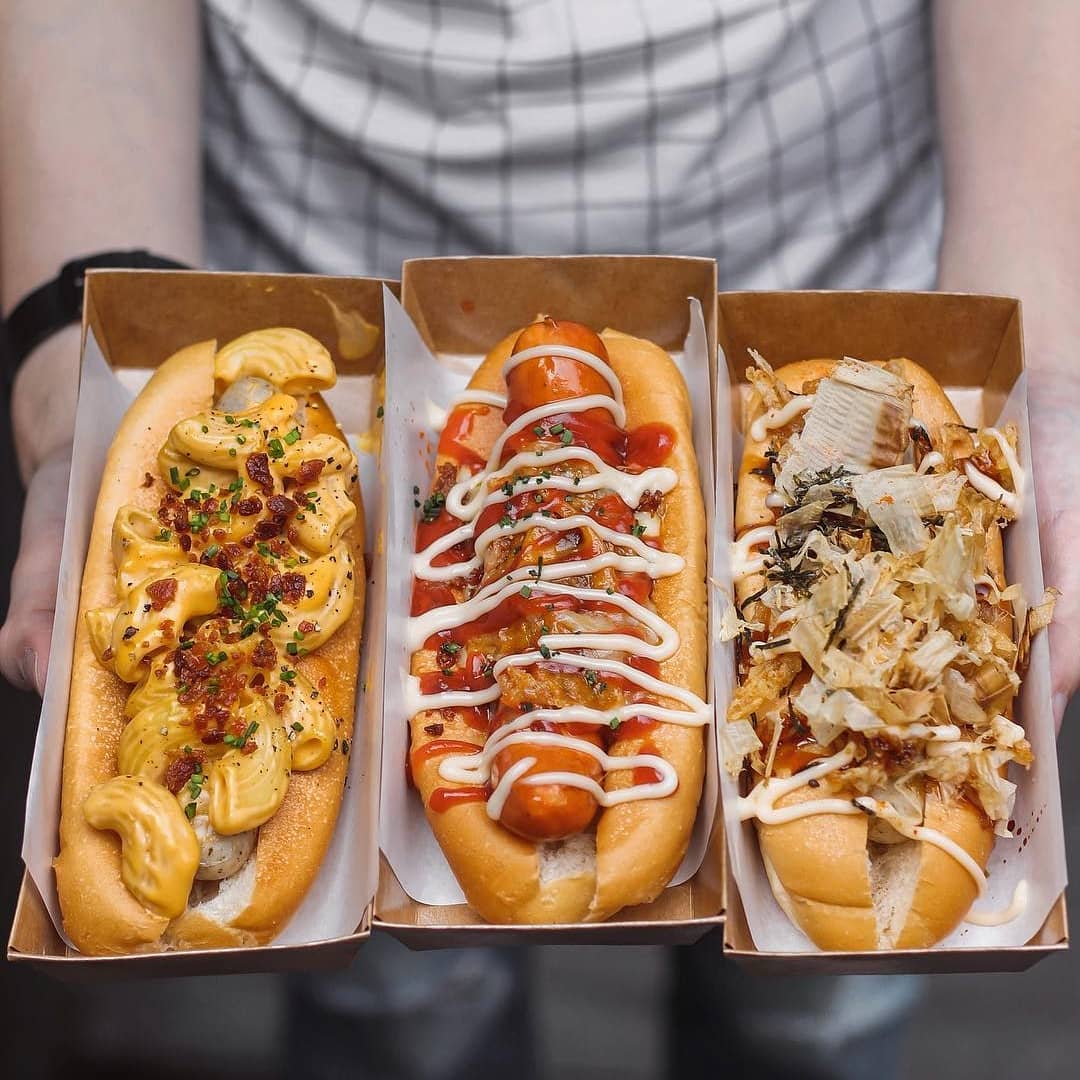 Source: Be Frank
Let's be frank, the burgers from Be Frank in Clementi are one of the best in West Singapore! If you're crazy about mentaiko, dis' the place to be. Order their best-seller Signature Ribeye Burger ($17.90) – thick ribeye patty grilled medium rare, drizzled with mayo, black pepper sauce and layered with cheese. Upgrade your meal with fries for just $3 and pick between Truffle, Chilli Beef, Nacho Cheese or everyone's favourite Mentaiko Fries.
Munch on other favourites including the Mentaiko Croquette ($6.90), Mentaiko Nuggets ($5.90) and their hotdogs (starting from $9.90).
Redeem yours now via our meREWARDS app and enjoy a 1-for-1 Burgers (Ribeye/ Chicken Cutlet/ Fish) here.
Address: 28 Clementi Rd, S129754
Opening hours: Daily 12pm - 2.30pm & 6pm - 1am, except for Mon 6pm - 1am
5. Love Handle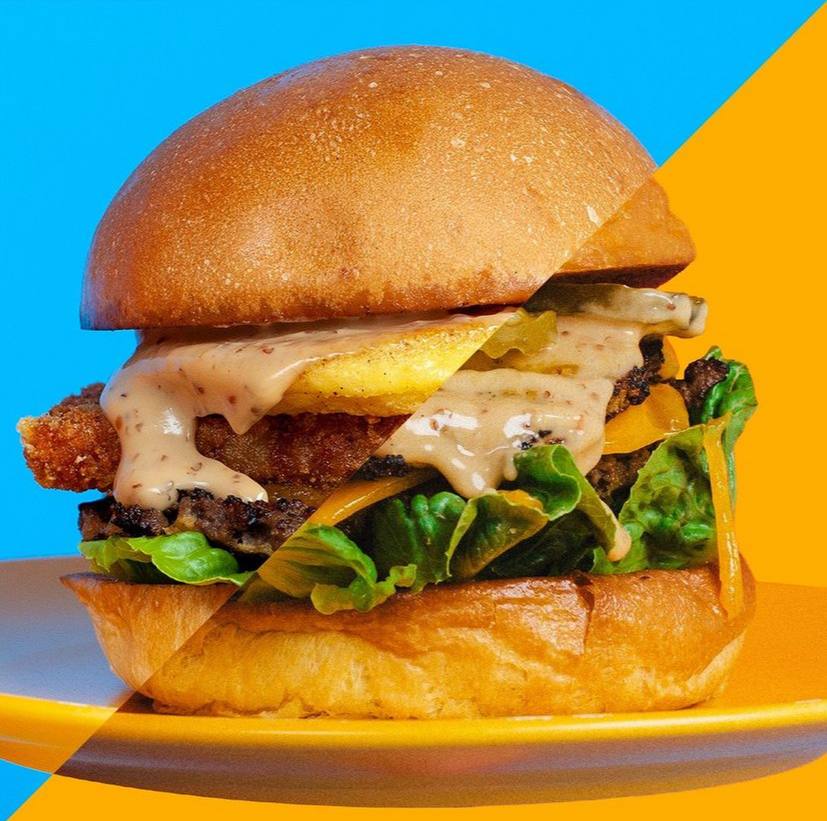 Source: Love Handle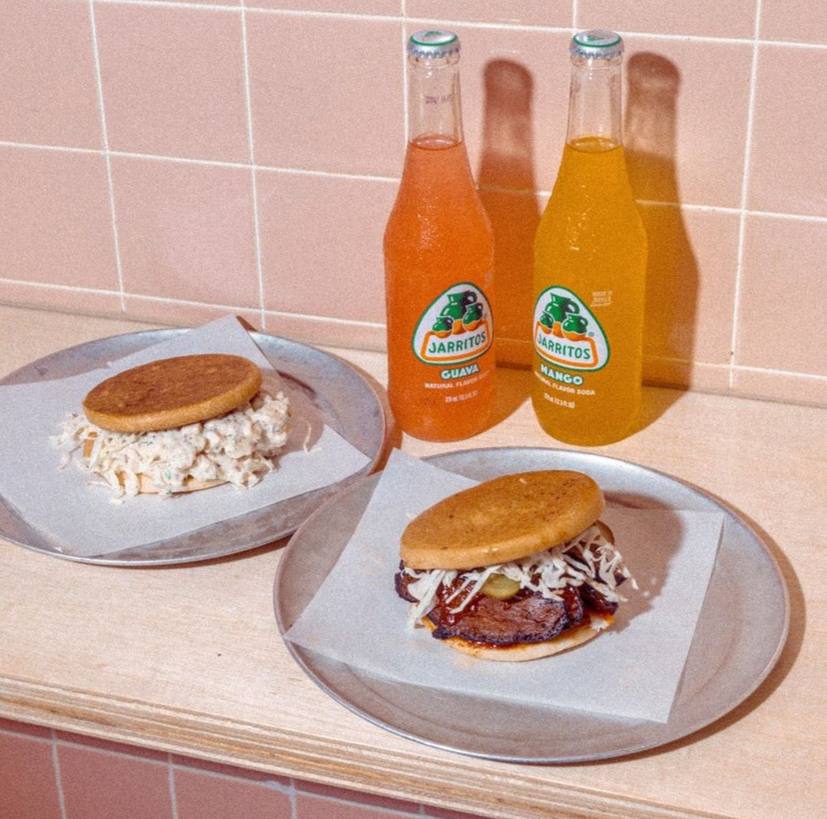 Source: Love Handle
Who said vegan food is bland? Wait till you've tried Love Handle burgers, a vegan burger concept by Ebb & Flow Group (the same team behind Chin Mee Chin Confectionery, The Dragon Chamber and Hoshi Hill). Born during the Circuit Breaker last year, their outlet at Ann Siang Hill boasts a trendy interior and bold colours. Their American-style menu is affordably priced too, with the signature Cheeseburger starting from $12.50, Vegan Ramli ($15), and Breakfast Vegan ($18). All patties are made from Impossible™ patties, layered with homemade sauces, and all the vegan goodness.
Don't miss out on their latest collab with ONDA by Park Bench Deli – Egg Mayo Sammie ($14), LH Smashed Brisket Burger ($16 and MyNuggets (6 pcs for $8) available at 21 Lorong Telok!
Address: 8 Ann Siang Hill, S069788
Opening hours: Mon to Wed 11am – 10pm, Thurs to Sat 11am – 10.30pm, closed on Sun
Get 25% OFF with crazy good plant-based meals with Insane Meals here.
6. Common Chefs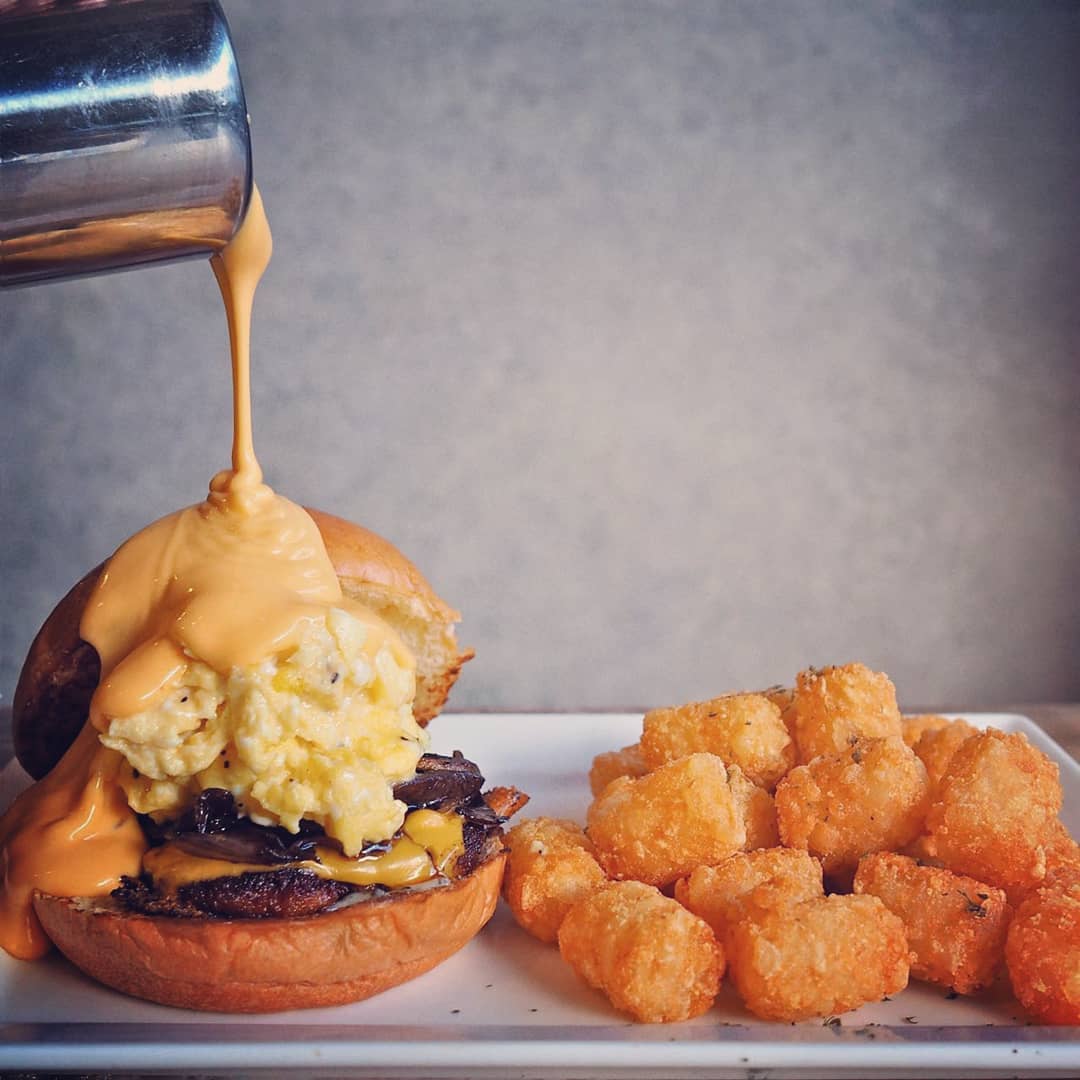 Source: Common Chefs
Casual dining and laidback vibes are what you'll get here at Common Chefs. Nestled between rows of shophouses, the café's must-try dish would be the Rich Man Burger ($16). The patty is made from diced Chorizo, blanketed over with velvety scrambled eggs and rich truffle mayo. Cheese lovers rejoice because this bad boy comes with a side of melted cheese sauce, so pour it all over to your heart's content. Here's the catch, it's only available during the weekend. It's elusive, but trust us, it's oh so worth it!
Enjoy our 1-for-1 offers from beers, pasta and ice cream at Common Chefs here.
Address: 8 Jln Legundi, #01-13, S759274
Opening hours: Weekdays 12pm - 10pm & Weekends 11.30am - 10pm
7. Tiga Roti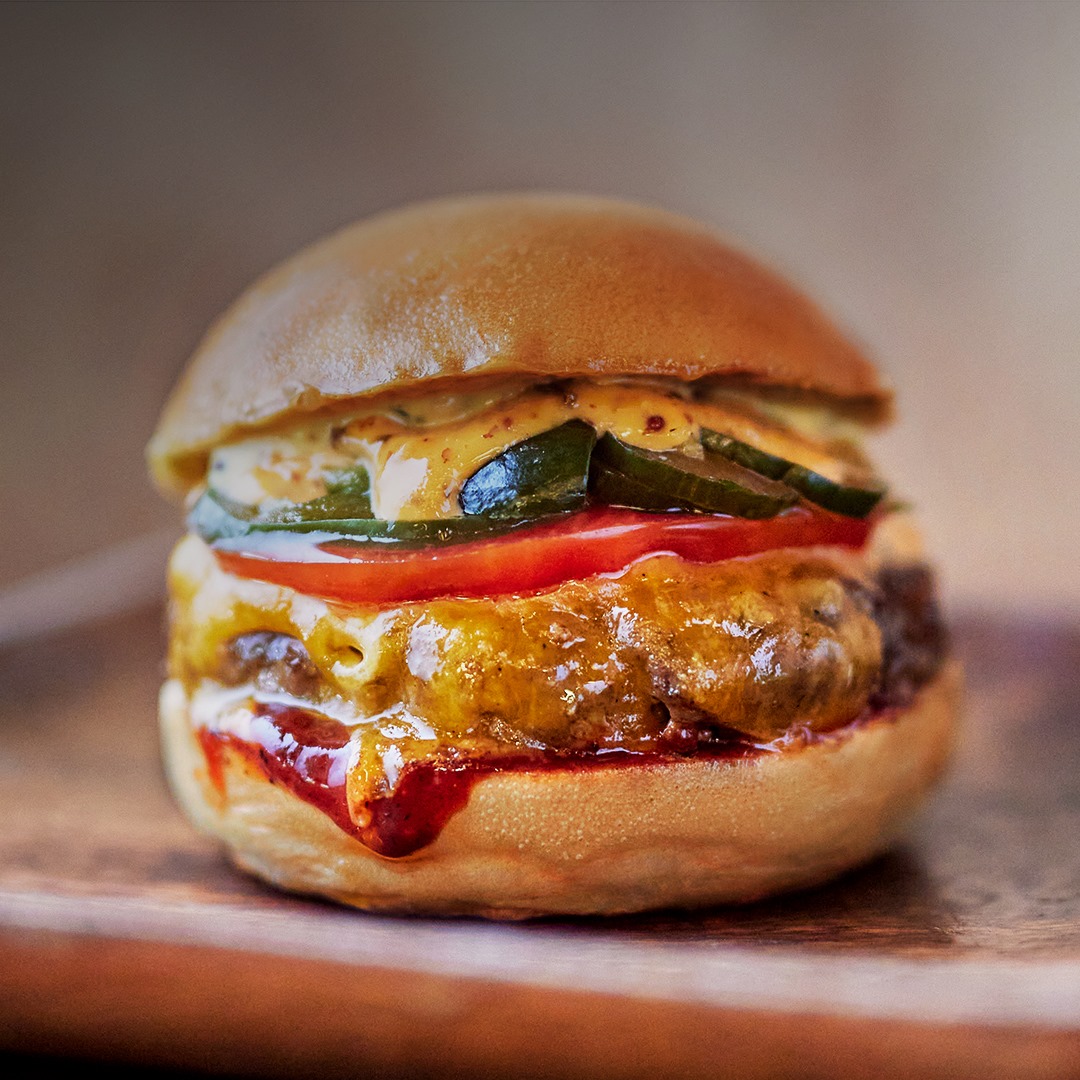 Source: Tiga Roti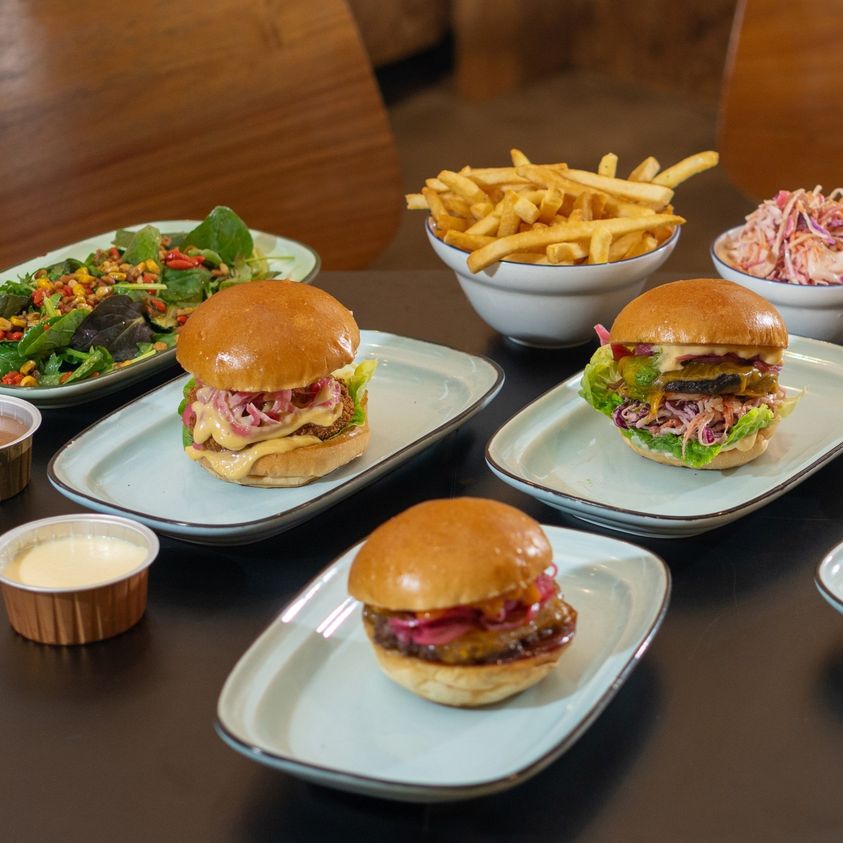 Source: Tiga Roti
From the good folks behind Three Buns, Tiga Roti is the brand's latest cloud kitchen concept that is Muslim-friendly. Starting from just $12, more customers can now enjoy gourmet burgers created by the brilliant Executive Head Chef Adam Penney who sources Halal ingredients with no pork, lard or alcohol used.
Try their newest creation, Monnie Love ($12) – 100% grass-fed free-range La Pampa Argentinian beef patty, cheddar cheese, BBQ ketchup, fried shallots, smokey mayo, jalapeno, tomato in between fluffy brioche buns. They also have vegan burgers using TiNDLE patties – no MSG, cholesterol or colouring.
Online delivery only: from Woodlands Food Express Kitchen No. 2, Nordcom 2, 28 Gambas Crescent, S757012.
Delivery Available: via GrabFood and Oddle
Get $1 Cashback when you order GrabFood through meREWARDS here.
8. Burgs by Project Warung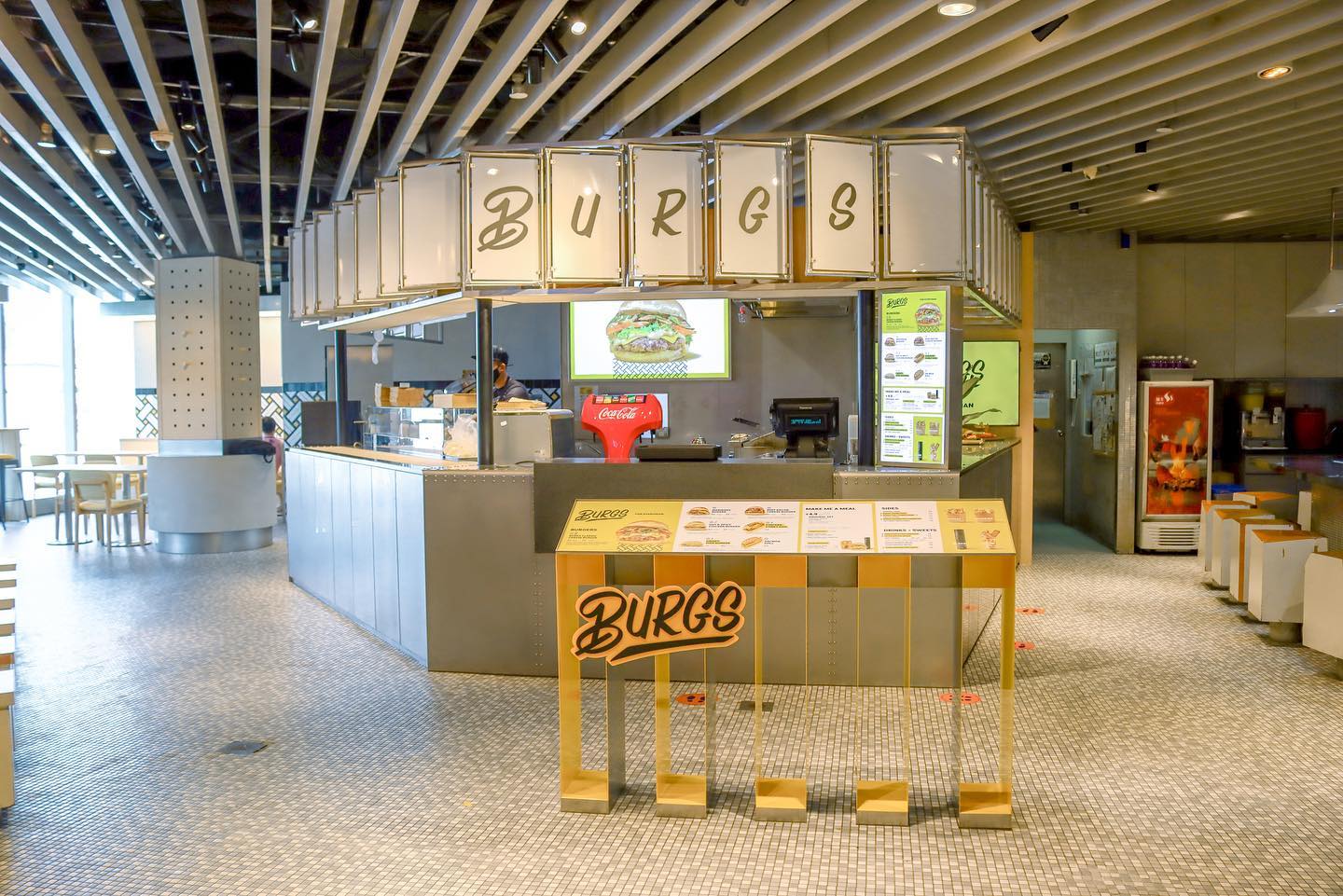 Source: Burgs by Project Warung
With four outlets islandwide, Burgs by Project Warung is no stranger to the halal food scene. But their latest outlet in Food Republic at 313@Somerset has got heads turning and tummy growling. On the fresh menu, you'll find Chicken Coney Dog, Chilli Cheese Fries and the best-selling Burg's Classic Cheese Burger ($6.90 for single or $9.90 for double). The latter is a beef burger packed with juicy and flavourful patty, layered with American cheese, pickled chilli, fried shallots and their signature sauce.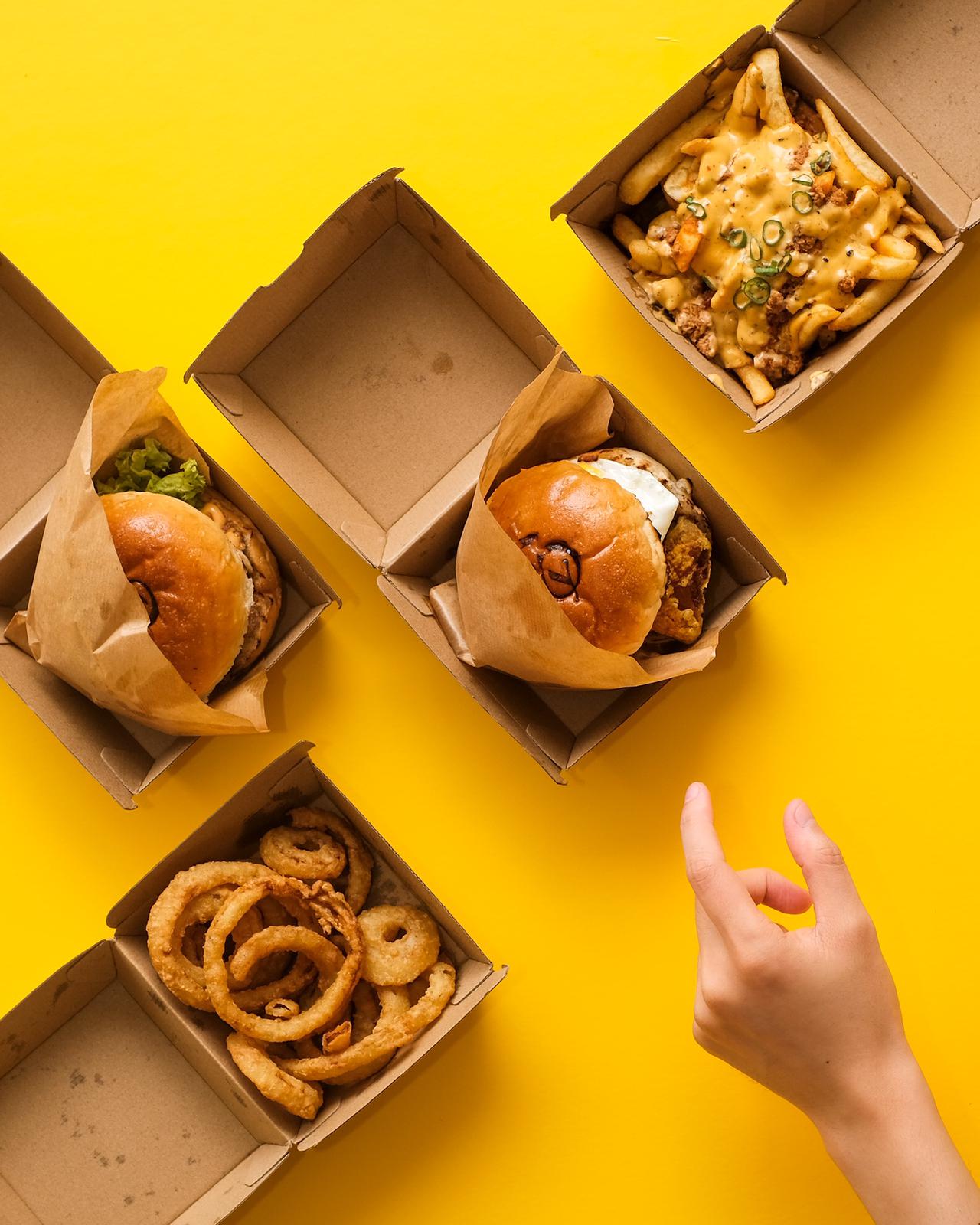 Source: Burgs by Project Warung
Founded by Indra and Ridzuan who both used to work in Michelin restaurants, you ought to try them out given their burgers are affordably priced. Be sure to leave some room in your belly for the Instagram-worthy Lotus Biscoff Softserve ($4.90), an indulgent and sinful treat that'll wrap up your meal with a chef's kiss.
Address: 313@Somerset, 313 Orchard Road, #05-01/02/03, Stall 25, S238895
Opening hours: Daily 11.30am – 9pm
Grab $8 OFF (Min. Spend $15) for New Users with our foodpanda voucher here.
9. Mahmud's Tandoor
Source: Mahmud's Tandoor
Source: Mahmud's Tandoor
No one does tandoori burgers better than Mahmud's Tandoor, and they even got an award from the Halal Food Hunt 2020 to back that claim. A home-based business in the North, their menu may be simple, but the flavours pack a fiery punch. Pick between Baked Tandoori Burger or Crispydoori Burger ($8.90 a la carte or $10.90 with set), both come with Masala Fries and Harissa-infused mayo. The former has minty yoghurt sauce that helps to soothe the mild spice from the meat rub, while the latter is a succulent meat patty fried to perfection – crispy on the outside, soft and juicy on the inside.
Online delivery only: The order form opens weekly, check out their Instagram page here.
Delivery Available: via their Instagram page above
10. VeganBurg
Source: VeganBurg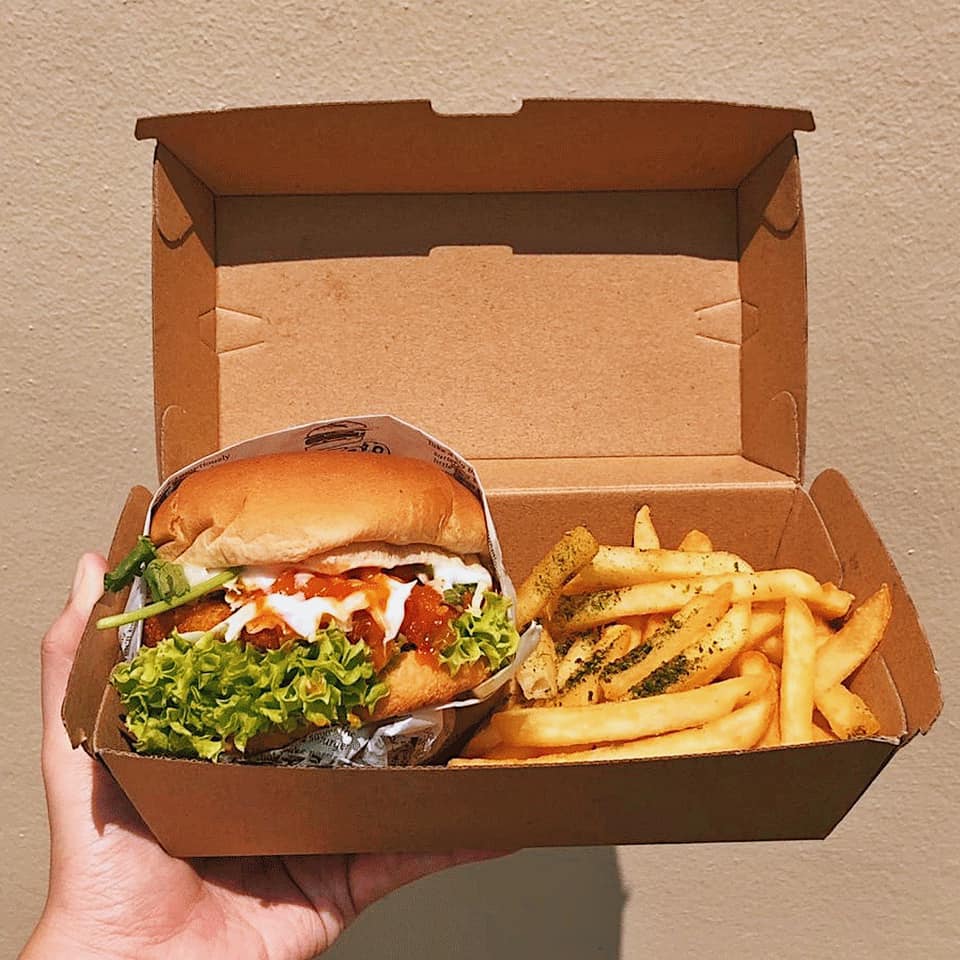 Source: VeganBurg
A purveyor of vegan food, VeganBurg has been around for more than a decade in Singapore! With a mission to inspire and excite customers with a plant-based diet, a bite of their burgers will blow you away. Try the local flavour of Chilli Krab Burger (from $11.90), Char-Grilled Satay Burger (from $11.90) or the best-seller Creamy Shrooms Burger (from $9.90). Or you can also build your own burger. Did you know they also have a store in San Francisco? Majulah Singapura!
Address: 44 Jalan Eunos, S419502
Opening hours: Daily 11.30am – 9pm
Read: Best Bubble Tea Shops in Singapore for Your Boba Fix
11. MeatSmith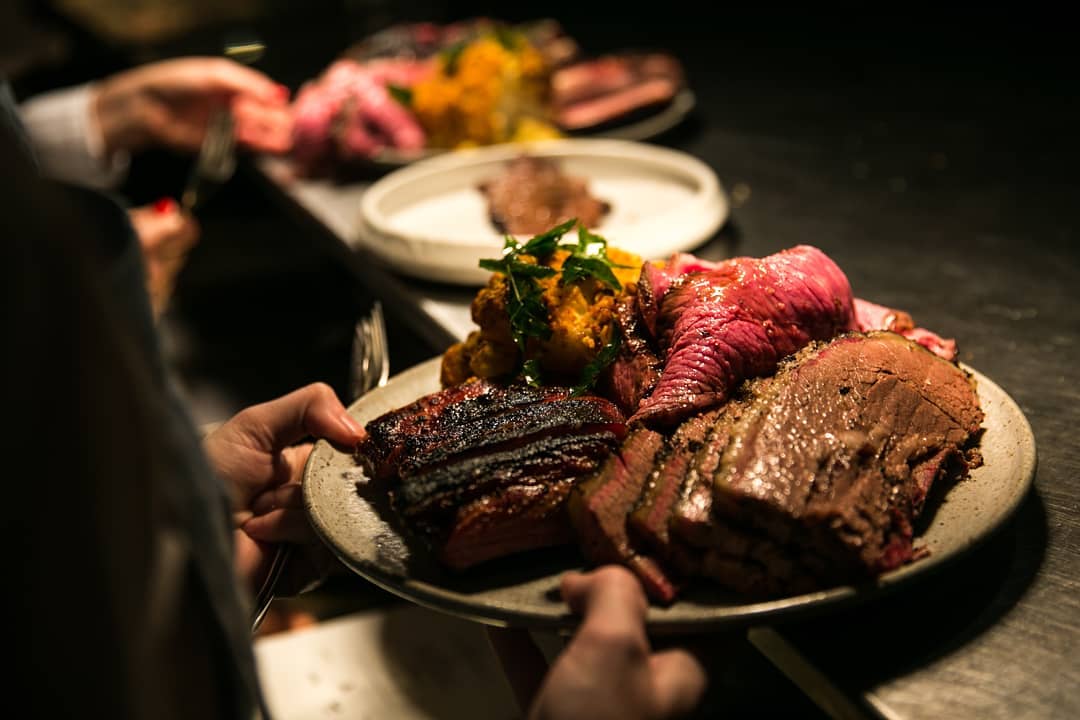 Source: MeatSmith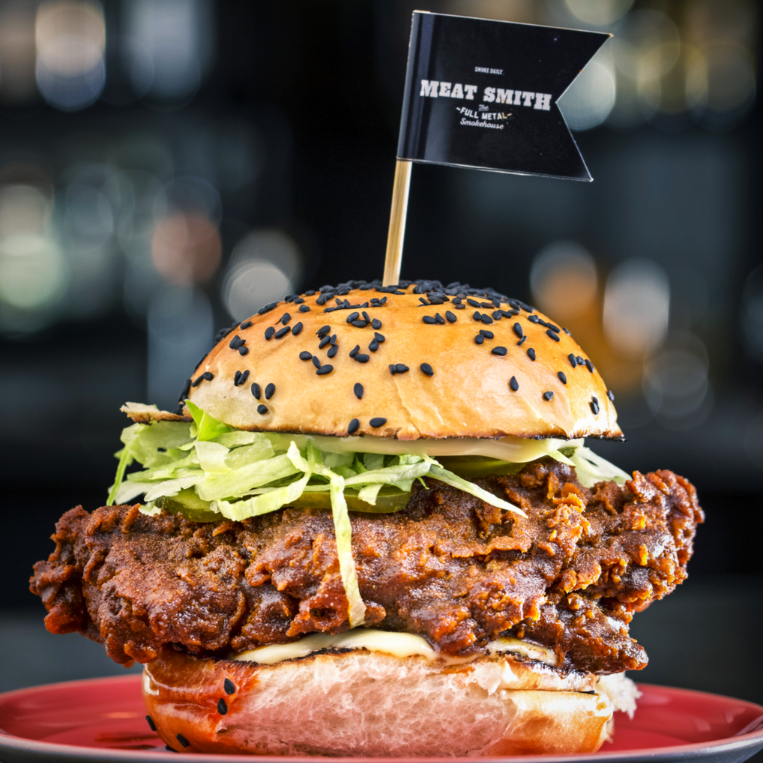 Source: MeatSmith
If you're a fan of American smokehouses and appreciates tasty wood-fired barbecued food, MeatSmith is your go-to. The Telok Ayer outlet specialises in smoked meat and American BBQ – you'll find huge sharing meat platters, divine ribs (which are smoked over hickory wood for up to 14 hours!) and mouthwatering burgers. From Pulled Pork Sandwich ($15), Meatsmith Cheeseburger ($16) and even Pastrami Sandwich ($20), we can't decide which we love most, so we recommend you try all! They have another outlet at Little India which focuses on modern Indian barbecue with fragrant herb-infused dishes such as Kerala Beef Rib and Coconut Pork Ribs.
Address: 167 -169 Telok Ayer St, S068620
Opening hours: Daily from 11.30am – 11.45pm
12. Black Tap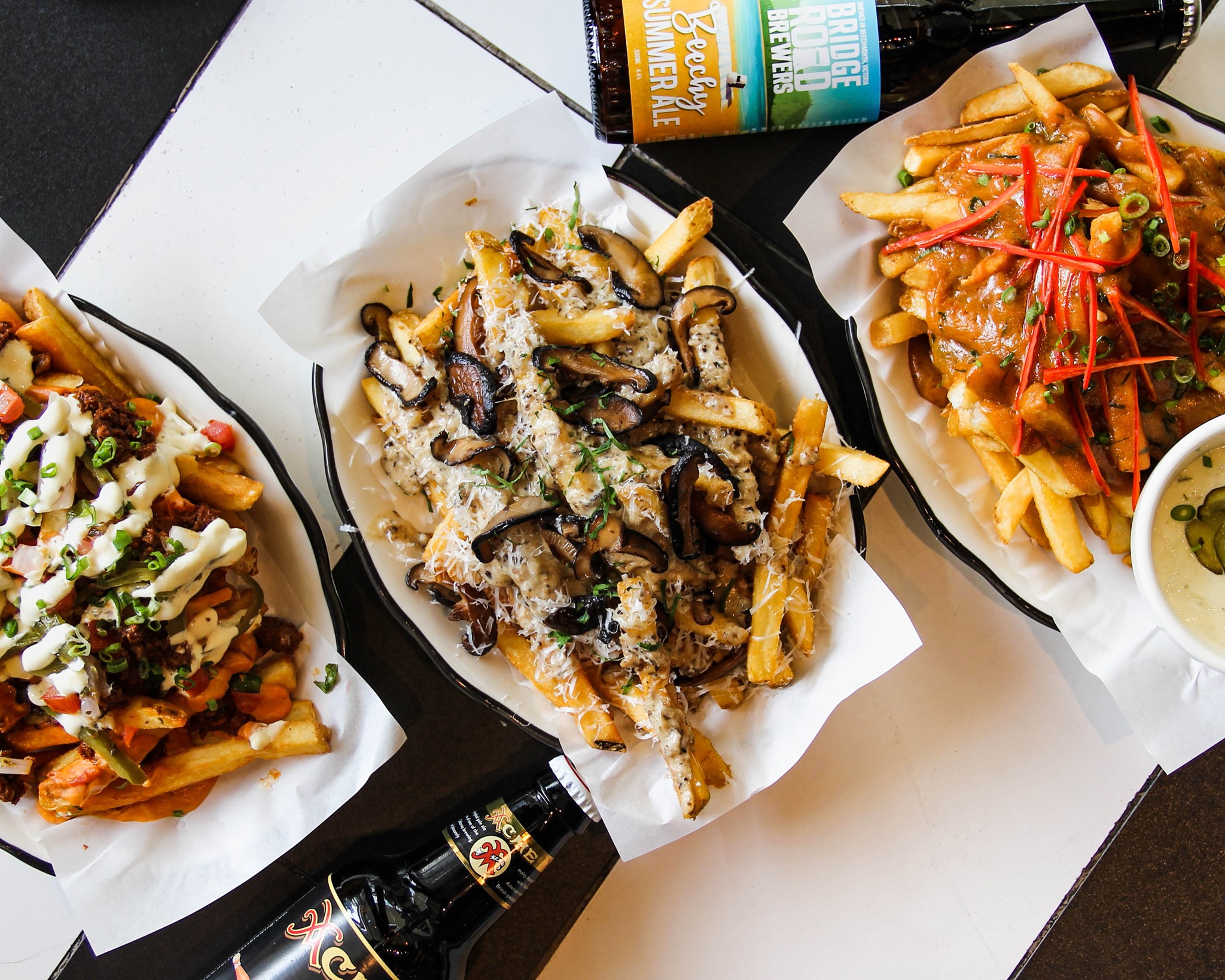 Source: Black Tap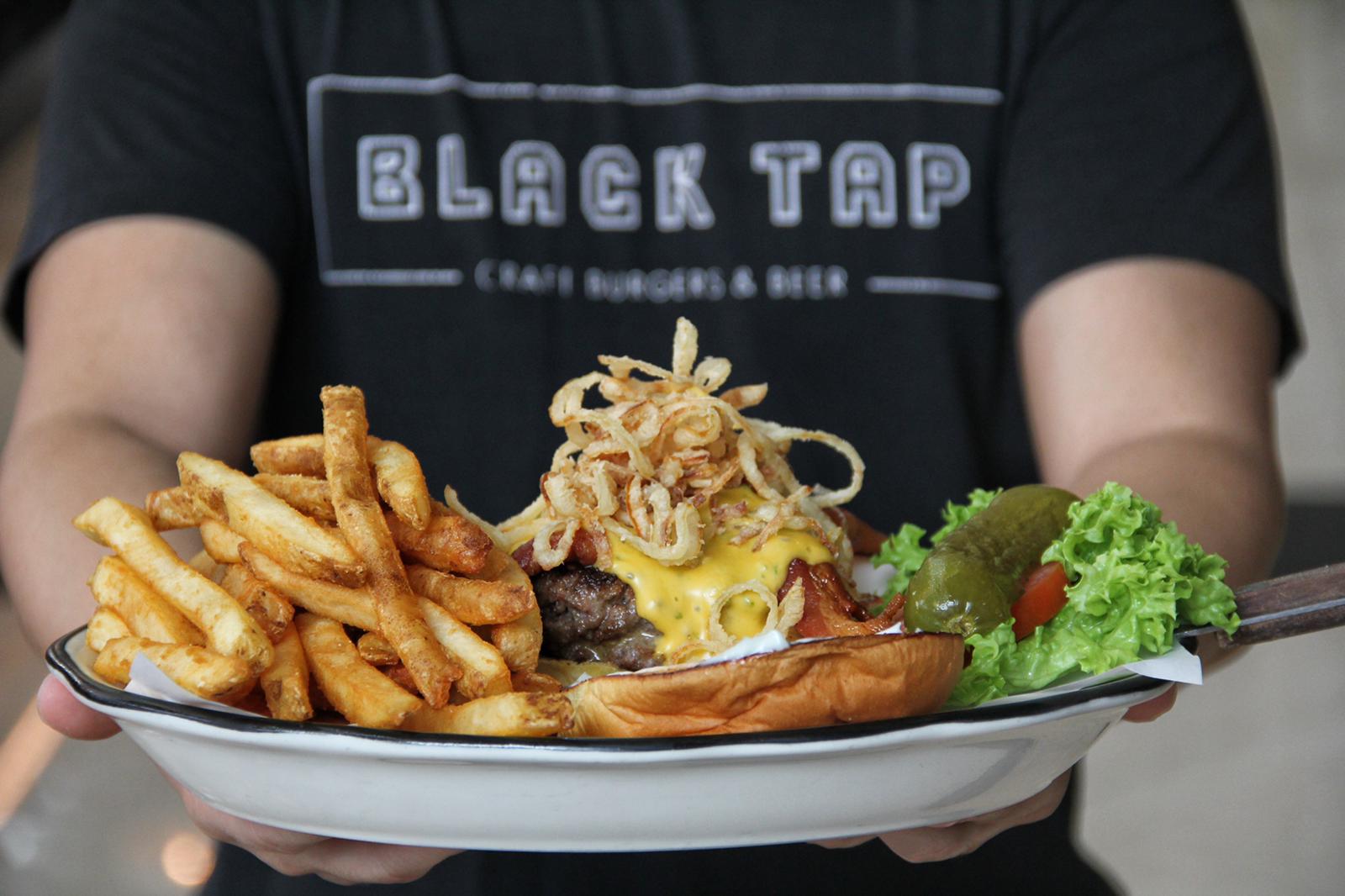 Source: Black Tap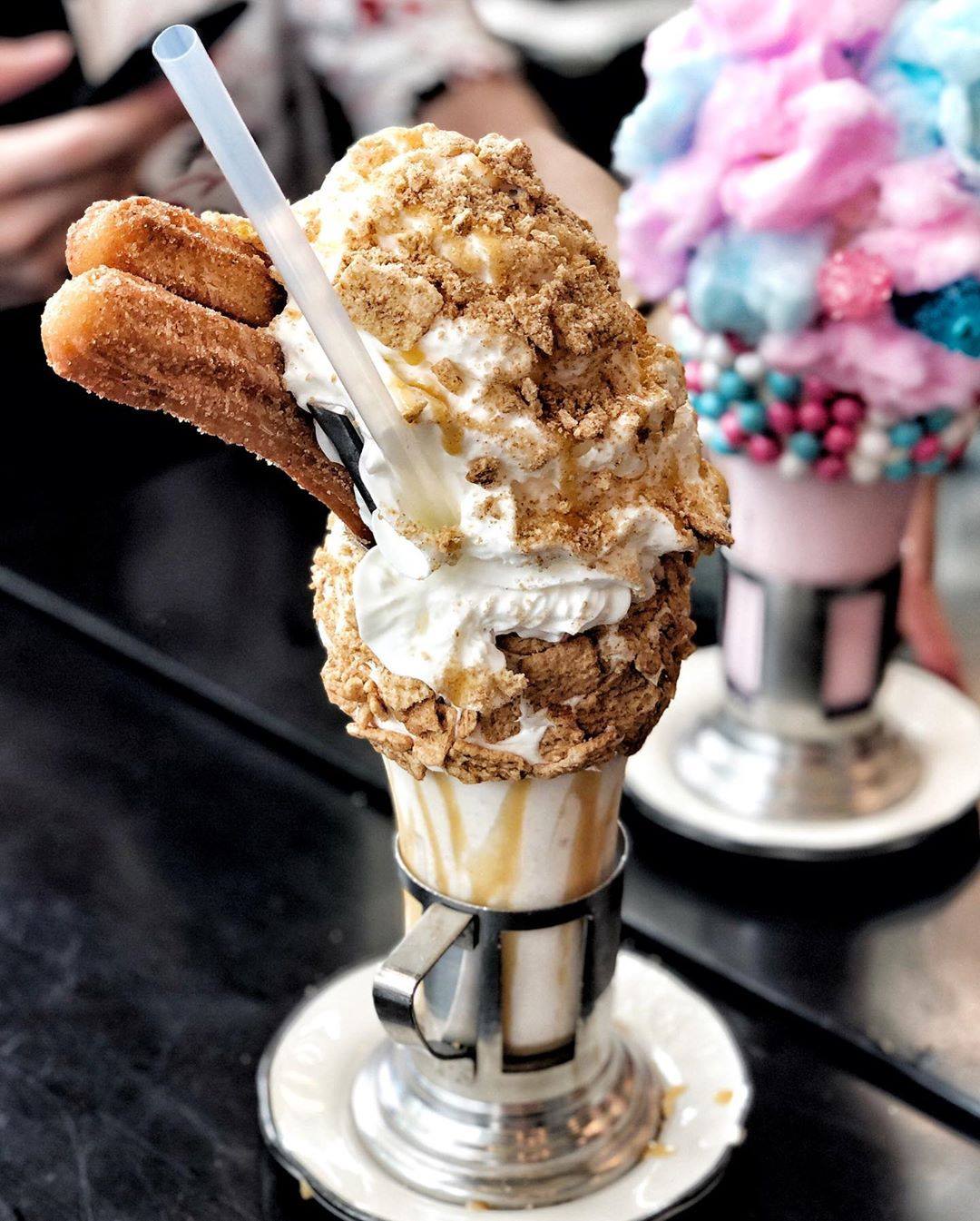 Source: Black Tap
Situated at the iconic Marina Bay Sands, find your next favourite burger at Black Tap. Order their signature, The Texan Burger ($25) which includes prime beef with aged cheddar, crispy onion ring, bacon, sweet baby rays BBQ and mayo. They are also famous for their over-the-top milkshakes! A hearty meal and cosy vibe, what's not to love?
Address: The Shoppes at Marina Bay Sands, 10 Bayfront Ave #01-80, S018956
Opening hours: Mon to Fri 12pm – 11pm, Sat, Sun & PH: 11am – 11pm
13. Wolf Burgers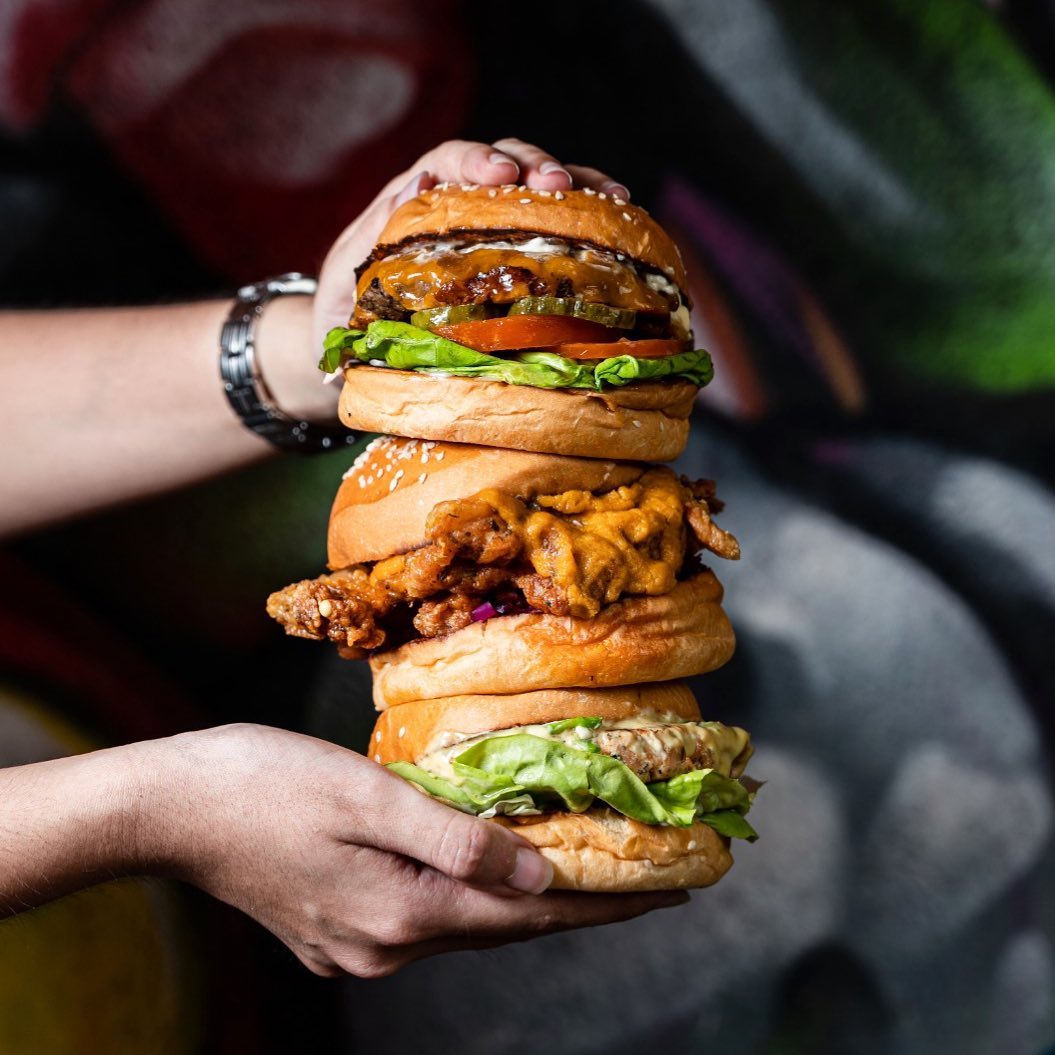 Source: Wolf Burgers
You'll be spoilt for choice here at Wolf Burgers with more than 12 burgers to pick from. If you're overwhelmed, we recommend going with the classic Original Wolf Burger which includes a steamed baked bun, juicy beef patty, American cheese and their signature Wolf Burger sauce. Or try the Salted Egg Chicken Burger if you're a fan of creamy salted egg sauce. And because bacon makes everything better, it's available as an add-on for just $1.80 per serving.
Address: Pasarbella at Suntec City, 3 Temasek Boulevard, Suntec City Tower 1, #01-455, S038983
Opening hours: Daily from 11.30am – 8.30pm
Read: Best Dessert Food Deliveries You Must Try from GrabFood SG with Island-wide Delivery
14. The Social Outcast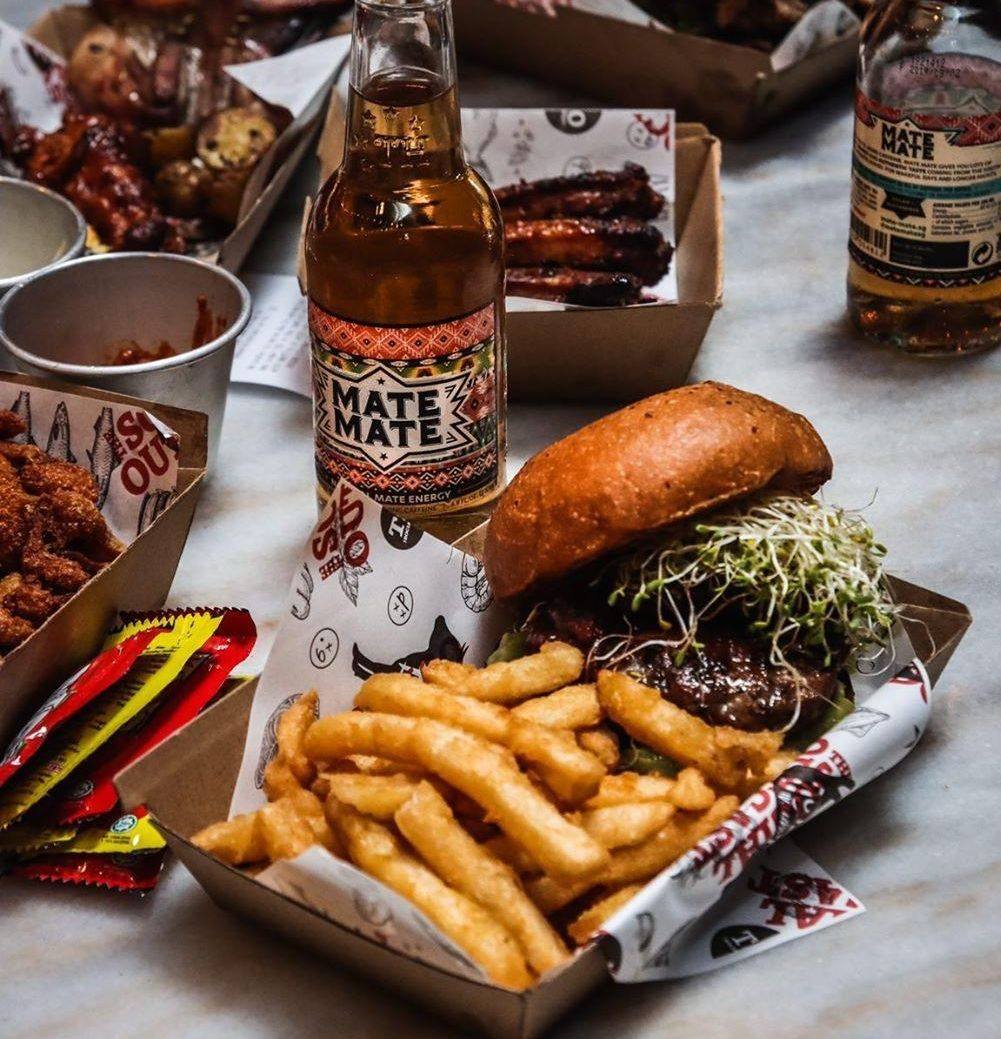 Source: The Social Outcast
Source: The Social Outcast
Take a bite of their monster burgers and you'll know why. Be blown by the legendary Royal Mushroom Beef Burger ($15) which includes tender beef patty with chargrilled onions and a unique addition of blue cheese (surprising ingredient but it works so well) packed between fluffy and buttery brioche buns. Besides burgers, they also have fall-off-the-bone ribs and other 'sidekicks' such as the Smokey Deng Deng. This Muslim-owned burger joint was previously located at The Bedok Marketplace hawker centre, but they've since moved to The Grandstand. Come hungry at their bigger and better location with more food options!
Address: The Grandstand, 200 Turf Club Road, #01-35A, S287994 (facing The Car Mart)
Opening hours: Wed to Sat 11am - 11pm, Sun & Tue 11am - 10pm, closed on Mon
15. Three Buns – Potato Head Singapore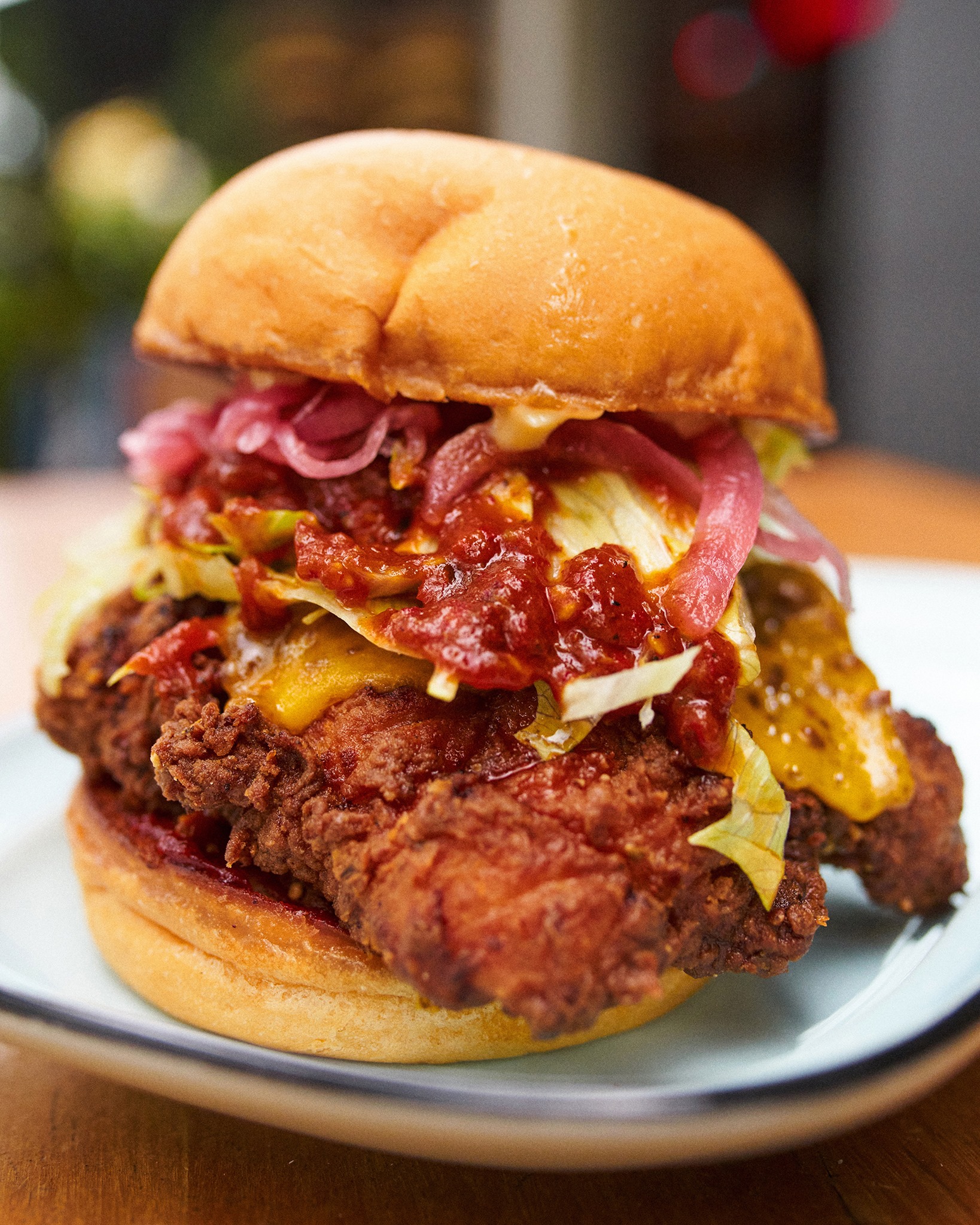 Source: Three Buns - Potato Head Singapore
For some badass burgers, Three Buns is your go-to burger joint. Sharing the same building as Potato Head Singapore, serving thick juicy patties sandwiched between pillow-soft buns which just screams 'eat me now!' Forget about the cutleries, dive in straight using your hands and get sloppy with a range of fusion burgers. Their seasonal creation of MISTACHOOK Burger features buttermilk brined fried Sakura chicken thigh, smothered in gochujang sauce with cheddar cheese, hot sauce, shredded lettuce, mayo and pickles. Vegetarians or vegans can opt for their range of plant-based burgers which are also just as mouthwatering.
Address: 36 Keong Saik Rd, S089143
Opening hours: Daily from 11am – 12 am
Read: 10 Restaurants, Cafes & Bars with the Best Views of Singapore
16. Fatburger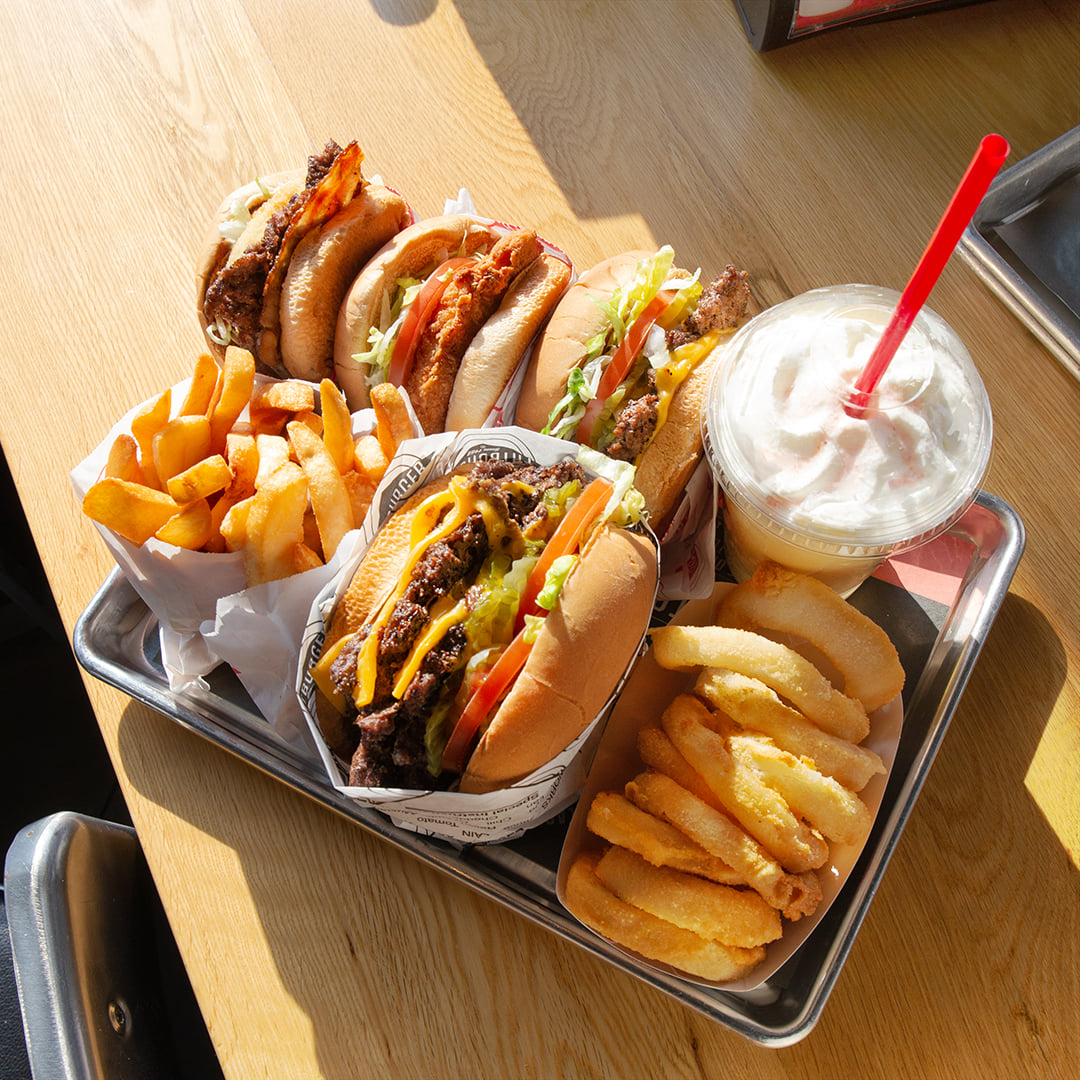 Source: Fatburger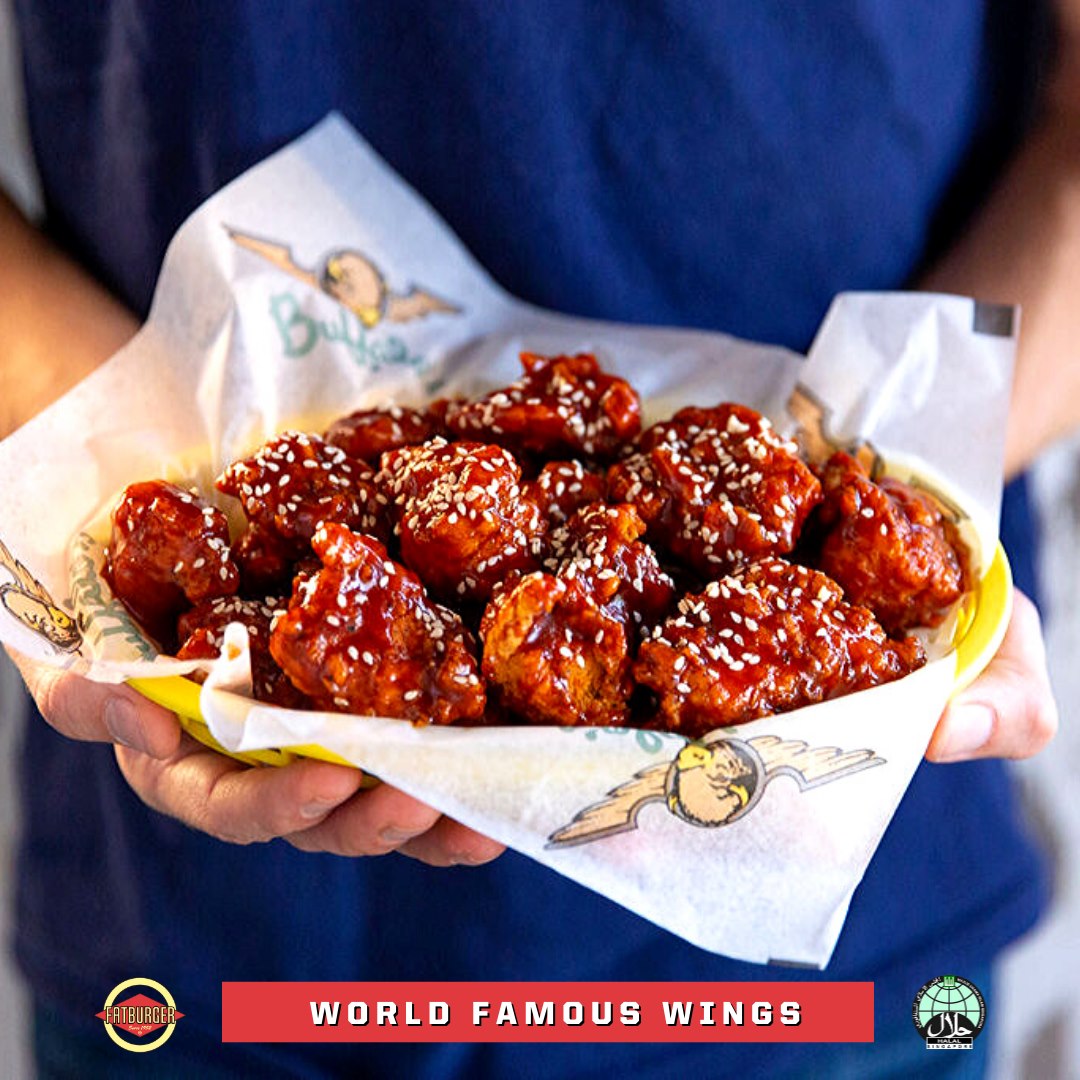 Source: Fatburger
When Fatburger landed in Singapore in September 2018 at Novena Square, we were overjoyed not just because they're one of America's most popular fast-food chains, but because they're halal too which is great for our Muslim friends to enjoy. Flippin' meat patties and serving hungry bellies since 1952 in Hollywood, they only use freshest ingredients for the burgers, makes addictive homemade onion rings and a slurry of sinful ice cream milkshakes. You can also build your own burger, so you can add toppings to your heart's content. Don't leave without trying their flavourful Buffalo wings too - go for the Death Valley sauce if you like it spicy! Besides Novena Square, they are also located at KINEX and Clementi here.
Address: Velocity @ Novena Square, 238 Thomson Road, #01-08/09, S307683
Opening hours: Daily from 10am – 10pm