It's debatable if we should spell it as donuts or doughnuts, but what we're certain of is that a bite of these goodness will have you grinning from ear to ear. In this list, we'll also include bomboloni, an Italian filled donut that is round in shape compared to regular donuts, which has a hole in the center. From savoury to sweet flavours, here are your next go-to spots for the best donuts and bombolonis in Singapore you should try.
Read: Best Local Breakfast Places in Singapore That's Better than Brunch

1. Doughnut Shack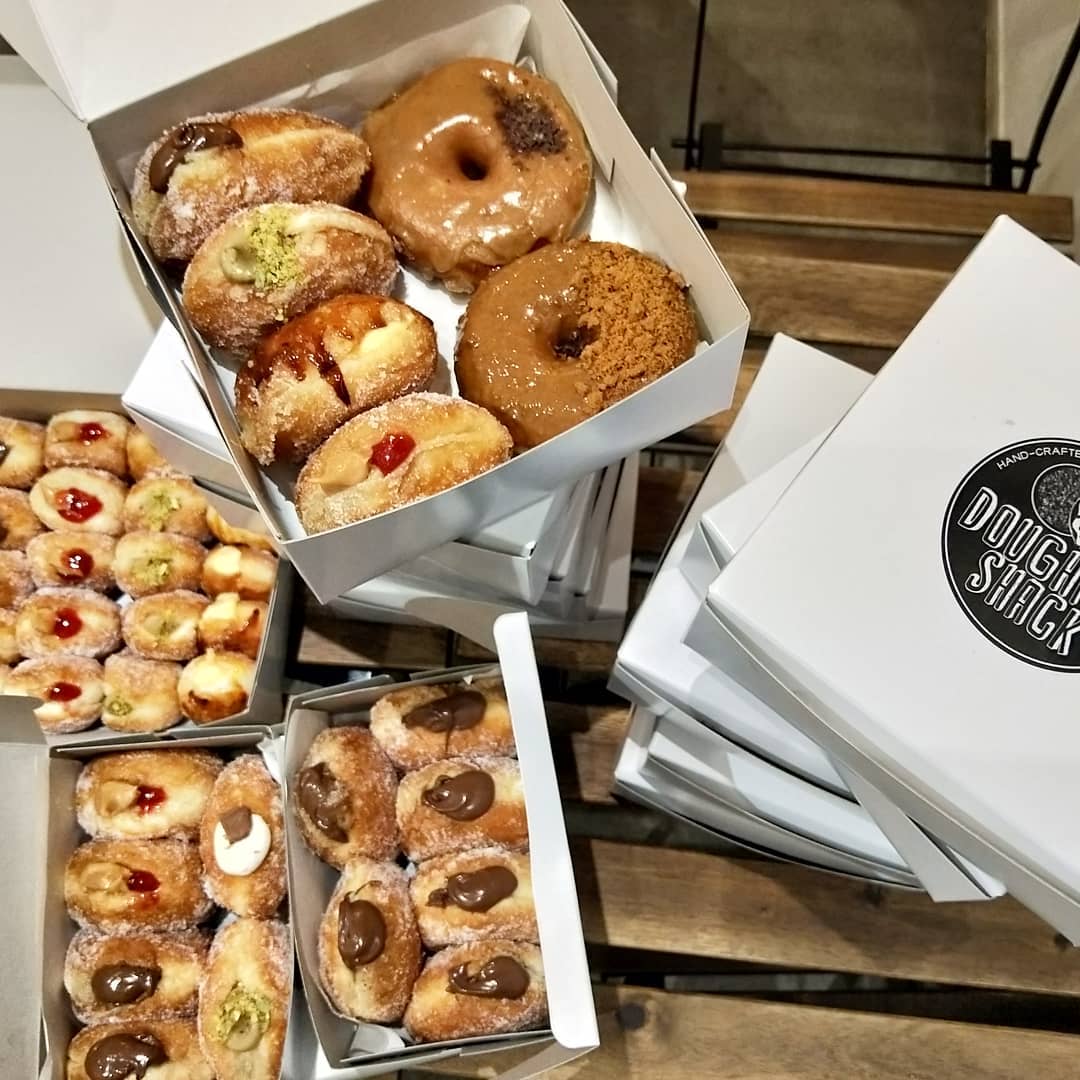 Source: Doughnut Shack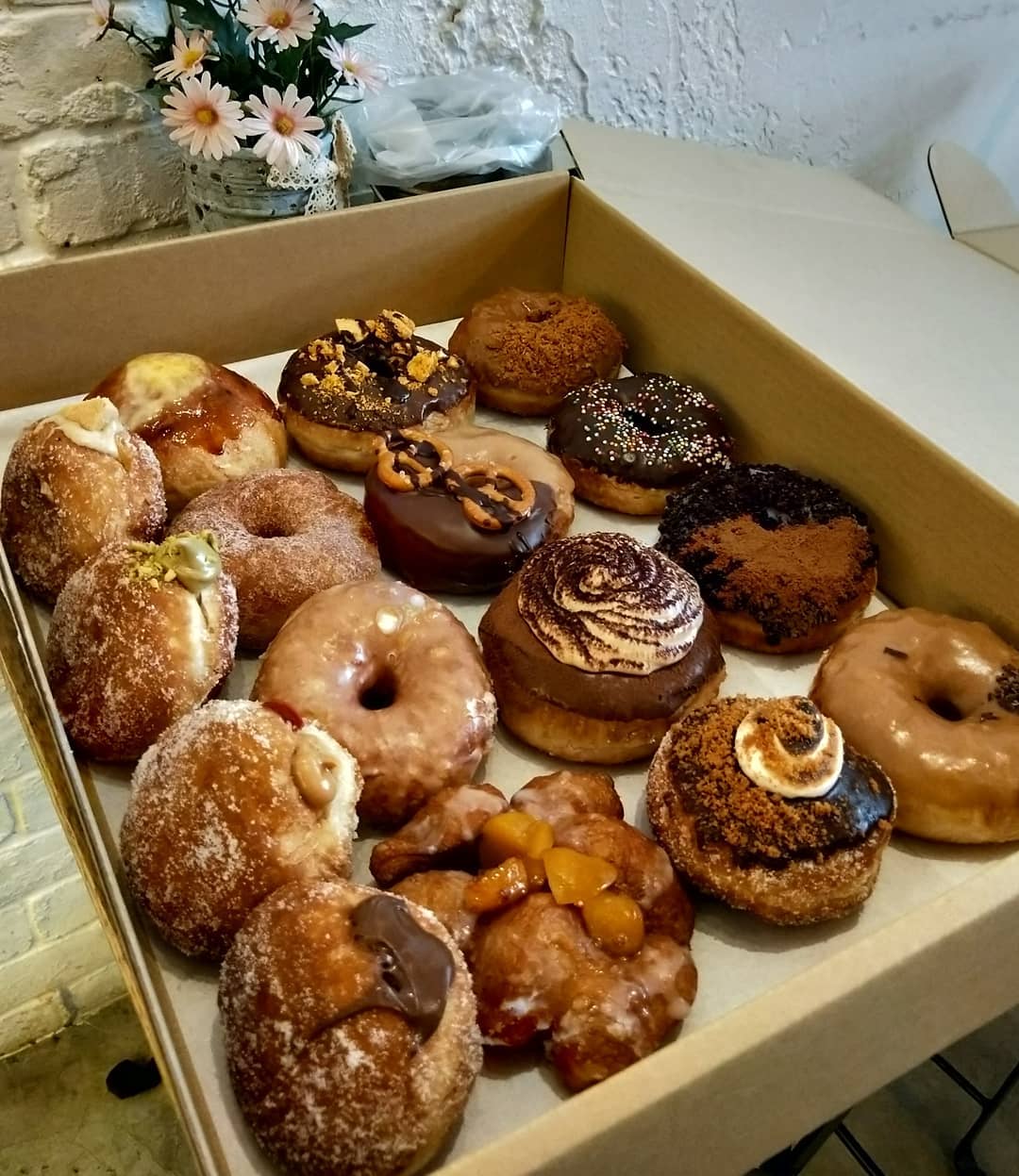 Source: Doughtnut Shack
If you can't make up your mind between donuts or bombolinis, Doughtnut Shack is your best bet. For donuts, pick your favourite from Cinnamon Sugar, Milo Oreo Crunch or Milk Chocolate Dip. For bombolinis, indulge in different flavours such as Crème Brulee, Donutella or Thai Milk Tea. Get these delicious treats at $14 for half a dozen. Doughnut Shack is not halal-certified but they do not use any pork, lard or gelatine, so dine at your discretion.

Address: Blk 87 Whampoa Drive, #01-887, S320087
Opening hours: Wednesdays to Sundays 11am – 5pm, or till sold out

2. Sourbombebakery
Source: Sourbombebakery
Source: Sourbombebakery
One of the newest kid on the block, Sourbombebakery is a force to be reckoned with. From its impeccable branding that visually enhances their bombolinis, they are also the first in Singapore to create sourdough bombolinis. This humble home-based bakery is helmed by Genevieve Lee, runner-up of Masterchef Singapore 2018. Add to cart three, six or nine flavours of your choice from Basque Burnt Cheesecake ($5.60), Passionfruit & Caramelised Banana ($5.60), Blueberry & Lemon Thyme ($4.80) and many more. Are you ready for a bombe diggity experience?

Order online here.
Read: Best Burger Joints You Must Try in Singapore

3. Haritts Donuts & Coffee Singapore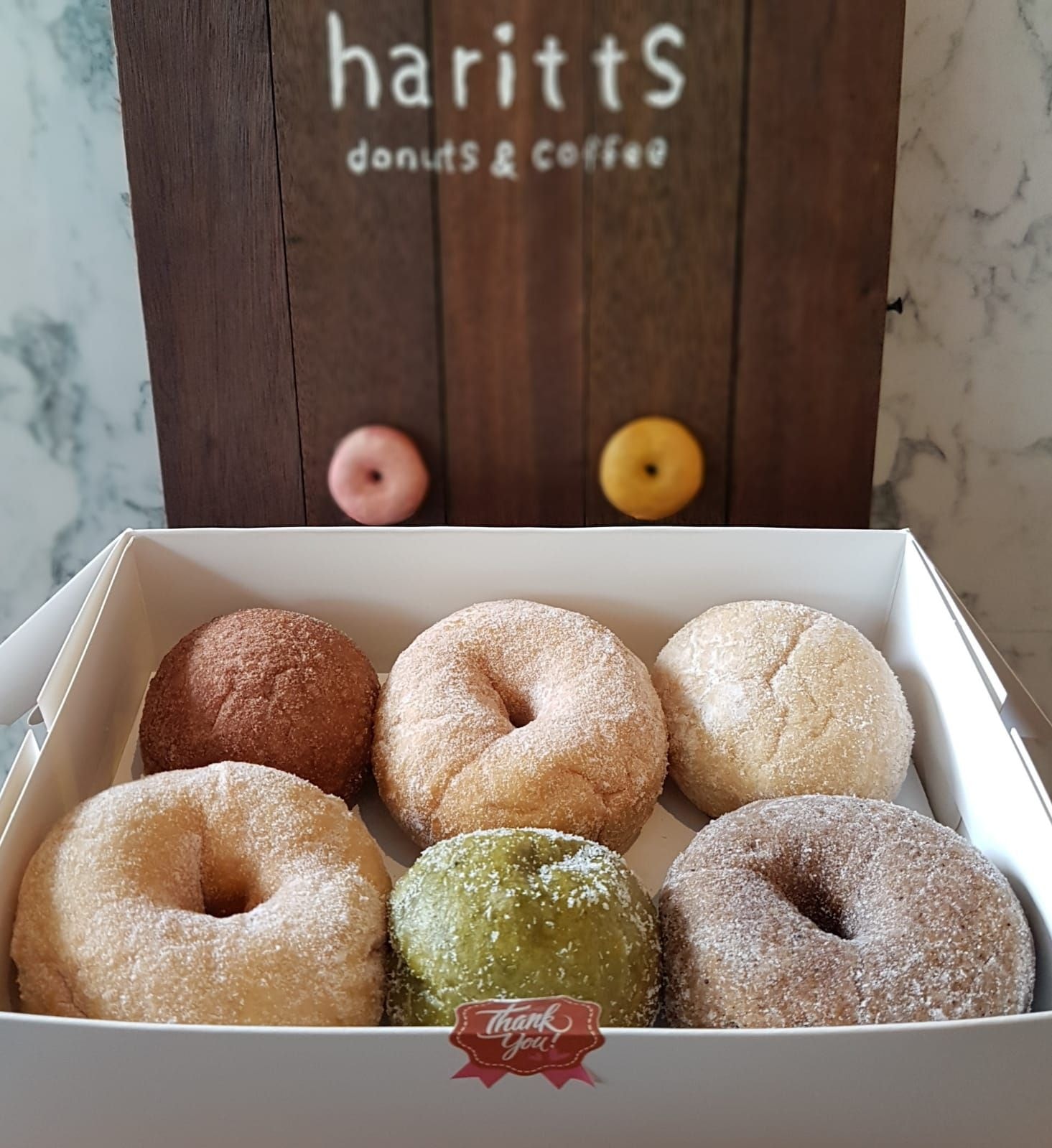 Source: Haritts Donuts & Coffee Singapore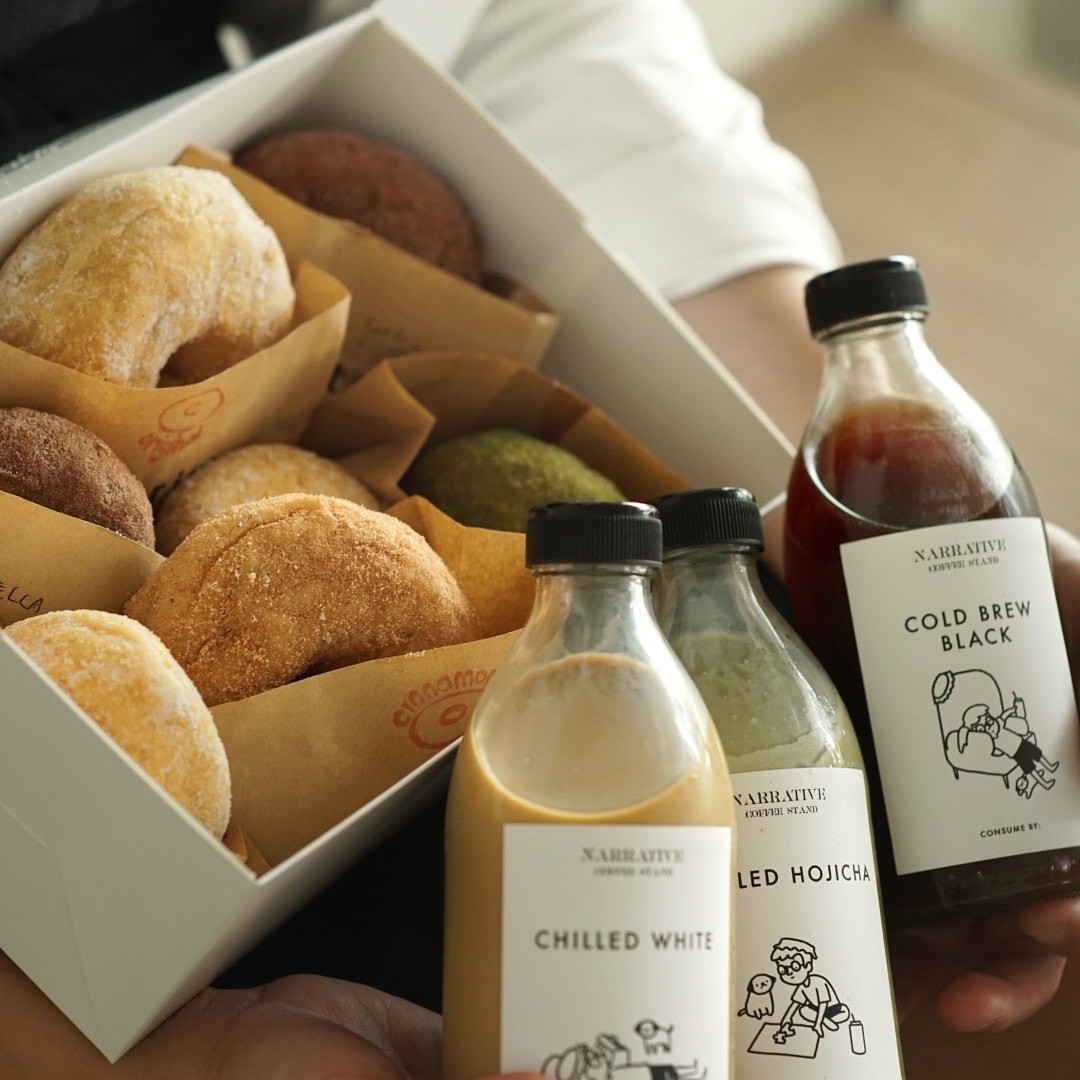 Source: Haritts Donuts & Coffee Singapore
Hailing from Tokyo, Haritts started from a humble mobile van to now becoming one of the most popular donut chains with stores in Taiwan and Singapore. These delicately puffy, pillow-like handmade donuts go through a laborious process to ensure each piece is cooked perfectly. From Nutty Nutella ($3.20), Limone ($2.90) and Chocolate ($3.20), you'll be assured freshness in every bite. Try their Original ($1.90) too, an unabashedly simple but a true classic with its light sugar dusting on a fluffy dough.

Address: 2 Havelock Rd, #01-08, S059763
Opening hours: Wednesdays to Fridays & Sundays 11.30am – 6pm, closed on Saturdays, Mondays & Tuesdays

4. Fluff Bakery
Source: Fluff Bakery
Source: Fluff Bakery
If there's one thing we love at Fluff Bakery, it's gotta be their legendary Nutella Red Velvet Cupcakes ($4). But now, we love them even more for their yummy donuts! They sell out like hotcakes, so you dough (pun intended) not want to miss this opportunity. Keep your eyes peeled on their Facebook page to get your hands on them. We took too long deciding on the best flavour, thus we recommend trying them all - Vanilla Bean, Mexican Chocolate, Hazelnut and Strawberry Cream Pie Donuts priced at $4 each. They also have seasonal flavours such as Maple Cinnamon Toast and Chocolate Banana. Fluff Bakery is Muslim owned.

Address: 4 Jln Pisang, S199071
Opening hours: Daily 12pm – 7pm, closed on Sundays

5. Bakes by NY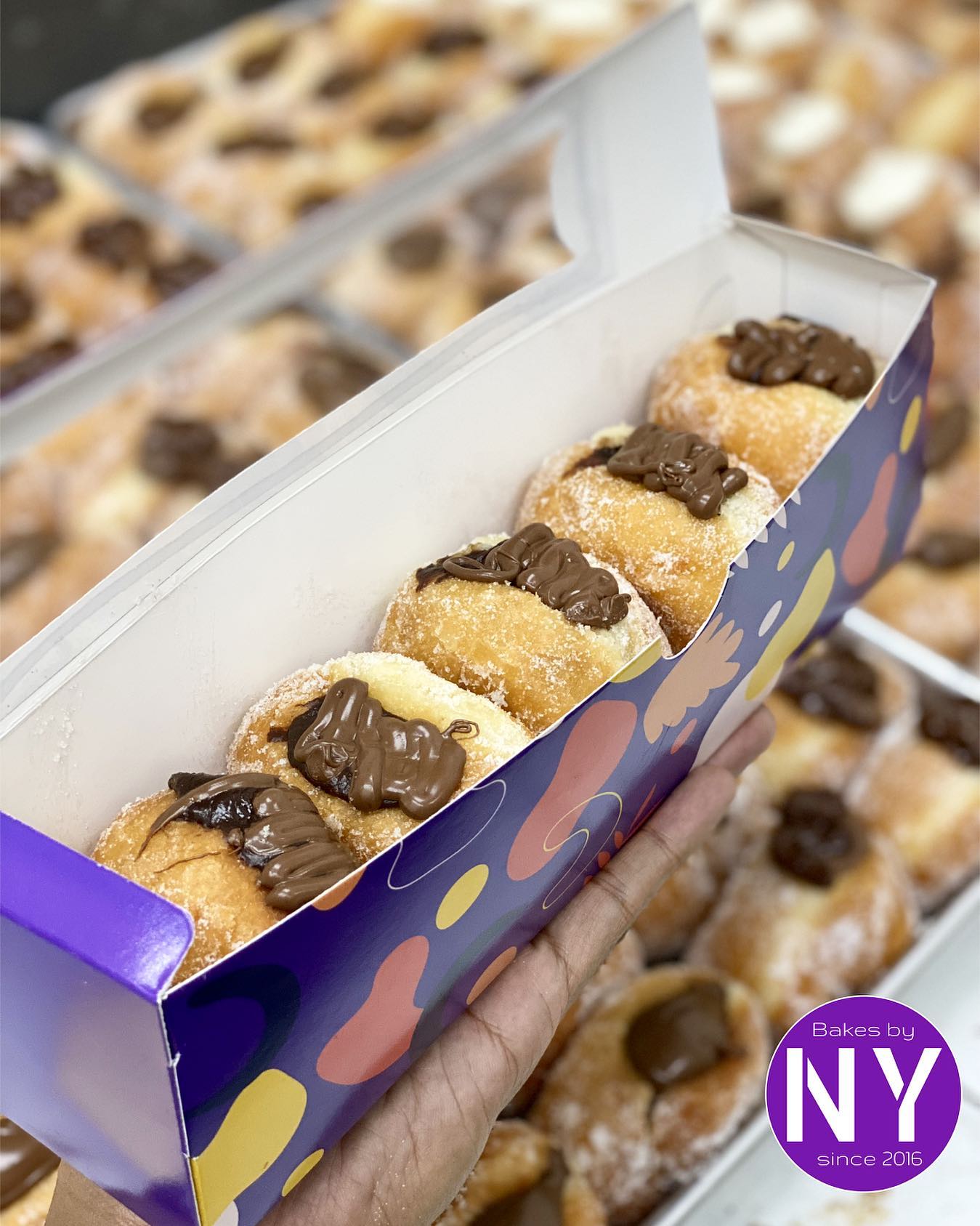 Source: Bakes by NY
Source: Bakes by NY
Satisfy your sweet tooth cravings at Bakes by NY for their decadent bombolinis. NY is an acronym for Nazira Yunos, the founder of this Muslim owned bakery which was established in 2015. They are generous with their filling and each delightful bite oozes chocolate fudge out of these doughy treats. Affordably priced at $30 for a dozen, follow them on their Facebook page for limited offers on flat delivery fees islandwide. Psst… they're opening another store at Simpang Bedok!

Address: 201E Tampines St 23 #01-120, S527201
Opening hours: Weekdays 12pm and Weekends 11am till sold out
Read: Best Rooftop Bars with a Scenic View in Singapore

6. Korio
Source: Korio
Source: Korio
Browse through their Instagram page, and you'll feel like devouring every item they have on the menu. This hole-in-the-wall shop is a hip takeaway café founded by husband and wife team, Myron and Shaz who wanted to create American-styled doughnuts for everyone to enjoy. Pick your favourites (or all flavours, we won't judge) from Caramelised Biscuit ($4.20), Mango Passionfruit ($4.20), Plain Glazed ($3.80) and many more. Do note that these fluffy doughnuts are only available 11am on weekdays and 11.30am on Saturdays.

Besides doughnuts, they also serve mean sandwiches for a quick grub, such as Peking Duck Sammy ($14) and their best-seller Breakfast Sammy ($9).

Address: Far East Square, 135 Amoy St, #01-03, S049964
Opening hours: Mondays to Fridays 9am – 3pm, Saturdays 9am – 2.30pm, closed on Sundays

7. Curious Palette
Source: Curious Palette
Source: Curious Palette
An aesthetic café at Prinsep St, Curious Palette sure knows how to tingle our taste buds and keep us curious with their innovative creations. Taste their unique flavours from Matcha, Salted Espresso Caramel or Candied Bacon. Grab them at $3.90 per piece or $20.90 for half a dozen. For an additional magical experience, order their Magic Brownies ($9.90) – fudgy brownies served with vanilla bean ice cream, coffee cookie crumble and drizzled with whiskey caramel sauce – oh yes!

8. Plain Vanilla Bakery
Source: Plain Vanilla Bakery
One of the OG bakeries in Singapore, Plain Vanilla Bakery is famous for its pretty cupcakes. But did you know they also bake scrumptious doughnuts? These elusive Brioche Doughnuts are available on Wednesdays, Saturdays and Sundays at their Tiong Bahru outlet. Sold in a box of three for $13.50, you'll get an assortment of flavours from Dark Chocolate Hazelnut (chocolate hazelnut custard and Nutella filling), Vanilla Bean Malt (vanilla bean and malt custard filling) to special flavours such as Coconut Melaka, Raspberry Rose or Cinnamon Brown Sugar.

Address: 1D Yong Siak St, S168641
Opening hours: Daily 8am – 9pm, Cupcakes and bakes available from 12pm onwards