Spring into the Year of the Ox this Lunar New Year with meREWARDS! Ring in an abundance of wealth by collecting coins through various activities and unlock instant rewards. From now till 26 Feb 2021, revel in good fortune with the Moo Moo Prosperity Dash by watching programmes on TV, tuning in our radio stations, surfing websites or playing games. Participate in all our activities made for you, and stand to win prizes worth over $100,000*!
Test your coordination skills with the Feed Ah Moo mini-game in the meREWARDS app. Here are 3 helpful tips to ace the game.
1. Tap on the fruit icon that matches the next item at the cashier.
2. Start by clicking the correct fruit button.
3. Every 6 consecutive correct tabs will get you a 3-second time booster.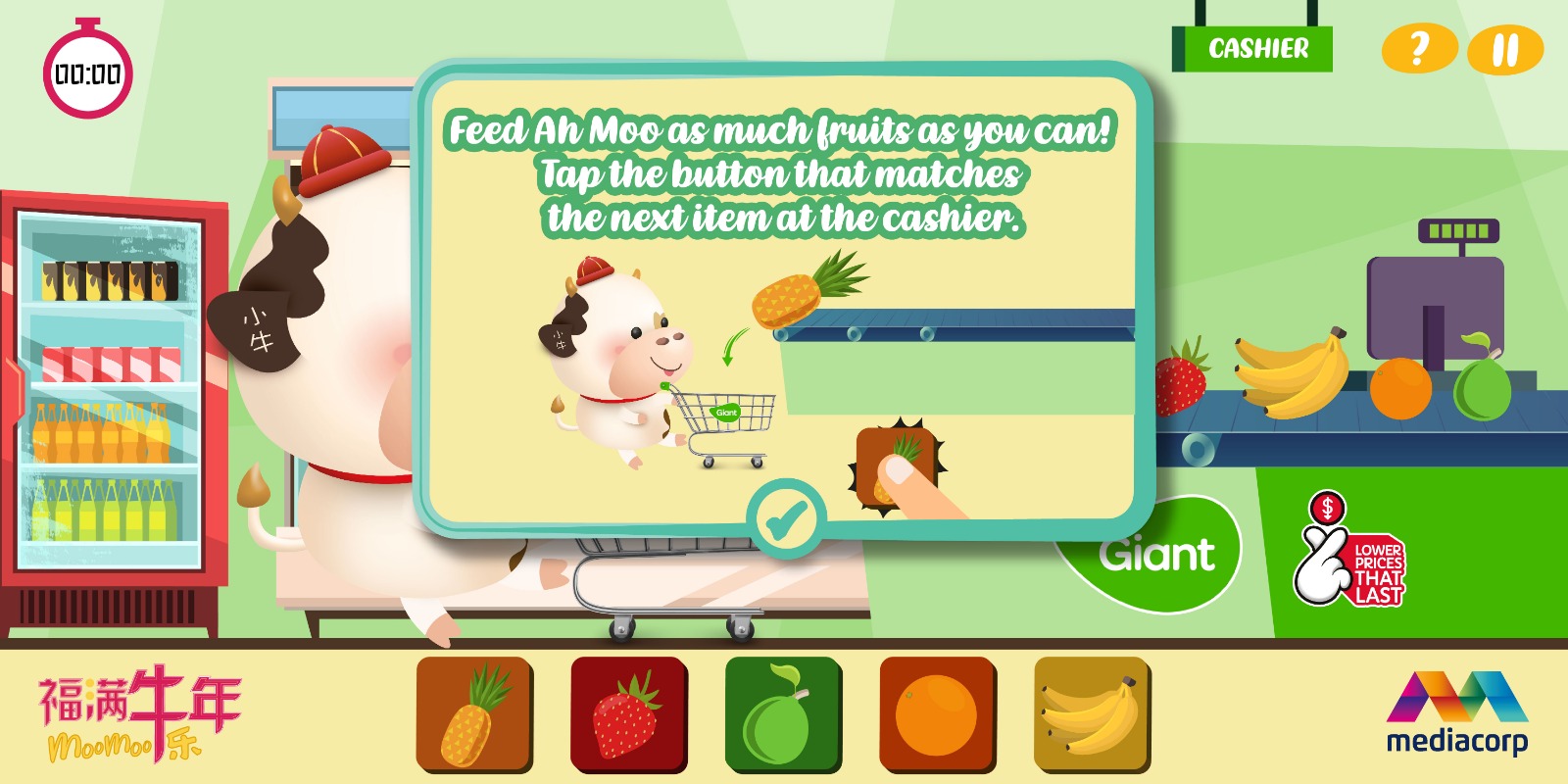 Stand a Chance to Win these Prizes:
1. Giant $2 voucher
2. Giant $5 voucher with $80 spent
3. Xiao Niu Ah Moo Mask
4. Cat & the Fiddle $20 voucher
5. BONIA $50 voucher
6. Curry Times free Curry Chicken
7. $10 Morganfield's Voucher
8. $10 Arteastiq voucher
9. $7 off ezbuy voucher
10. $10 MASA voucher
11. $5 Collins voucher
12. $5 Central HK voucher
13. $5 Seoul Yummy voucher
14. $8 9s Seafood voucher
15. g.Spa Singapore vouchers
16. GOGIYO dining vouchers
17. Smooze voucher
18. Grab $5 voucher
And many more to come!
Ways to Earn More Coins for a More Huat Experience:
1. Watch your favourite programmes on Channel 5, 8 and U
• Programme titles will be listed in 'Earn Coins tab' in webpage. Registered meREWARDS participants will also receive reminder push notifications via meREWARDS app 15 minutes before the programmes start.
• Look out for QR codes or passcodes during these programmes.
• Scan the QR code using meREWARDS app or any QR code scanner, and/ or input the passcode into meREWARDS app or webpage.
• Launch the meREWARDS app, sign in and click Earn to submit the passcode.
2. Listen To Your Favourite Radio Stations – YES 933, LOVE 972, Class 95, CAPITAL 958, 987, Gold 905
• Listen out for a weekly passcode and input the passcode into meREWARDS app or webpage, under Earn.
3. Participants can also earn coins on meWATCH and digital platforms
• Watch your favourite programmes on demand on meWATCH and look out for a passcode during these programmes.
• Surf your favourite sites on cna.asia, 8world.com, 8days.sg, todayonline.com and look out for a passcode.
• Input the passcode into meREWARDS app or webpage, under Earn.
4. Shop at participating sponsors' retail outlets (i.e. Giant) from 22 Jan – 26 Feb 2021
• Launch meREWARDS app and click on Moo Moo icon, and click the submit receipt details link, found under the Scan QR Code button.
• All stores will be open throughout the Chinese New Year period.
• 53 Giant stores islandwide, with most stores operating for 24 hours.
• 5 hypermarkets you can visit at Tampines, Suntec City, Sembawang Shopping Centre, IMM and Pioneer Mall.
For every receipt details submitted, you'll get one lucky draw chance to take part in the Prosperity Grand Draw to win cash prizes worth over $8,000 with every transaction. Find out more about Moo Moo Prosperity Dash 福满牛年Moo Moo寻宝乐 here.
*Terms and Conditions apply.