Celebrate the unsung heroes in our lives with our dads this Father's Day, which falls on 20 Jun 2021. With heightened safe distancing measures still in place and no dining out is allowed (except from 21 Jun onwards), stay home and feast on these delicious spreads or surprise them with gift sets they'll love.
1. AMICI Catering - Father's Day Mini Buffet BBQ & Grill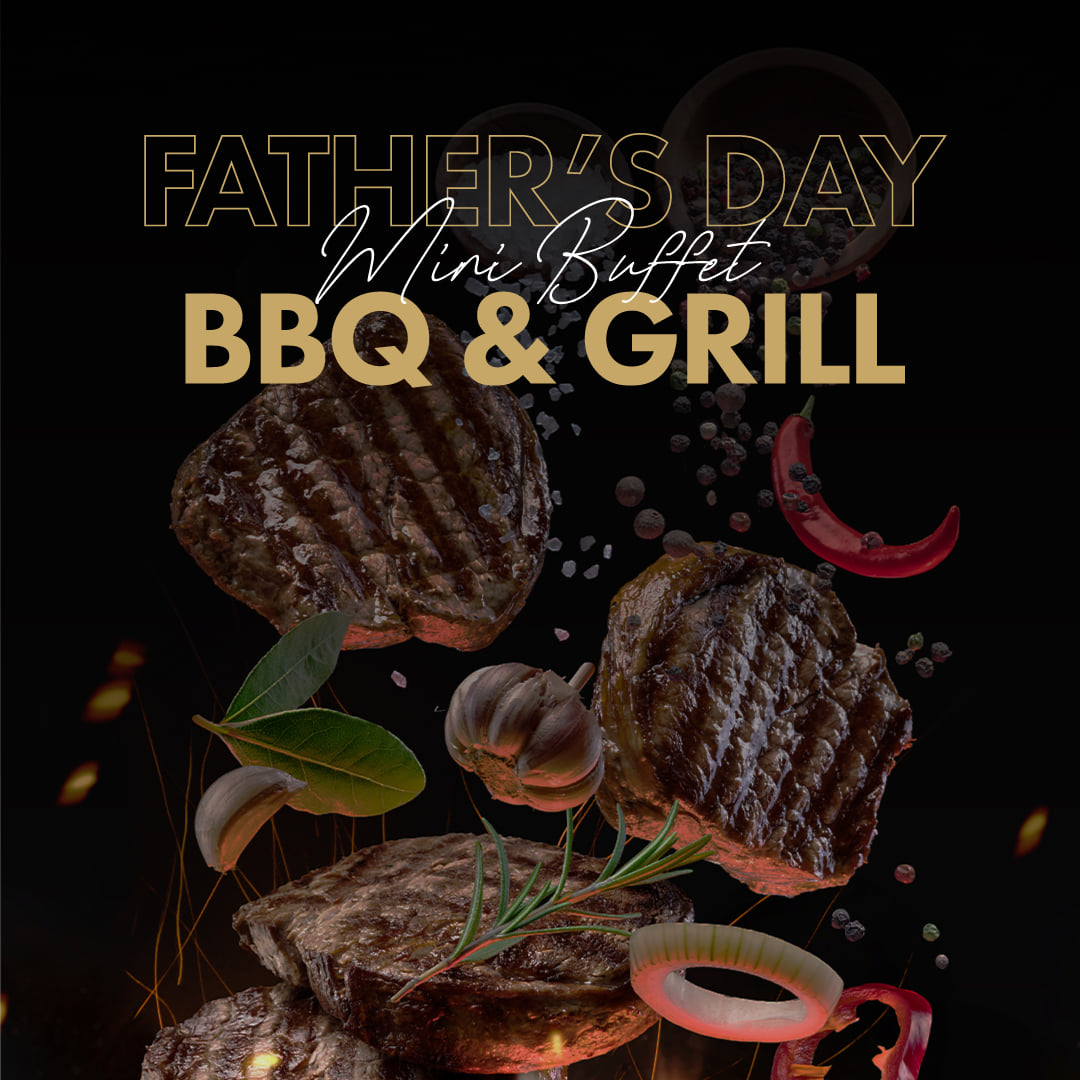 Source: AMICI Catering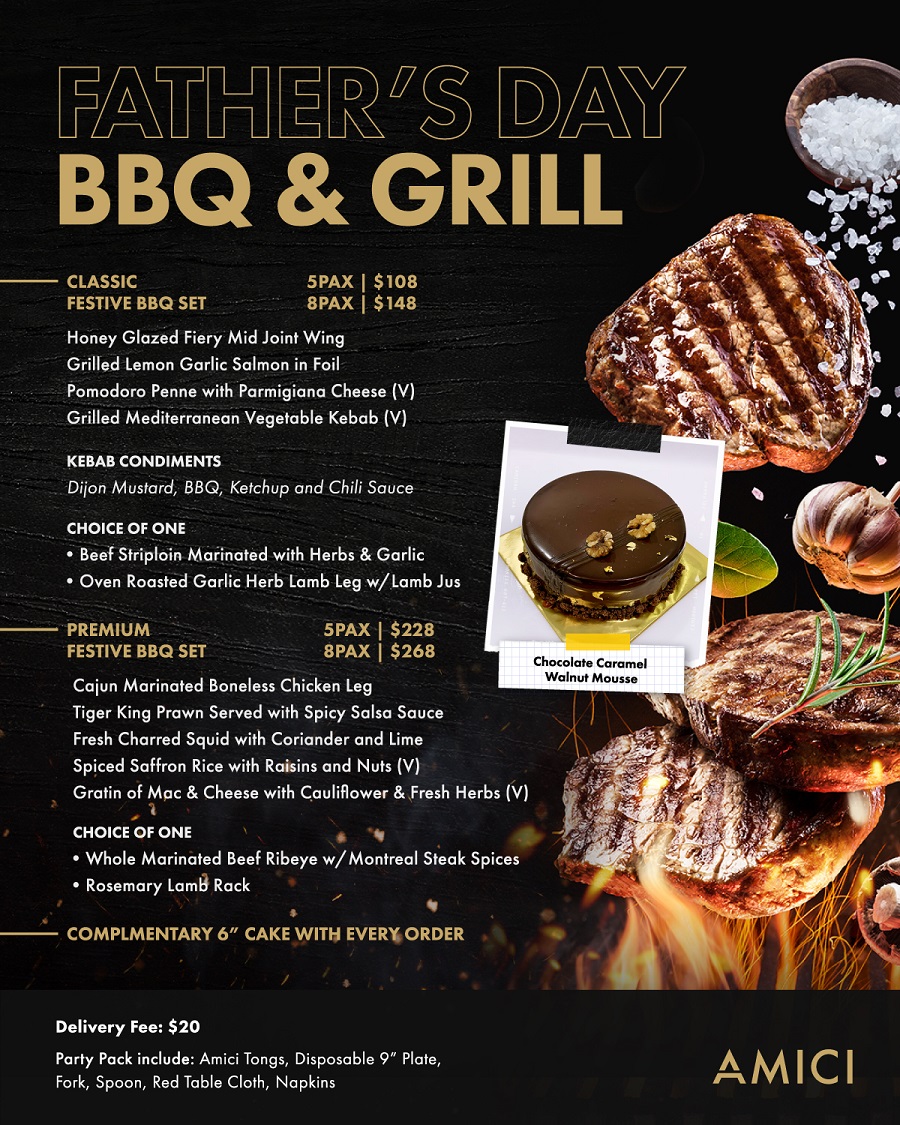 Celebrating Father's Day at home? Order AMICI's Mini Buffet BBQ & Grill promo (starting from $108 for 5 pax or $148 for 8 pax) perfect for meat lovers. Try the Classic Set and choose between Beef Striploin Marinated with Herbs & Garlic or Oven Roasted Garlic Herb Lamb Leg with Lamb Jus. Treat dad like a king with the Premium Set – pick between Whole Marinated Beef Ribeye with Montreal Steak Spices or Rosemary Lamb Rack.
Both sets come with multiple side dishes and a free 6-inch Chocolate Caramel Walnut Mousse Cake.
Grab 10% OFF all items here. Other promos with AMICI here and here.
2. Noel Gifts - Father's Day Hampers
Source: Noel Gifts
Source: Noel Gifts
Surprise dad with a hamper from Noel Gifts, a leading gifting company in Singapore. Browse through their range of hampers from fruit, health supplements, fragrance to alcohol – all tastefully wrapped and decorated for the unsung heroes in our lives. Personalisation is available for some hampers.
Shop Noel Gifts here and earn Cashback.
3. BRAND'S SG - 20% OFF Selected Products
From now till 21 June, enjoy BRAND'S Suntory Father's Day special and reward dad with the gift of health. Improve flexibility with ActivMove, keep a healthy liver with Sesamin (with Schisandra extract) or improve digestion with Pre + Probiotics 30s. All products come in a curated bundled with other products, for a limited time only.
Purchase them here.
4. Wheniwasfour - Father's Day Gift Set
Source: Wheniwasfour
Remind that he's the best whilst drinking his morning kopi o with Wheniwasfour. Shop this Father's Day Gift Set ($42.90) which includes an Enamel Mug, a Brass Pen with Free Side Engraving and a Post Card. Only 30 sets are produced, so the fastest fingers first for these locally produced gifts.
Enter our promo code here at checkout to enjoy 10 % OFF.
5. Pourabucha - Gift Sample Set
Source: Pourabucha
Packed with vitamins, probiotics, and minerals, introduce kombucha to dad with Pourabucha's Gift Sampler Set ($24.90). This Singaporean brand brews its kombucha using traditional methods with ingredients sourced globally. Try the sampler set which features 4 different bottles (180ml) playfully named – One in a Melon, Toast to Me, When In Doubt Chill Out and Grown-Up Cola.
Pick up available at Nordcom 2, 2 Gambas Crescent, Level 3, Kitchen 5.
Shop online here and here, apply our exclusive promo codes at checkout.
6. You Tiao Man - Family Feasting Bundle
Source: You Tiao Man
Source: You Tiao Man
If dad prefers something more familiar and reminds him of the olden days, it's hard to go wrong with the classic breakfast staple, you tiao. And with You Tiao Man's Family Feasting Bundle ($43.80, U.P. $49), try all three types from otah charcoal, sotong and plain you tiao. This bundle also comes with curry samosa that'll have you and the family snacking continuously.
Feast with the family and apply promo code here for a discount.
7. Celebraze - Stay Home Wine & Cheese Set
For a classic and luxurious celebration, try Celebraze's Stay Home Wine & Cheese Set ($108). This set includes a variety of cheeses (such as French Cambert and Gouda), cold cuts and other assortments. For tipple, you'll get Tenuta Sant'anna Merlot, Chardonnay, Prosecco Extra Dry (750ml).
Celebrate Father's Day with our unique promo code here.
8. The Shirt Bar - Gift Sets
For the stylish dads, look no further than The Shirt Bar, a notable menswear brand in Singapore. Make sure dad continues to look dapper (even as he ages!) for date nights with mum and surprise him with a Pocket Square (from $49.90), 5 pc Socks ($54.50) or Multi-coloured Boxer Shorts and Socks (from $29.90).
Apply our promo code at check out here on limited items, valid till 30 Jun.