It has been more than two years since the onset of the pandemic, and for some people, it also means two years of remote or hybrid work. Sales figures of WFH essentials such as work desks and chairs have skyrocketed through the roof, going on a constant upward trajectory similar to COVID-19's case count worldwide. While life has largely returned to normalcy for us living in Singapore, flexible working arrangement seems like it is here to stay.
If you are still going to be working remotely for the considerable future, here is a list of 15 WFH essential and nifty items you can consider, with none costing more than $30. Go on, make yourself comfortable while working, there is no reason not to.
1. Ergonomic Mouse Pad Wrist Rest - $8.01
A simple silicon rest pad for your wrist when you use your mouse. Frequent mouse use at an unnatural angle has been linked to carpal tunnel syndrome, when there is extensive pressure on the median nerve. This may result in numbness or weakness of the hand. The wrist rest ensures that your hand is an a natural angle, almost 180 degrees, reducing the strain on your median nerve.
Image credit: Live Good Pte Ltd
Buy it on Shopee here.
2. Anti-Glare Monitor LED Lamp - $25.99
This hanging lamp can be affixed atop your monitor, and helps to illuminate your desktop, reducing the amount of glare coming directly from your monitor. Night owl? Get this, your eyes will thank us for it.

Image credit: Trust Mart
Buy it on Shopee here.
3. IKEA ELLEVON Monitor Stand with Drawer - $29.90
While a need for monitor elevation will depend on various factors, biggest being the user's height, a monitor stand can help to reduce strain on your back or neck if you find yourself constantly having to tilt your head/chin or just about any parts of your body during work. This IKEA ELLEVON monitor stand even comes with a wooden draw for you to keep your computer peripherals. Yay to a tidier desktop!

Image credit: IKEA
Buy it from IKEA here.
4. Memory Cotton Back Cushion - $29.90
The optimal seating position is when your back is at a 90 degrees angle, but we all know how hard it is to maintain an upright posture throughout the day. A back cushion like this will give you that proper support your back needs. This back cushion is also made of a soft memory foam, ensuring comfort.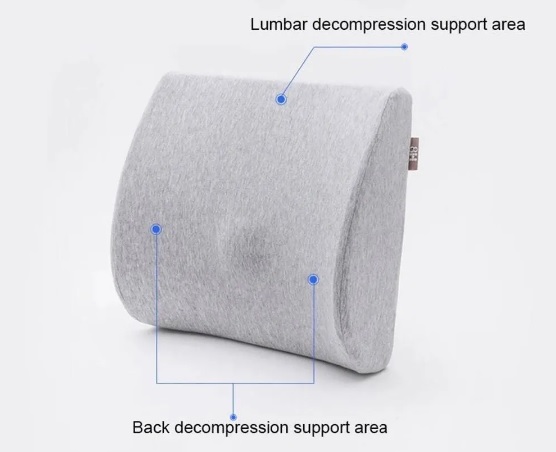 Image credit: Classymissyshop.sg
Buy it on Shopee here.
5. Cable Organiser Box - From $8.29
Wireless earphones, wireless mouse, wireless keyboard, electronic gadgets are increasingly going the wireless route these days. That said, we are still many years away from having wireless power cables. Until that day arrives, it is probably a good idea to have a cable organiser box like this to keep your power cables organised and hidden from sight. More room on the desktop for new gadgates.
New user to ezbuy? Get $10 off $20 with our exclusive promo code here. Existing users get $5 off $55 here.

Image credit: Pak Gan Home Franchise Store
Buy it on ezbuy here.
6. Wool or Leather Desk Mat - From $28.07
Desk mats double up as gigantic mouse pads while keeping your desktop looking neat and tidy. A matching desk mat can even elevate the look of your desktop setup. Looking for a customised mat size for your desktop? Check out the Etsy seller below. Choose from wool or leather, with the latter costing more.

Image credit: BreannaPradoLuxury
Get it on Etsy here.
7. Alcatroz XPLORER GO! Bluetooth Keyboard 100 - $19.90
Wireless accessories come with their pros and cons. The need to charge/replace batteries as well as pair them up in the first place can deter many people from going wireless. That said, a wireless keyboard can bring about many conveniences with the notable one being the fact you can move your keyboard about and work from just about anywhere in your room. They are also handy if you are working from say, a cafe or library. The heat generated from beneath the laptop keyboard can be uncomfortable, especially after prolonged use.
There are plenty of wireless keyboards around, but this Alcatroz Xplorer Go! Bluetooth Keyboard 100 remains one of the more affordable ones we've seen.

Image credit: Challenger
Get it on Challenger here.
8. Baseus DHXX-02 Elephant Humidifier - $22.90
We know what you are thinking and no, this is not a rice cooker. Working in an air-conditioned environment? We all know what a humidifier does. Air dryness can cause your skin to produce more oil than usual (that explains why our face is always so oily at the end of the day in the office). Replenish air moisture with this large capacity air humidifier (600ml) that comes with two different spray modes - rapid and delicate moisturising. It can even double up as a night lamp with its in-built LED lightning.

Image credit: Challenger
Get it on Challenger here.
9. Mini Terrarium from atillyaday - $19.90
A great item to have on the desktop for the regular eye breaks. Water the plants, rearrange the position, talk to them.. Also helps that they are aesthetically pleasing to look at.

Image credit: atillyaday
Get it from atillyaday here.
10. Potted Plant from Tumbleweed - From $15
Like #9, plants are great accessories to have on the desktop. This potted plant requires minimal care and even helps to purify the air. Perfect if you find yourself constantly yawning at work.

Image credit: Tumbleweed
Get it from Tumbleweed here.
11. Ergonomic Laptop Stand - $28.50
Made of high quality aluminium alloy and non-slip silicone, this well-built laptop stand can withstand up to 18kg. Which means that it can support your laptop and another 10kg sack of rice on it without breaking. Impressive.
It is also foldable, and features a hollow centre which allows for quicker heat dissipation, something you will need if your boss is piling work on your desk all the time.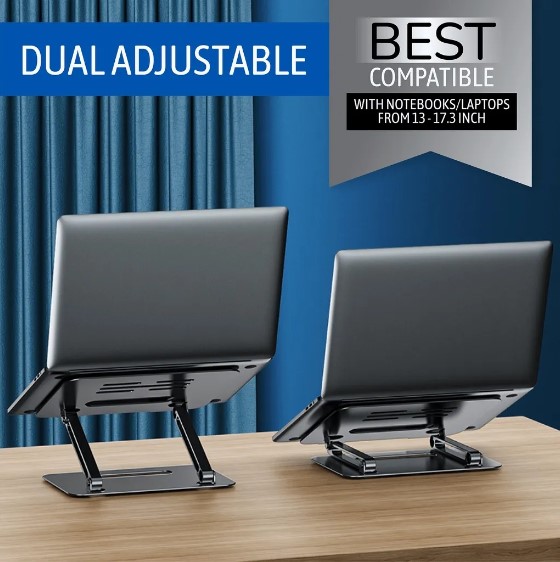 Image credit: Live Good Pte Ltd
Get it from Shopee here.
12. Silicone Honeycomb Design Gel Seat Cushion - $10.90
What is worse than having to sit through a 2-hour Zoom meeting with no breaks in between? Sitting on a hard and uncomfortable chair, no less. If you do not have the luxury of replacing your chair altogether, get this Honeycomb Design Gel Seat Cushion made out of silicone for additional comfort.
Not only does it support your posture by absorbing pressure points, the material stays cool throughout and allows air to circulate, meaning less of those damp and icky backsides after sitting at your desk for prolonged periods.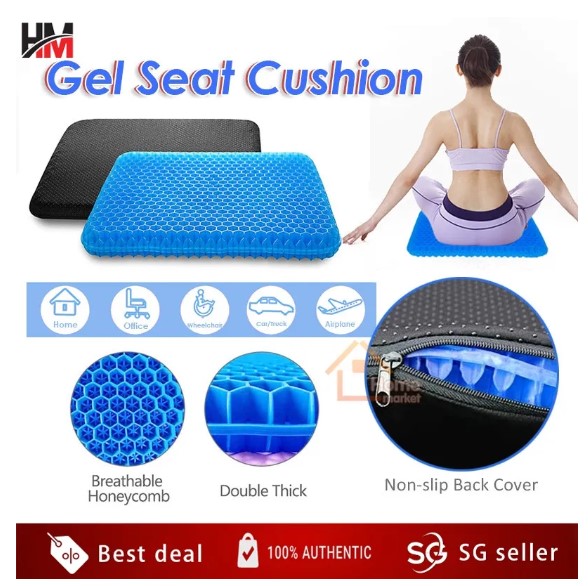 Image credit: Home Market
Get it on Shopee here.
13. Stress Relief Balls - From $2.38
Deadline after deadline with no end in sight. What then do you do? You can find a pillow nearby and holler into it, or get these stress relief balls to release your pent-up stress and anger on. While you cannot change your deadlines, you can squeeze these balls like no tomorrow.
Image credit: vitaminsghub222
Get it on Shopee here.
14. Wooden Wrist Rest - From $14.90
We explained earlier why it is important to prop your wrist up when using your mouse, and the same applies to when you are using your keyboard, especially if your keyboard is elevated. While most wrist rests in the market will serve the same purpose, we opted for this because, aesthetics. It is hard to say no to beautifully brushed, wooden products. Tell us we are not the only one.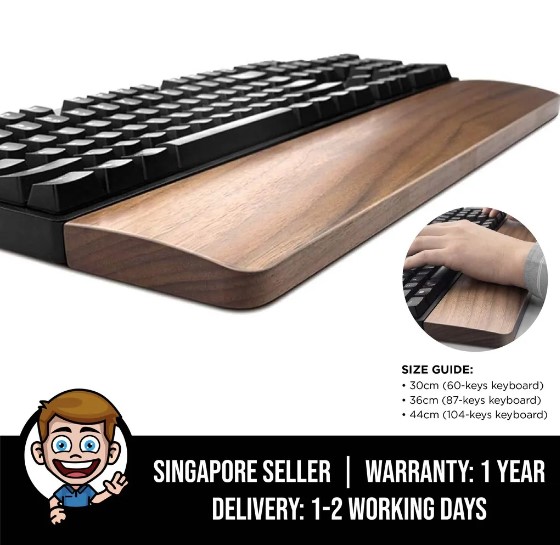 Image credit: soukystore
Get it from Shopee here.
15. Creative Coffee Drink Cup Holder - From $8.58
This is for when you run out of space on your cluttered tabletop, but still want to sip on your kopi peng while at work. Clip this cup holder to the side of your tabletop and voila, problem solved. Also, no more spilling of coffee on your table.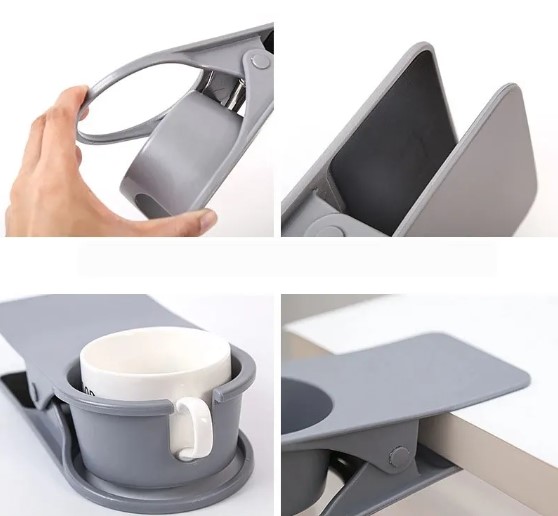 Image credit: cslulang24.sg
Get it on Shopee here.
Did you know you can earn up to 2.5% cashback on all your Shopee purchases? Simply click into Shopee via our link here and complete your purchase, that's all!
Essential is a subjective word, and what works well for one may not necessarily work as well for another. Nevertheless, we still hope some of the items in this list may prove to be a gem of a find for you as they did for us!
This is an independent review and information is correct at time of writing.