We all know a bag is not merely an instrument we use to carry our belongings. A bag is an extension of our lifestyle and personality. It is also a trusted companion on our travels, accompanying us as we journey through the milestones in our lives. Some are even seen as investment assets whose value appreciates with time.
Anything and everything goes into our bags. Photo credits: Unsplash
Ask anyone who owns a bag, and they will tell you the same - that each bag tells a story. Perhaps it was bought with your very first paycheck, or a gift from your significant other during your honeymoon.
The question then is, how can we preserve and extend the longevity of this one item that means so much to all of us?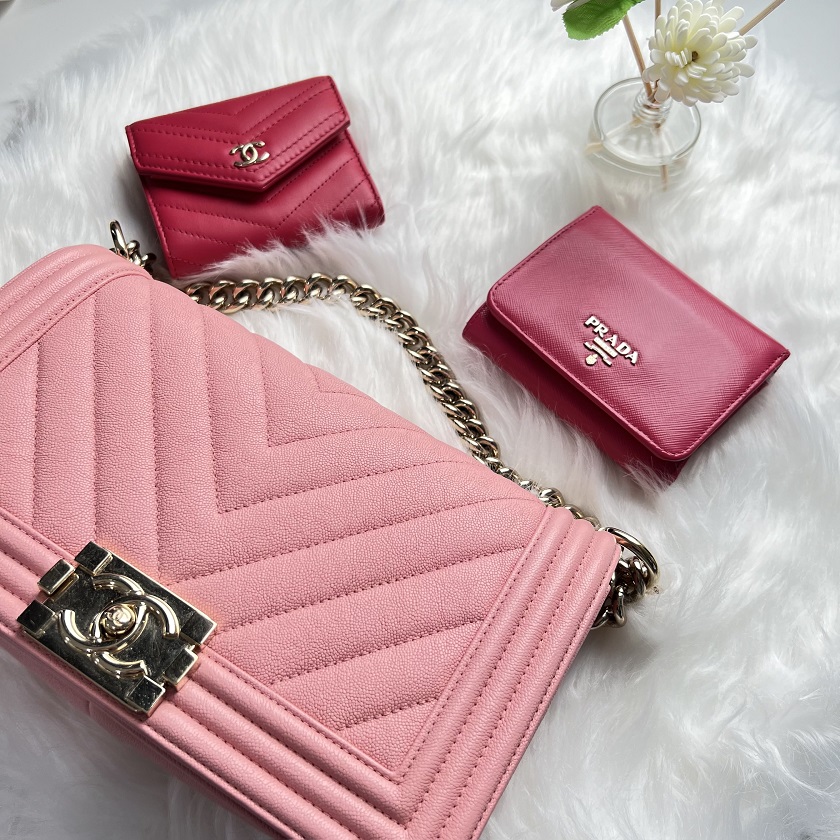 Leather is a material which ages gracefully
Most bags in the market are made from leather, and leather is generally a durable material which responds well to daily wear and tear. That said, leather is still no match for moisture and sun, two things we have in abundance in Singapore.
Leather is an organic and porous material, which means it absorbs excess moisture. Coupled with a lack of use, it can contribute to mould growth which permanently damages the leather surface.
On the other hand, exposing leather to too much of the sun causes the natural oils in leather to dry up, resulting in stiff and cracked leather. Oh well, the downside of living in hot and wet Singapore.
A handbag with a dry and cracked leather surface
If that is not enough, bacterial thrives on tanned leather as they contain carbohydrates, fats, and protein. Think of it as a permanent buffet for those pesky bacteria. Some researchers have even shown that the bags we carry with us all the time may even contain more germs that a toilet!
The good news is with a bit of care and cleaning, most of your precious totes can be restored to their smooth and shiny former glory.
And this is where Dr. Bags comes in.
Dr. Bags - A Trusted Aesthetics Clinic for Your Designer Bags
Dr. Bags was established in 2014 by two best friends Lynn and Esther, who saw a pressing need for a bag restoration service which the masses could easily and affordably access. They felt that too many bag owners were discarding what they thought were damaged bags.
Best friends and co-founders of Dr. Bags, Esther and Lynn
Even for owners who are looking for restoration services, there were no real solutions as it was a choice between going back to the boutiques, who typically outsource their repair jobs anyway, or going to brick-and-mortar shoe repair shops who might not have the know-how to repair high-end designer bags.
They set up Dr. Bags with the help of a leather technician from Korea with decades of leather-restoration experience under his belt. Together with him came proprietory Korean technology and materials which to this day, still separates Dr. Bags from many of their competitors.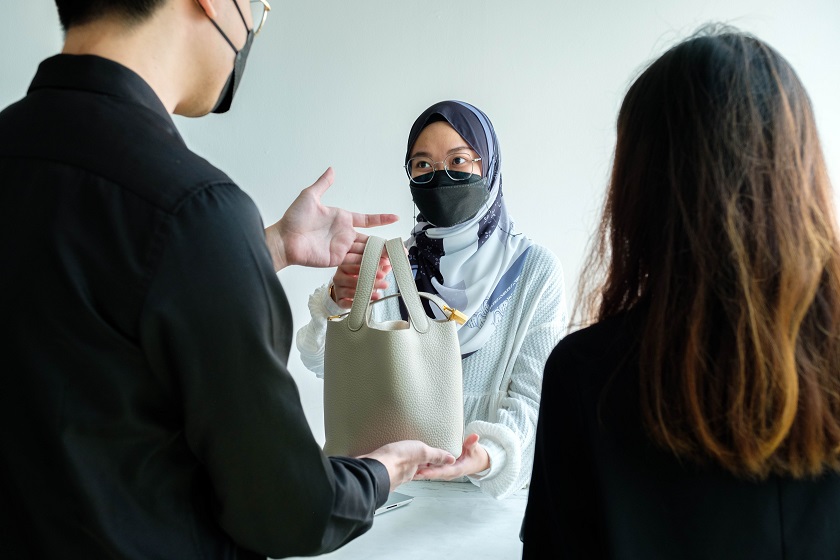 The friendly staff at Dr. Bags will provide a thorough examination of your items
The four main services Dr. Bags provide are easily categorised into the four Rs - Repel, Refurbish, Refresh, and Restore.
1. Repel - Super Defense HP Coating
Leather is a very water-sensitive material and just a tiny amount of water can cause the leather to swell and change its shape. As water evaporates from the leather, it can cause the natural oils to dry up and, in the process, stiffening the leather.
Dr. Bags' Super Defense HP Coating is essentially a protection layer designed to repel water effectively and minimise stains. The layer of coating repels water, retards colour oxidation, dulling of colour, mould and fungus attack and reduces hairline scratches and the common wear and tear our bags are so susceptible to.
Coating is applied to almost every inch of your bag
Testing the water repellency after the treatment
Considering how often it rains here in Singapore, we cannot think of a more essential treatment for those expensive designer bags. Dependent on usage, Dr. Bags typically recommends their customers to coat their bags and footwear at least twice a year for maximum protection.
Super Defense HP Coating comes with the following properties:
Water and oil repellant
Will not alter the look of the material
Odourless and colourless
Excellent durability
Water based
Powered by technology
Price
Shoes and Wallets: $75
Bags: $150 - $180
2. Refurbish - Fix Them All
Leather is an incredibly tough material and most expensive leather bags are made to last for a long time. That said, other parts like the bag buckle or clasp can wear out easily over time. Or even scruffed corners, loose stitches, and worn out parts - these are common wear and tear issues which plague most bag owners.
The silver lining is, with a little bit of repair and replacement works, your bag can look like new in no time. Just look at this rejuvenated MCM tote bag below.
Spot the badly worn-out inner lining (hint: top left)
The team of experienced specialists at Dr. Bags carefully removed the torn inner lining from the bag and reconstructed the inside of the bag with a more durable and long-lasting fabric. The result is a gorgeous looking bag that can easily pass of as a new piece.
There is no bag too battered which Dr. Bags cannot save. Speak to them to find out more.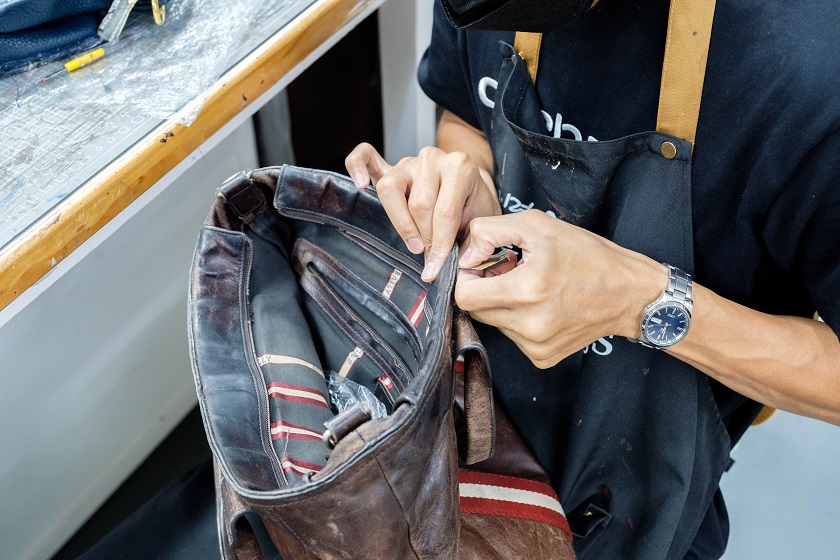 Saving the leather edges of a heavily battered Bally tote bag
Price
Stitching, Mending: $80 - $120
Handle Waxing: $75
Wallet Waxing: $30 - $80
Handle Replacement: $250 per handle
3. Refresh - DeepCleanse Regime
Dirt, grime, and bacteria can build up on our bags over time without proper care and maintenance. If that is not enough, a lack of use can also result in mould and mildew attacks on our bags.
Dr. Bags' DeepCleanse treatment not only prolongs the longevity of your leather bags but also sanitises and conditions them from the inside out, keeping mould attacks at bay.
Specialised treatment solutions, made up of 80% natural ingredients, are specially imported from both USA and Korea. They are colour-safe on all types of leather, fabric, or synthetic materials.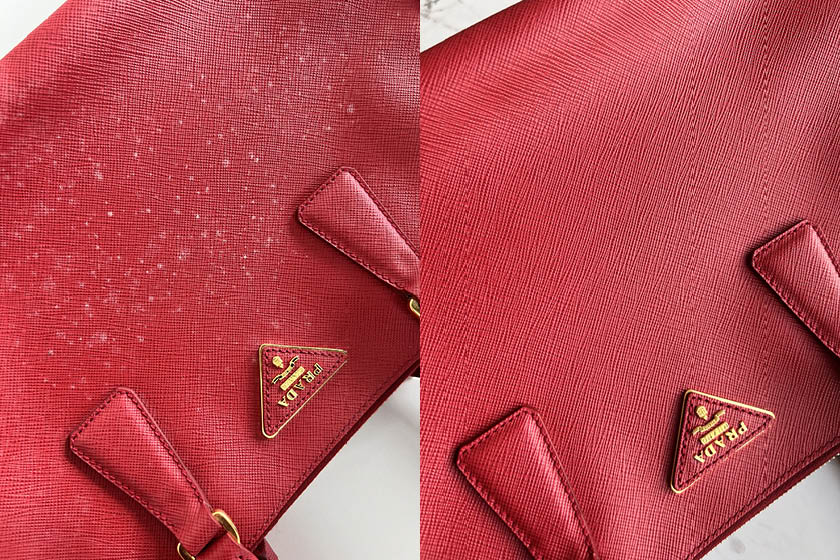 Before and after the DeepCleanse Regime
Bags are professionally dried for even and consistent results
Dr. Bags DeepCleanse Regime in a nutshell:
No harsh chemicals or abrasives used
Colour-Safe on all materials
Penetrating formula removes mould deep in the material
Improves and removes musty odours
Kills 99% of all harmful bacteria
Effectively cleans and conditions leathers
Made of 80% natural ingredients, eco-friendly and biodegradable
Price
Shoes and Wallets: $40 - $70
Bags: $100 onwards
4. Restore - ColourPRO Revitalize
Beloved bag looking dull and worn out from years of use? Or simply looking for a colour refresh for your bag to make it seem as though you have bought a new one? Dr. Bags are the experts when it comes to giving your bag a fresh coat of colour and a second lease of life.
A previously white Louis Vuitton bag starting afresh in black
Here are the 10 processes each bag undergoes during the ColourPRO Revitalize treatment.
Price
Shoes and Wallets: $150 - $250
Bags: $400 onwards
All cleaned up and ready to return to its owner
Conclusion
Many products in the market are manufactured for either one-time or limited use. Leather products, however, can last a lifetime with proper care and maintenance.
When you invest in a designer bag, you are not only paying for the workmanship and quality, but also investing in a product that can potentially become more beautiful (and expensive) over time. Regular care and maintenance can help your bags go a long way.
Getting your leather product checked up at Dr. Bags is a breeze. Simply bring it down to any of their 3 outlets - Plaza Singapura, Junction 8, or United Square, for a free examination. The experts at Dr. Bags will provide a free examination and advise on if any treatment is necessary.
Dr. Bags staff giving this leather bag a full body check up
merewards Deal
Phew, you've made it to the last part of this article. To all our loyal merewards members, you can either flash this merewards deal or apply our special promo code here online to enjoy 10% OFF DeepCleanse / HP Coating / Waxing Services with a minimum spend of $120 on Dr. Bags services.
You can now enjoy the feeling of owning a new bag (almost) without breaking the bank!
Redeem 10% off DeepCleanse / HP Coating / Waxing Services here
Give your bag a new lease of life with Dr. Bags
Address: 68 Orchard Rd, Plaza Singapura, #B2-65, Singapore 238839
Opening Hours: Daily 11am - 8pm
Nearest MRT Station: Dhoby Ghaut Station
Phone: 6835 7375
Website: https://www.drbags.com/
Email: enquiry@drbags.com
Address: 9 Bishan Pl, #B1-04 Junction 8, Singapore 579837
Opening Hours: Mon - Fri 11am - 8pm, Sat & Sun 10am - 8pm
Nearest MRT Station: Bishan Station
Phone: 6334 1695
Address: 101 Thomson Rd, #B1-36A, Singapore 307591
Opening Hours: Daily 11am - 7pm
Nearest MRT Station: Novena Station
Phone: 6254 2528
Grab your 10% OFF DeepCleanse / HP Coating / Waxing services with a min spend of $120 worth of services
This post is brought to you by Dr. Bags. All information correct at time of writing.