It's greasy, sinful but so delicious – we're talking about fried chicken. When you think of comfort food, fried chicken comes to mind and there's no better way to eat it than using your hands. If you are over cafe food, it is time to ditch the cutleries (and don't count your calories!) at our top picks and the best places you can get fried chicken in Singapore.
1. Ah Tan Wings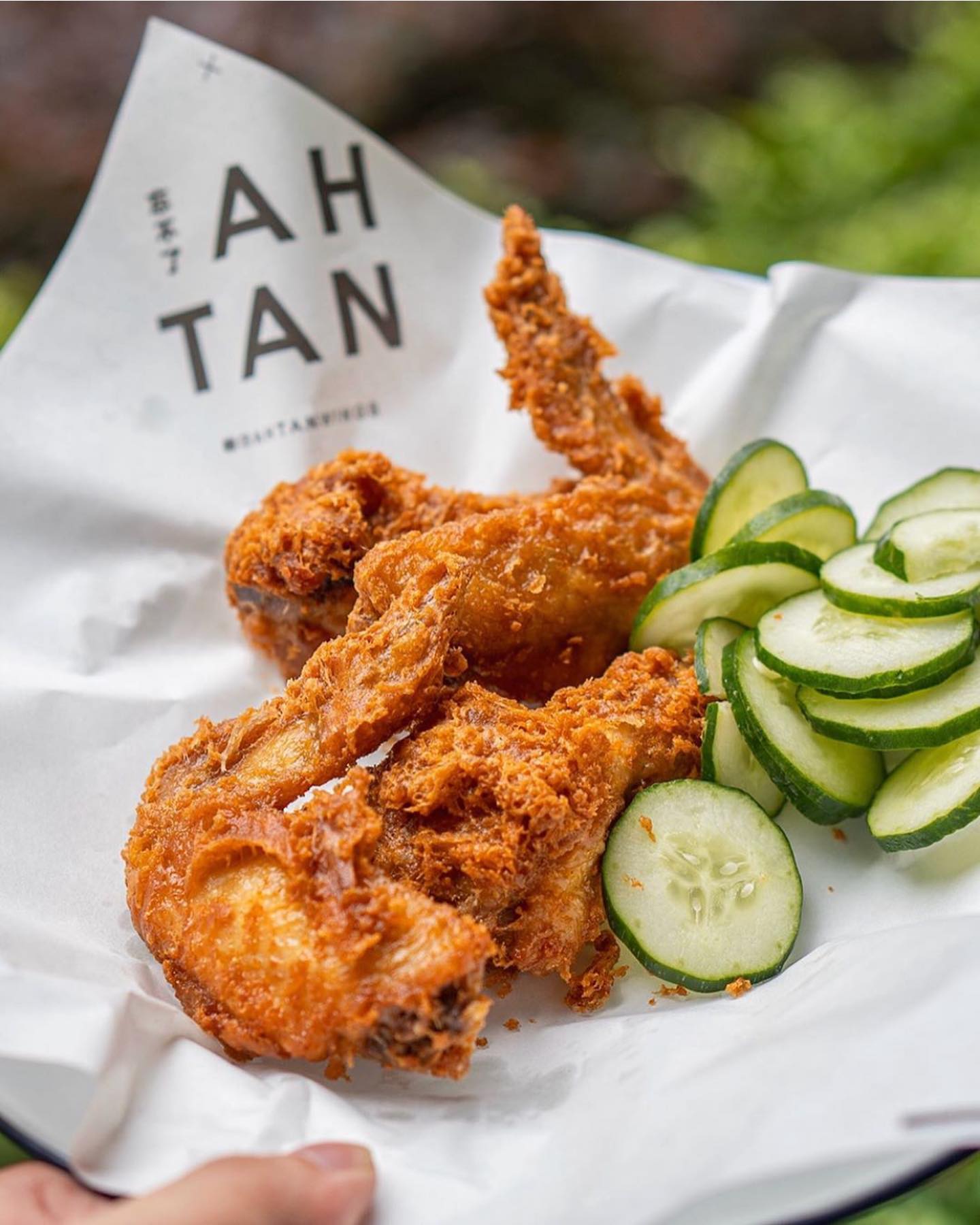 Source: Ah Tan Wings
Truly Singaporean chicken wings, Ah Tan Wings which is located at Yishun Park Hawker Centre is made from prawn paste (har cheong gai) fried chicken, which is mind-blowing! The Gen-Y hawker, Tan Wee Yang, opened his stall when he was just 25 years old. The chicken wings are affordably priced at $7.50 for 3 wings & 3 drumlets or $12 for 6 wings & 6 drumlets.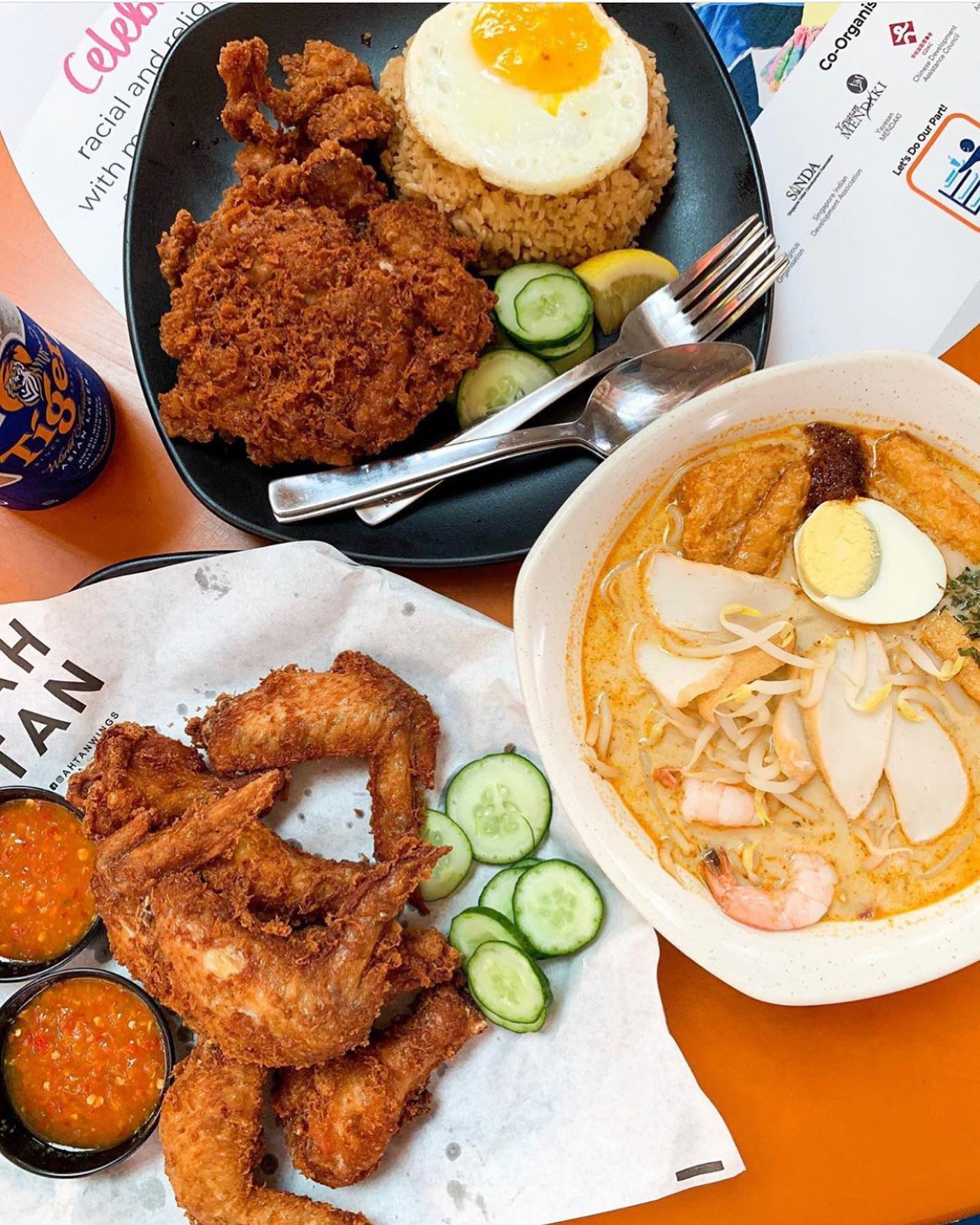 Source: Ah Tan Wings
They are mass deep-fried once, then another round, when customers order to ensure the wings are served piping hot. Mr Tan recommends dipping their chicken wings in their homemade chilli sauce for an extra kick. Their other stalls are also located at Timbre+ and Ayer Rajah.
Yishun Park Hawker Centre, 51 Yishun Ave 11, #01-40
S768867
2. The Beast Southern Kitchen + Bourbon Bar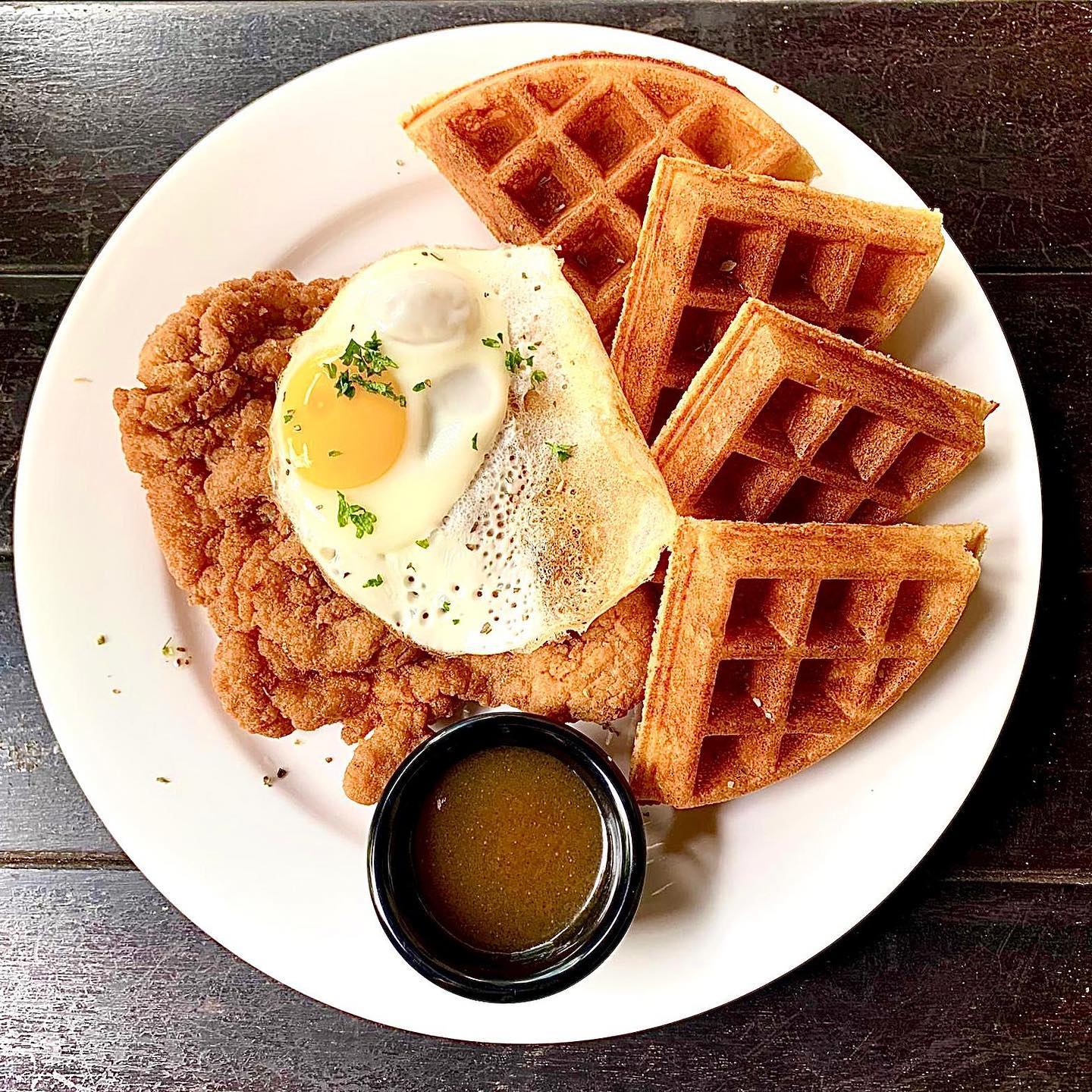 Source: The Beast Southern Kitchen & Bourbon Bar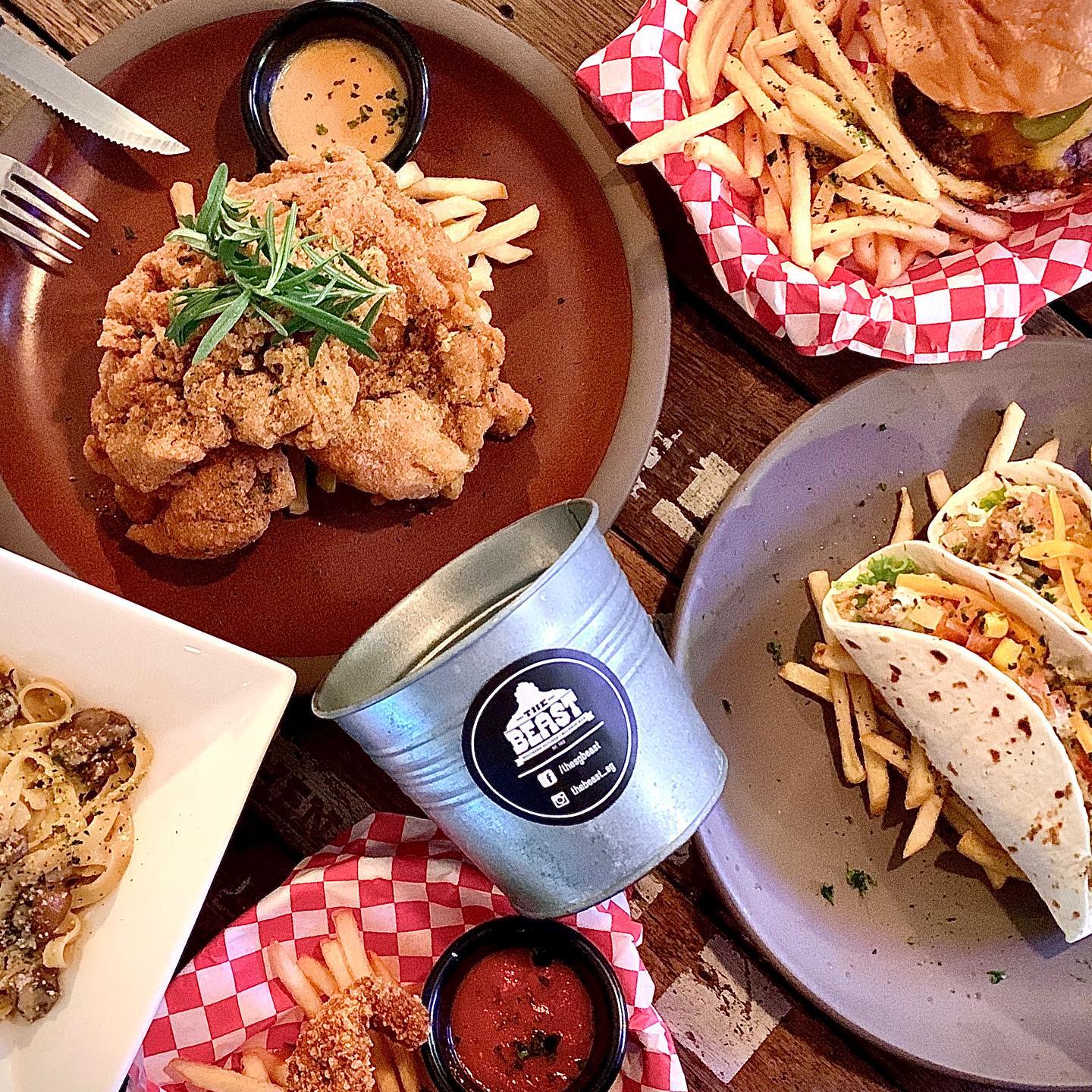 Source: The Beast Southern Kitchen & Bourbon Bar
True to its name, fried chicken at The Beast Southern Kitchen & Bourbon Bar is extraordinary. The Chicken & Waffles ($20) features their signature fried chicken, served atop a buttermilk waffle, a sunny side up and bourbon maple butter sauce. If you're apprehensive about mixing sweet and savoury together, this dish will prove you wrong. Order their Freshly Baked Cornbread ($8), which comes with a dollop of butter for the full Southern American culinary experience.
17 Jln Klapa
S199329
3. Chix Hot Chicken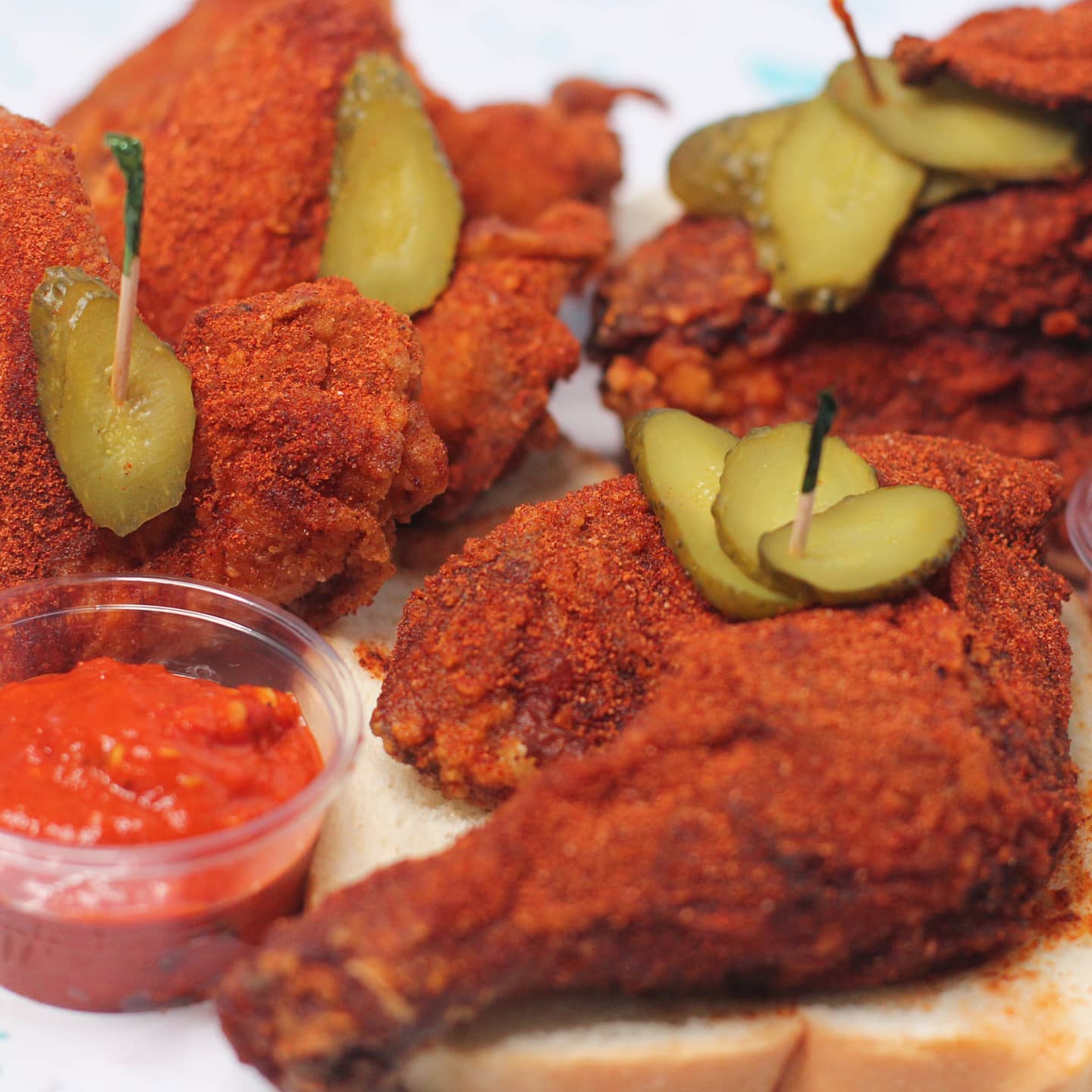 Source: Chix Hot Chicken
Source: Chix Hot Chicken
Opened by Singapore Idol's 1st winner, Taufik Batisah, Chix Hot Chicken, is a quaint restaurant located at Jalan Pisang in Bugis. This Halal Nashville-styled restaurant doesn't only serve the tastiest and juiciest fried chicken, they're also known for using one of the spiciest chilli in the world – ghost peppers. Their Quarter Nashville Hot Chicken ($9.90) is their best-seller, and for sharing we recommend the Soul Sliders ($12.90). There are four levels of spiciness – Mild, Medium, Hot and Insane. We suggest to start slow, but if you're a fan of spicy flavour, go forth and good luck!
1 Jln Pisang
S199069
Read: Best Halal restaurants in Central Singapore
4. Yardbird Southern Table & Bar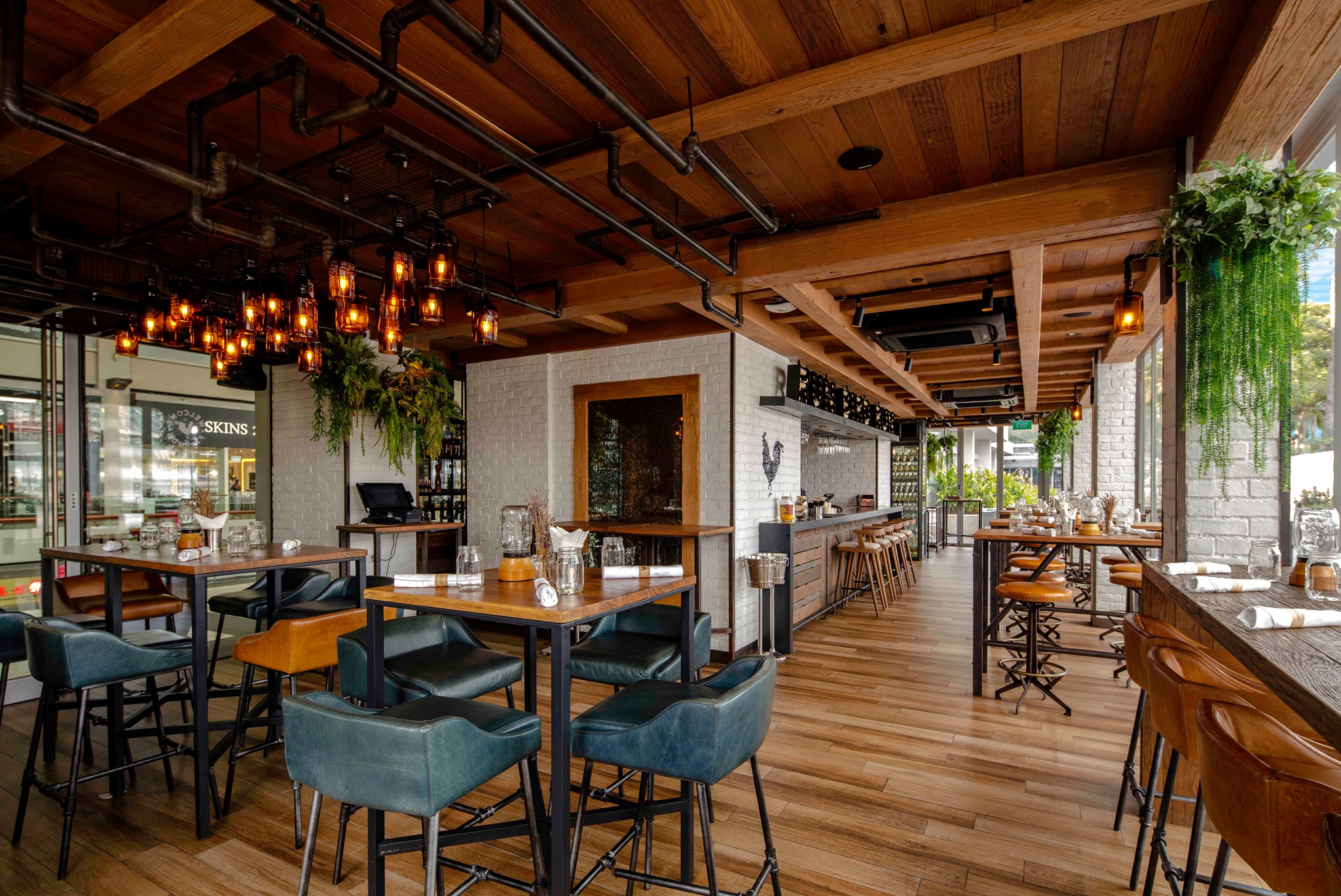 Source: Yardbird Southern Table & Bar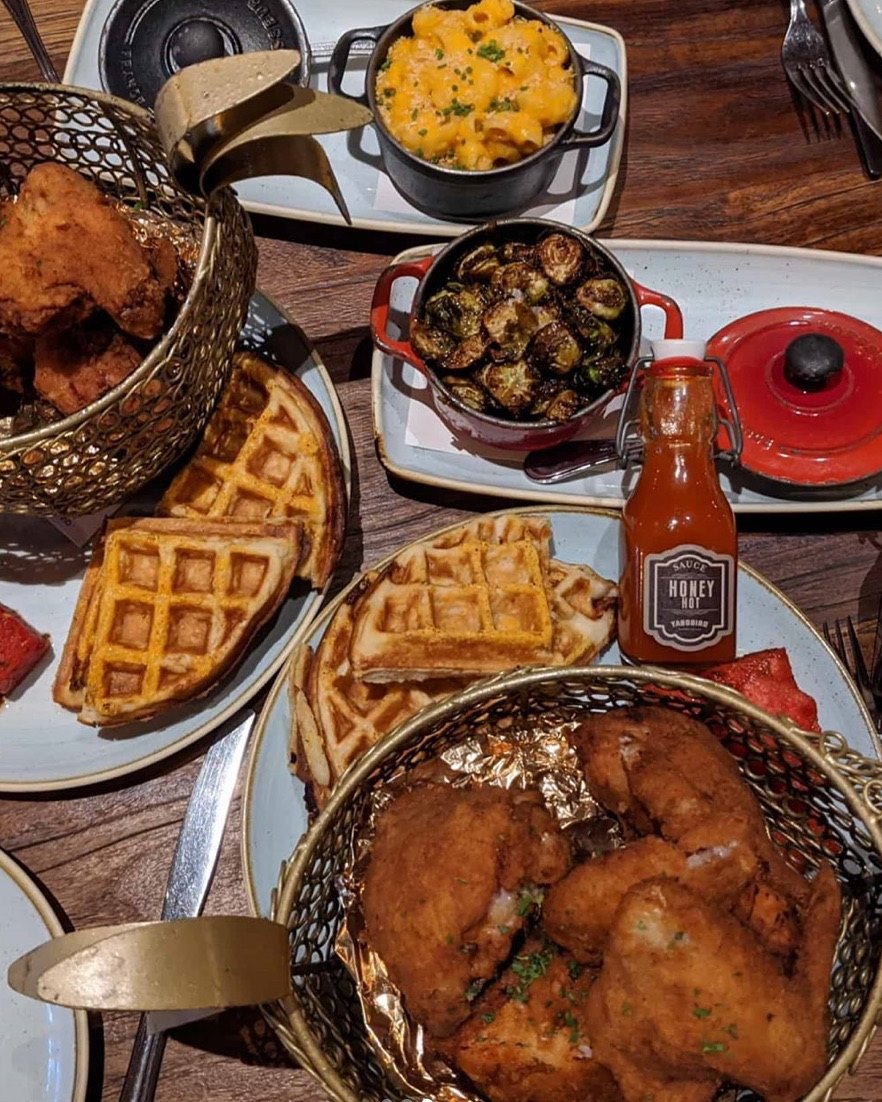 Source: Yardbird Southern Table & Bar
Previously known as The Bird, Yardbird Southern Table & Bar serves authentic South American cooking. While there are many sublime dishes offered here, the true star is the Chicken 'n' Watermelon 'n' Waffles ($40), that breaks all the rules (for all the right reason). The chicken is brined for 27 hours to seal in all the moisture and keep the flavours intact. The waffles are made from a mixture of cheddar cheese and herbs. Cut a piece of everything, and eat them all together for a gastronomical explosion of flavour.
The Shoppes at Marina Bay Sands, Galleria Level
2 Bayfront Ave, #B1-07
S018972
5. Arnold's Fried Chicken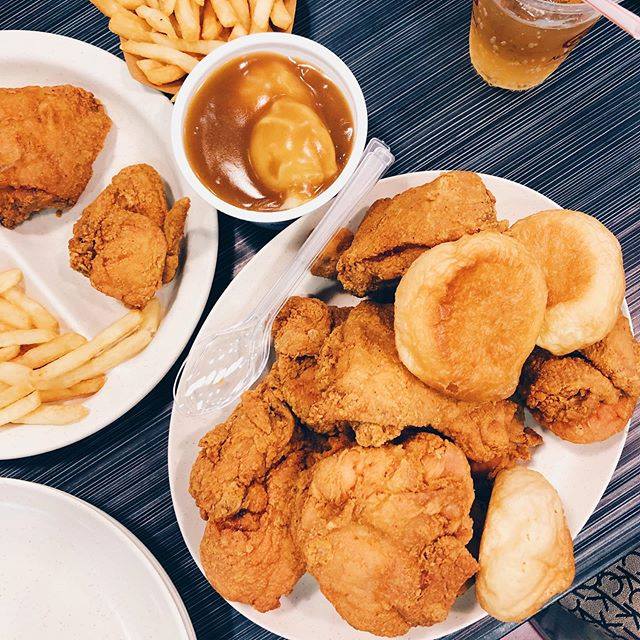 Source: Arnold's Fried Chicken
No frills fried chicken, but oh so good – we're talking about Arnold's Fried Chicken. They've been around for more than 30 years, and they're here to stay. This homegrown brand is Halal and famous for simple family-friendly dining, suitable for any budget as they are affordably priced. The 2 Person Combo Meal is $24.80 and the 2 Piece Meal is just $7.30. The fried chicken is tender, moist and there's just something about the crispy skin that beckons us for more.
Pssst… here's a tip! Dip the fried bun in their signature gravy, made from reduced chicken stock which is full of flavour and super addictive. They have outlets in Hougang, Yishun, Bedok, Jurong, Tampines and their main branch at Geylang.
City Plaza, 810 Geylang Rd, #02-99
S409286
Read: #SavefnbSG: Restaurants in Singapore with 1-for-1 takeaway options
6. Wingstop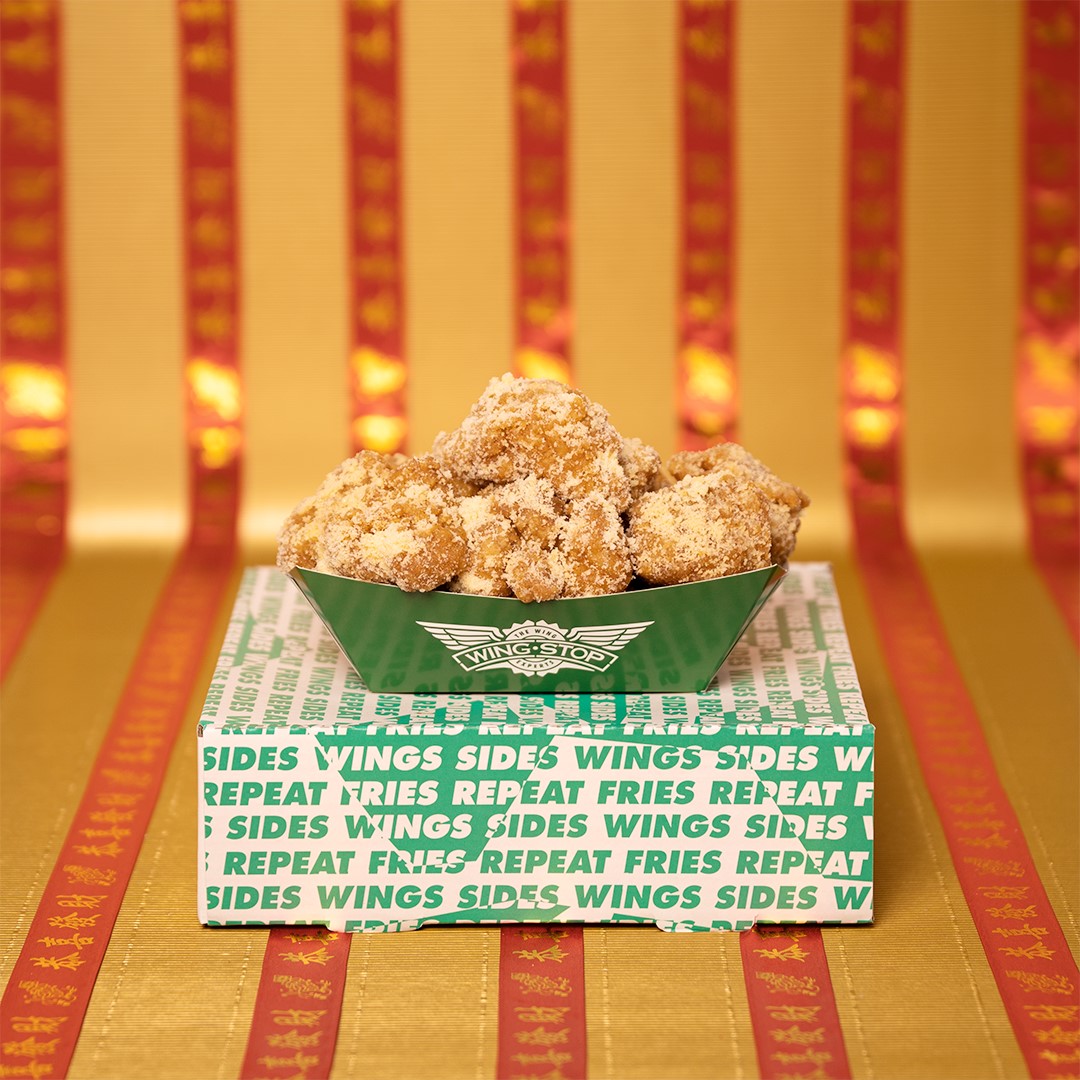 Source: Wingstop
Wingstop needs no introduction, with over 10 different flavours to choose from, any discerning palette will be satisfied. Our favourite is the Mango Habanero, which has a sweet tang at first bite, but then slowly evolves to a fiery experience. Other flavours include Garlic Parmesan, Lemon Pepper, Teriyaki, Atomic and many more. Originally from Texas, Wingstop now has over 1,400 outlets around the world.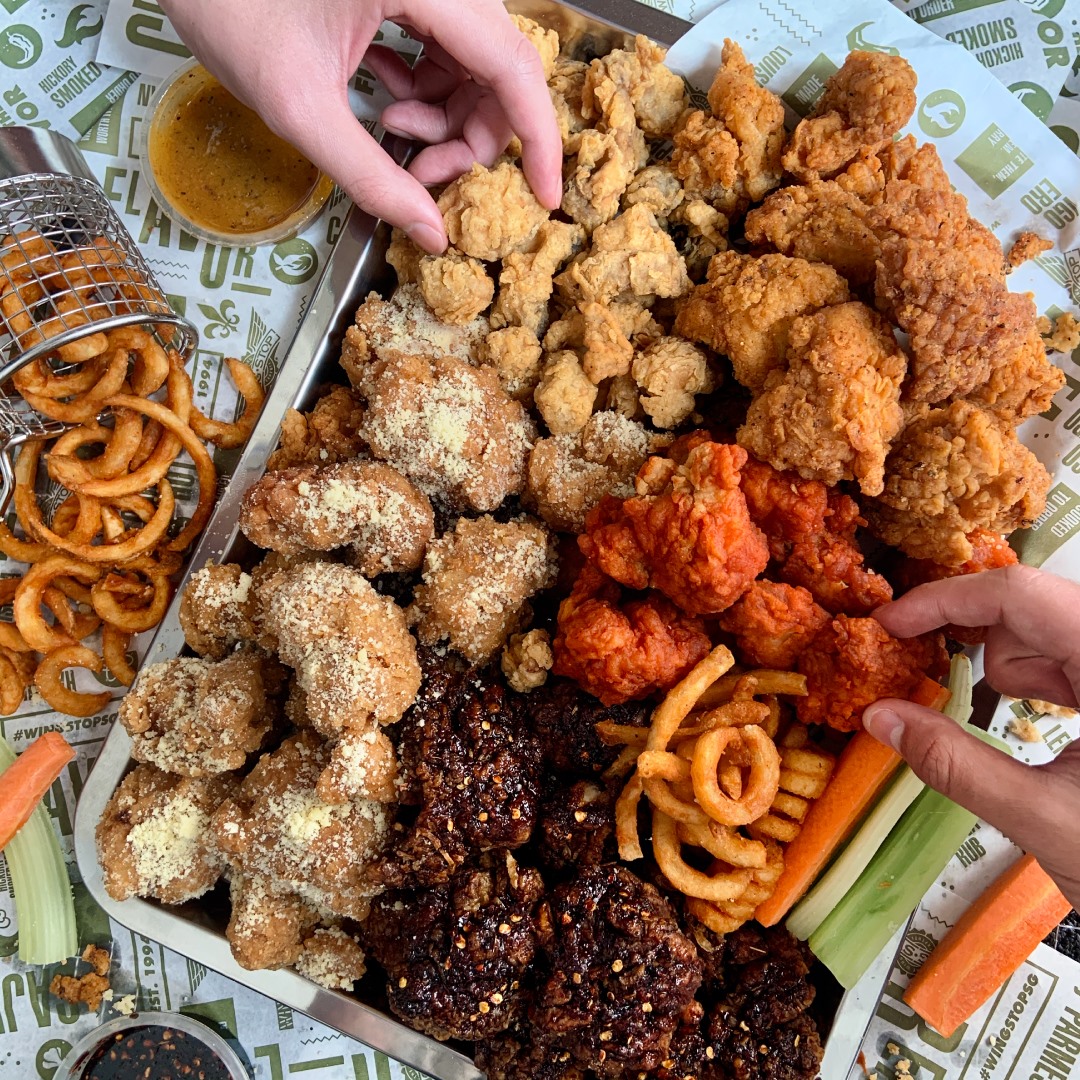 Source: Wingstop
If you're having a get together with families or friends, Wingstop is the best choice as they have Party Packs – 30 pcs (3 flavours) for $31.95, 50 pcs (4 flavours) for $50.95 or 100 pcs (4 flavours) for $99.95. They have outlets at Bedok Mall, City Square Mall, Hillion Mall, JCube, Jurong Point, Our Tampines Hub, Suntec City, VivoCity and Nordcom 2.
7. Kko Kko Na Ra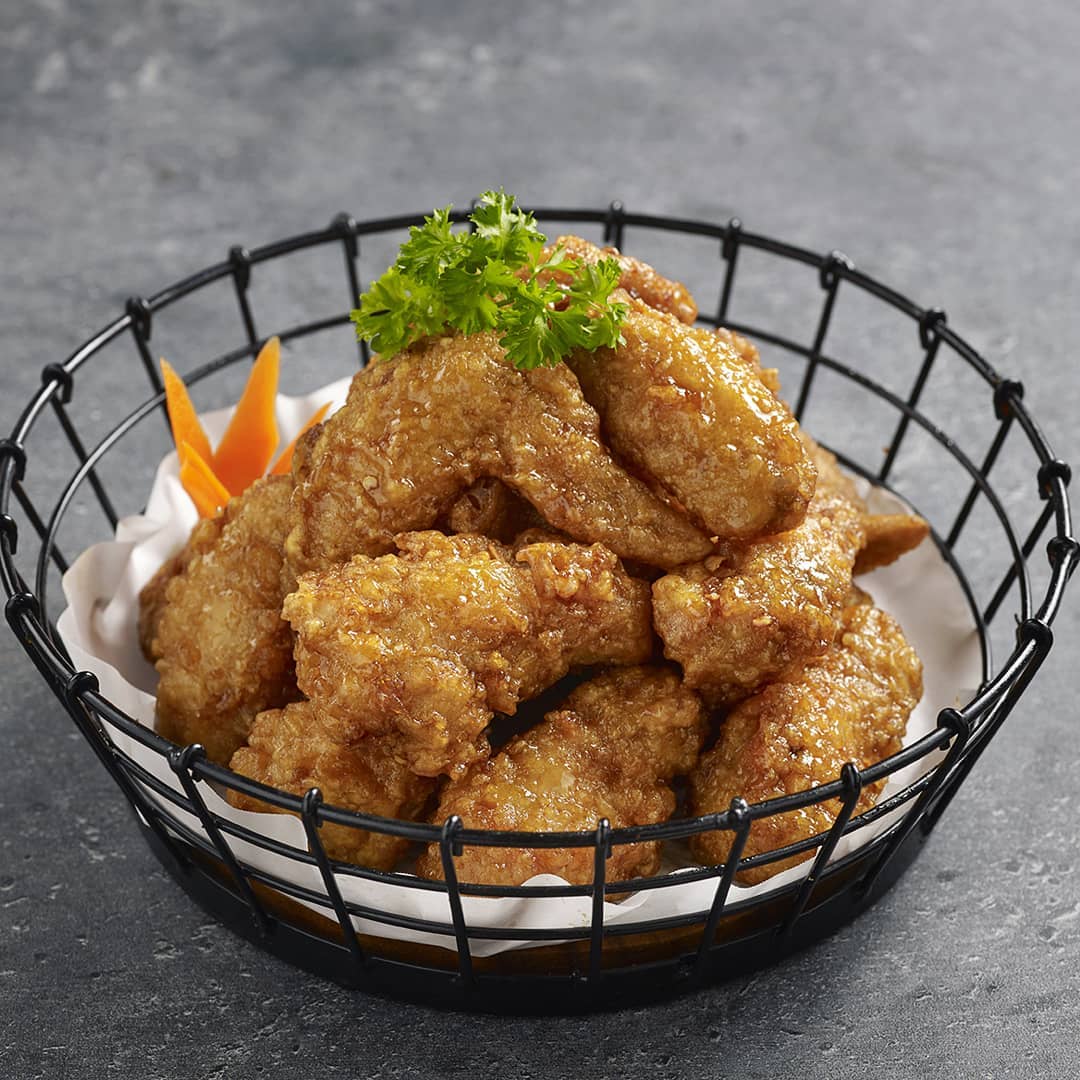 Source: Kko Kko Na Ra
The best Korean fried chicken restaurant in Singapore, Kko Kko Na Ra, is serious about their fried chicken and beer. It is one of the famous supper spots for yummy Korean fried chicken as they open till late. Offering a wide range of flavours from Soy Garlic, Honey Shiok, Cheese Sprinkle and more. The price starts from $20 for 8 pcs and $35 for 16 pcs.
Source: Kko Kko Na Ra
And can we talk about how pretty their dining area is? It's an ideal space for birthday parties and corporate events.
68 Tanjong Pagar Rd
S088489
8. Monga Fried Chicken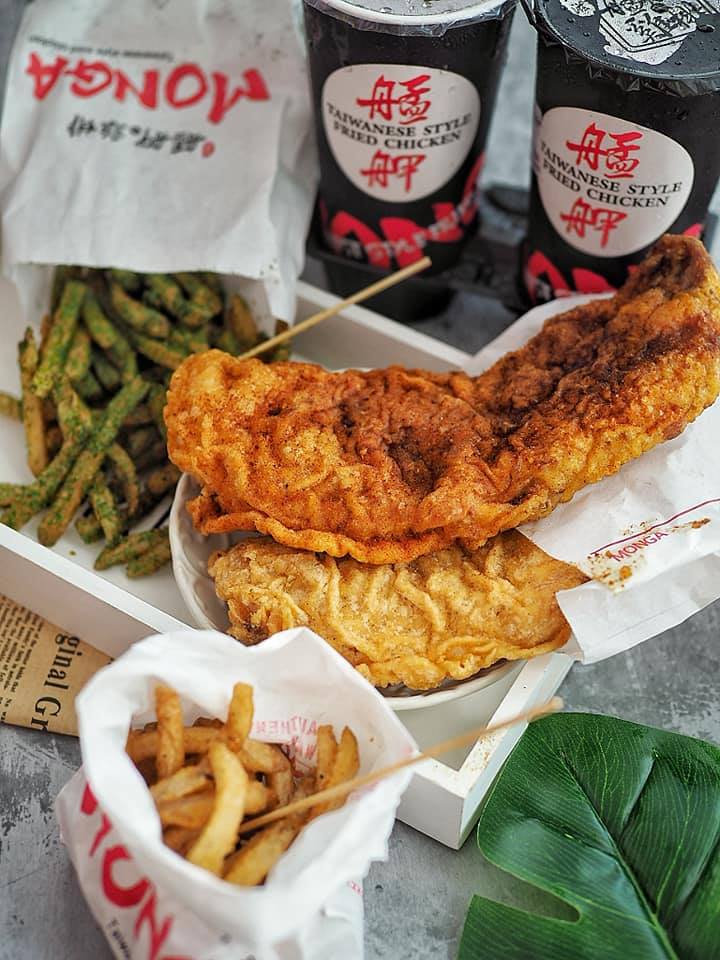 Source: Monga Fried Chicken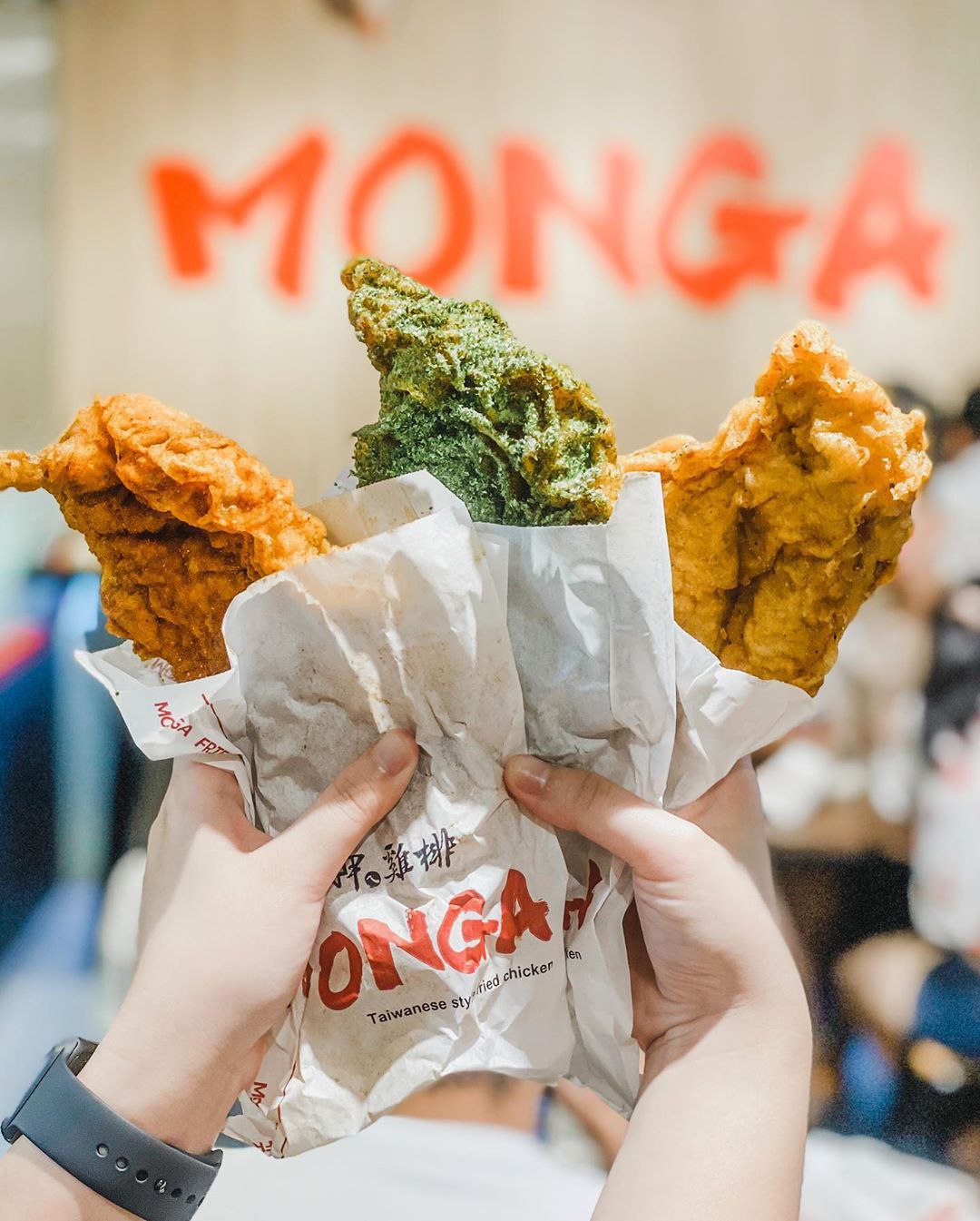 Source: Monga Fried Chicken
Hailing from Taiwan, Monga Fried Chicken ensures each chicken cutlet (at least 2cm thick) is fried to perfection and then sprinkled in its flavourful spices. They use honey to marinate the chicken which helps to tenderise the meat and enhance the overall taste. Pick from three yummy flavours at $6.90 each – The King (salt and pepper seasoning), Hot Chick (chilli paprika) and The Taiker (Japanese seaweed). Their outlets are located at SingPost Centre, JEM and ION Orchard,
ION Orchard, 2 Orchard Turn, #B4-62
S238801

For successful cashback tracking, sign in to meREWARDS and click 'Buy Now' in brands' pages. For more information on cashback, read here.