It is the time of the year again, when students belt out one patriotic song after another during morning assembly, and adults relish the much-needed additional day of rest. More importantly, National Day is a day for all Singaporeans to come together and be reminded of what it means to be a Singaporean.
If you are attending the NDP this 9th August, why not consider getting some of these National Day-inspired products to revel in the party atmosphere?
We round up some of the more interesting products that will let people identify you as a Singaporean faster than all the lahs, mehs and lors could.
1. The Great Singapore Workout T-Shirt, $31.90 - Wheniwasfour
Image: Wheniwasfour

Proud to be a Singaporean? Tell (or show) the world with this The Great Singapore Workout T-Shirt from Wheniwasfour. Wheniwasfour is a Singapore-based design studio and label that creates local-flavoured lifestyle products. They carry an extensive range of creative and interesting products, so be sure to check them out!
Get The Great Singapore Workout T-Shirt here
2. Duxton Road Tea Towel, $25 - Sayang From Su Yin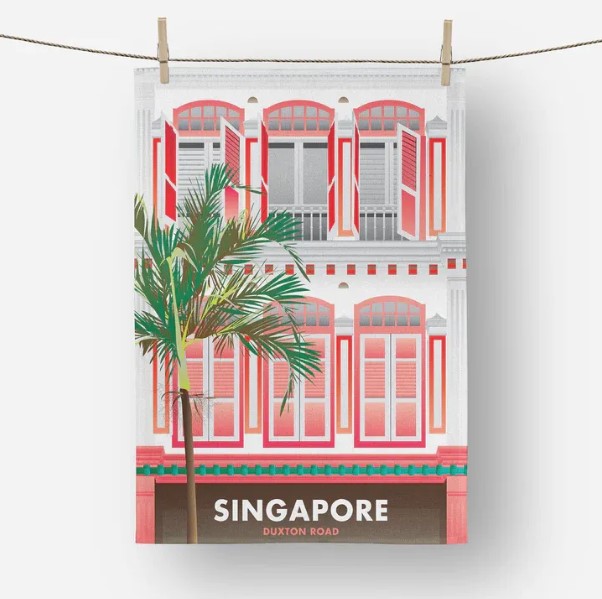 Image: Sayang From Su Yin
We all know how the NDP is going to be like - lots of singing and dancing under the evening sun and that means you'll also be sweating buckets. Even though this towel from Sayang From Su Yin is technically a tea towel, you can still use it to wipe yourself dry as it is made of cotton.
Get the Duxton Road Tea Towel here
3. National Day Foldable Tote Bag, $2.45 - OneDollarOnly.com.sg
Image: OneDollarOnly.com.sg
Who doesn't love these multi-use reusable tote bags? We carry them when we go shopping, to work, or even as a fashion accessory.
While this reusable bag from OneDollarOnly.com.sg might not be one dollar only, it is still pretty affordable and cheaper than most reusable tote bags sold in stores.
You can now proudly proclaim your love for your country while carrying all your barang barang with you.
Get the National Day reusable tote bag here
4. SG Merlion Sticker, $2.16 - Daiso
Image: Daiso Singapore
Name one phenomenon that can be witnessed across the globe, transcending culture and age. I'll go first - the pasting of stickers on laptops. We have all seen people working on their laptops decked out in more stickers than a sticker book at cafes and libraries. You can now join in this trend with these cute and affordable stickers from Daiso.
Grab them from your nearest Daiso outlet or via their online shop here
5. NDP Socks, $14 - Freshly Pressed Socks
Image: Freshly Pressed Socks
What is a National Day outfit without completing the look with matching socks? These super soft and stretchy knit crew socks from Freshly Pressed Socks shows that not only can you wear your heart on your sleeves, but on your socks as well. These socks are made from 65% combed cotton, 32% polyester, and 3% spandex for an extra stretchy fit.
6. Kids' I Love Singapore Merlion National Day Top, $12.90 - Little Kooma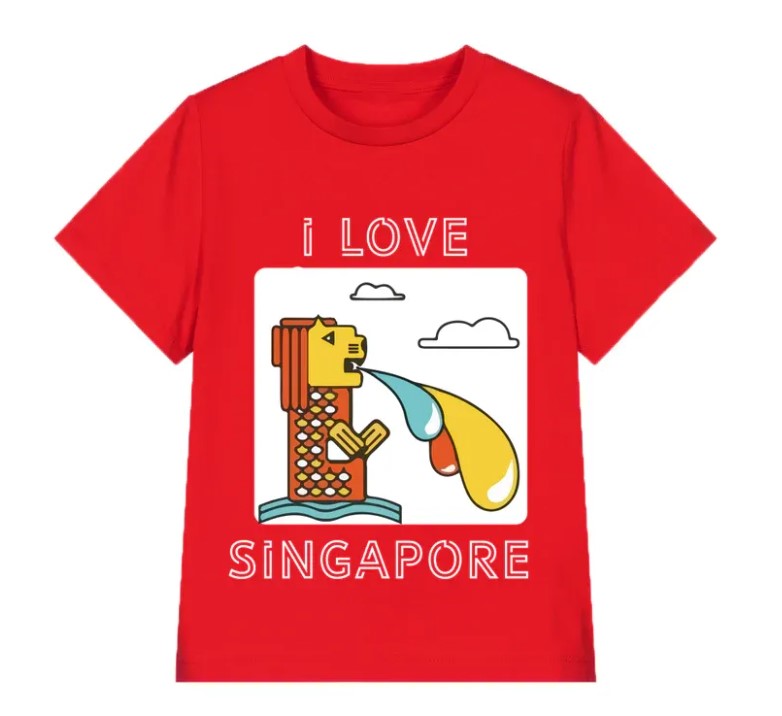 Image: Little Kooma
The fireworks should not be the only scene-stealer - little babies or kids dressed in cute, themed tops are bound to make anyone squeal. Dress you little ones in these NDP-themed tops from Little Kooma for the perfect family portrait at the Padang!
Get NDP-themed tops from Little Kooma here
7. Little Red Dot Drawstring Bag, $1.50 - Gift4Thot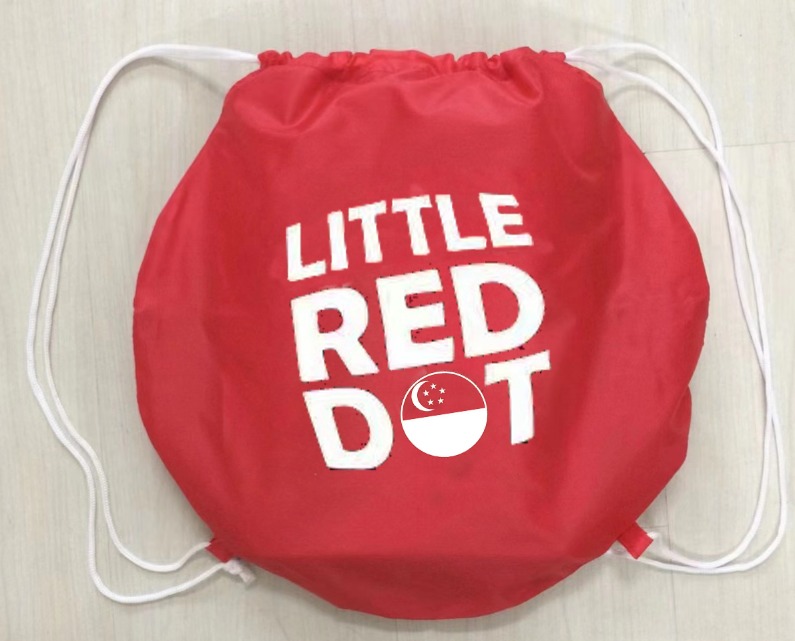 Image: Gift4Thot
Your free NDP 2023 goodie bag might not be big enough to fit all the items you'll be bringing to our nation's birthday party. At only $1.50 each, these drawstring bags from Gift4Thot are both affordable and eye-catching at the same time.
In addition, you can find many other NDP-themed items such as reuseable face masks, cheering clappers, and even document files at Gift4Thot.
8. NDP National Day Temporary Tattoo, from $0.20/piece - Gumtoo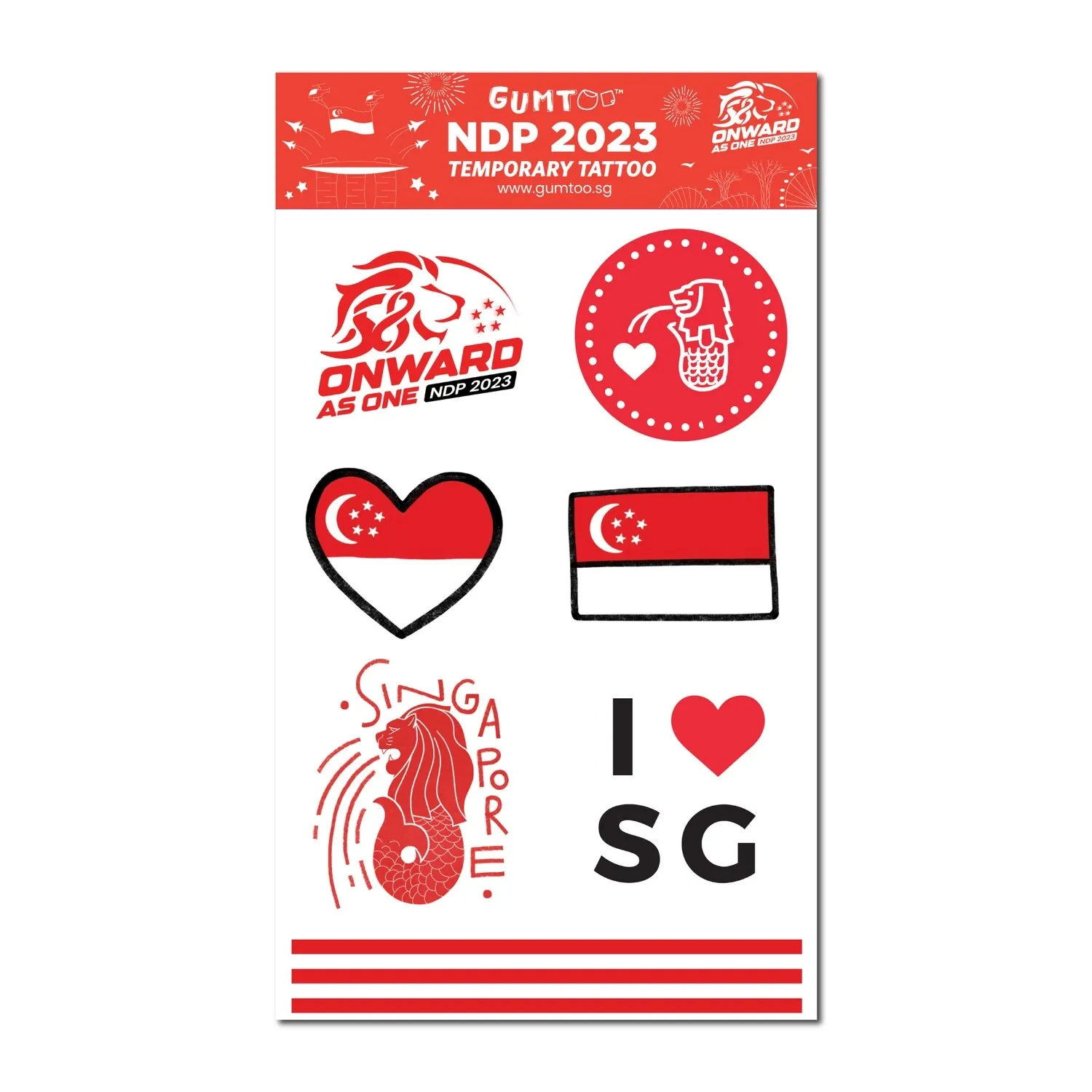 Image: Gumtoo
If decking yourself out in red and white from top to toe is not enough, you can consider getting these temporary tattoo stickers to showcase your fervent patriotism. These temporary tattoos are shipped out from Gumtoo, a local seller and it takes up to 8 days to arrive, according to their page. Make sure to order yours early to avoid disappointment!
Get NDP temporary tattoos here
Stay tuned to our page as we bring you more exclusive promotions this coming National Day. Above all, we would like to wish all our members a very Happy National Day! Majulah Singapura!
Check out more Shopping guides and tips here
For successful cashback tracking, sign in to merewards and click 'Buy Now' in brands' pages. For more information on cashback, read here.
Photo by Rogan Yeoh on Unsplash