We are truly living in unprecedented times and like everyone else, we are trying our best to cope with it. Although we are not allowed to visit our loved ones yet, you can send your love in the form of care packages. From health treats to delicious snacks and desserts, these goodies can help show your love and care during these trying times.
Here are our top 8 thoughtful care packages and gift ideas.
1. Happy Bunch
Source: Happy Bunch
Spark a little joy with Happy Bunch. Create bespoke care packages from Build a Kraft Box, Flower Care Box, or Build a Luxe Box. Select from a broad range of items you can add into your box such as Krakakoa Chocolate Bar, Treats Berry Hibiscus Tea, Fossa Chocolate Bar. Did we mention that they have Amazin' Graze's Sweet Chilli Nut Mix too? We love a healthy snack! Add a personal touch with a handwritten message to make it extra special.
Shop Happy Bunch here and care package starts from $15 onwards.
2. Eu Yan Sang
Source: Eu Yan Sang
For all traditional Chinese medicine, look no further than the esteemed Eu Yan Sang. Here, they have curated close to 30 products, tonics, and supplements for your immunity boost selection. You can also personalize gifts by selecting the items you want, and they'll beautifully wrap them for you and deliver to that special someone.
Shop Eu Yang Sang here and care package starts from $25.90 onwards.
Read: 10 best food for a stronger and healthier immune system
3. Matchaya
Source: Matchaya
If your loved ones can't get enough of matcha, send them some Matchaya. The team behind this humble joint is passionate about matcha and is committed to retaining the quality and authenticity of this artisanal ingredient that hails from Japan. A curated care package 'A Tea Gathering for 2 + Warabi Mochi' is the ideal tea time snack. If you'd just like their beverages, try the 'A Tea Gathering for 2'. They also have an ongoing promo for food, where you'll get 1 free main for every 3 mains purchased. For an extra lovin', add on the Uji Matcha Soft Serve Tub (from $14.90).
Shop Matchaya here and care package starts from $13 onwards.
4. Konditori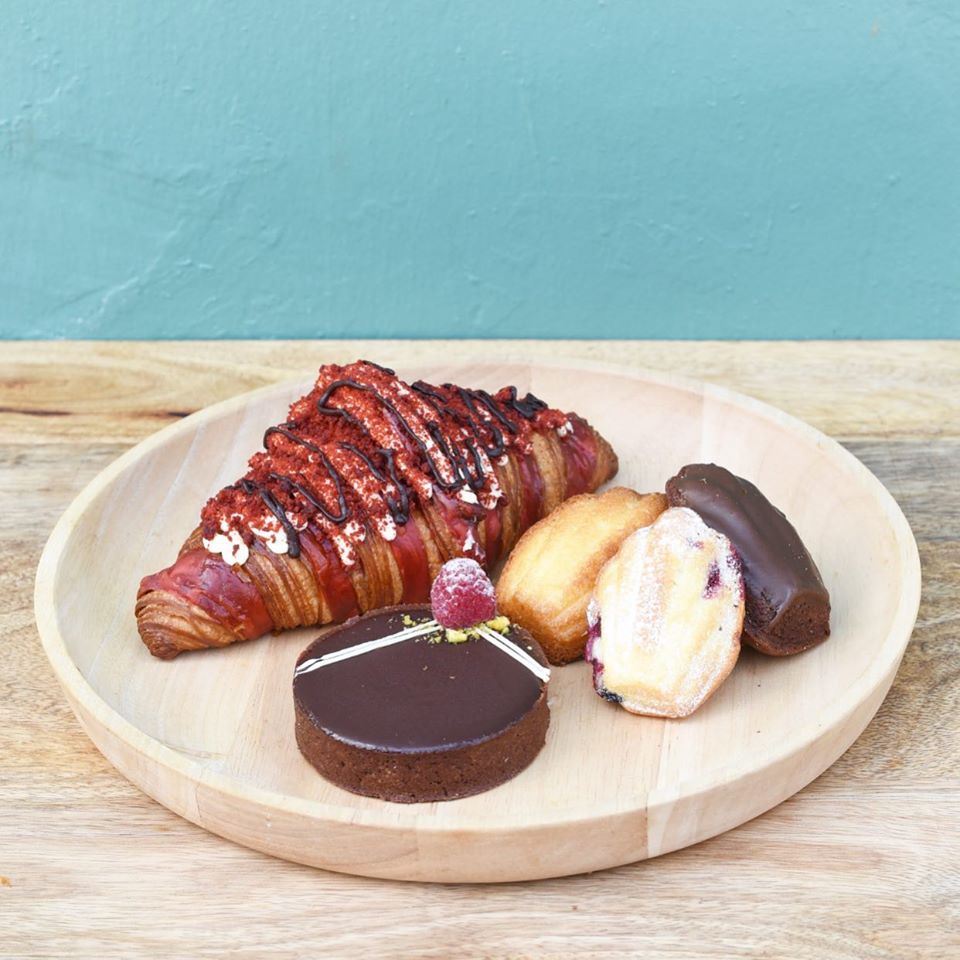 Source: Konditori
Opened by the good folks behind Fika Swedish and Bistro, Konditori is their bakery joint located in bustling Kampong Glam. Show some love to your friends and family with their care package that comes with delicious bakes in a woven basket. Included is an assortment of freshly baked bread, with a handwritten note for an extra touch. If you want to opt for pastries, choose the Box of Treats instead. Do note that you need to order 2 days in advance.
Shop Konditori here and care package is fixed at $65.
Read: How to stay active and keep fit while working from home
5. Pantler
If you're working in the Central Business District (CBD), you've chanced upon Pantler. A quaint bakery café nestled at Telok Ayer Street. Build a work-from-home care package from an array of delicious bakes. Take your pick from their top sellers such as their signature Yatsura, Pantler Cheesecake and Strawberry Shortcake. For tarts, we strongly recommend the Fig Tart and Apple Tart which are just sublime. Enter promo code 'WFHFD' to enjoy free delivery!
Shop Pantler here and care package is fixed at $50.
6. Fossa Chocolate
Source: Fossa Chocolate
Get chocolate wasted with our local chocolate brand, Fossa Chocolate. Tastefully packed, their Chocolate Snack Box #4 will help you or your loved ones tide through this time. Each box contains a variety of items such as artisanal chocolate bars, pecan cookies, and a jar of Crema Al Pistachio spread, make-your-own drinking chocolate set, and many more. Other care packages they offer are Work from Home, Stay Home, and a Father's Day Kit.

Shop Fossa Chocolate here and care package starts from $56 onwards.
7. The Rare Honey Company
Rich in antioxidant properties, getting honey for your loved ones can't be more apt during times like this. The honey produced by The Rare Honey Company is 100% raw unprocessed so you'll get the full natural quality. A gift box includes TA10+ range of Redgum honey, Coast Wildflower, Creamed Karri and Jarrah Honey.
Shop The Rare Honey Company here and the care package is fixed at $48.
Read: 5 important tips if you are working from home
8. Paris Baguette
Go crazy over bread with Paris Baguette because they recently launched PB Bread Boxes, where you can select 10 yummy pieces of bread for just $25. Yes, your favourites such as the Honey Gorgonzola Cheese Bread, Crumbly Peanut Soboro Bread, and Golden Cheese Ring are available for delivery. Show some extra lovin' with their famous Royal Pudding ($27.60 for six bottles). If you're looking for a virtual birthday celebration, their finger-lickin' cakes are also available. We recommend the Chocolate Mudpie for maximum gratification.
Shop Paris Baguette here and care package is fixed at $25.
Read: How to reduce stress in 10 minutes
9. In Bad Company
Source: In Bad Company
Crack open a bottle (virtually) over Zoom and have a good time! Who said video conferencing apps are just meant for work? Have a good time with your loved ones and ride through these tough times together. Surprise them with In Bad Company Mystery Pack of 4 or 8, which the team will choose for you. A true surprise indeed!
Shop In Bad Company here and care package starts from $45 onwards.
10. LAIBA
Source: LAIBA
Craving for a good cocktail? Look no further than LAIBA. Created by award-winning Michael Chen, brings the bar to you and your loved ones with their bottled cocktails. Order the LAIBA Tasting Set that has 7 cocktail flavours such as In Love with Rosemary, Cold Brew Martini, LAIBA Sour, and Passion De-Light. Or opt for The Gentleman's Pack for your homies, and get 2 bottles each of Cold Brew Martini, Earl's Old Fashion and Twisted Negroni.
Shop LAIBA here and care package starts from $75 onwards.
Do note that prices stated above are accurate at the time of publishing. For successful cashback tracking, sign in to meREWARDS and click 'Buy Now' in brands' pages. For more information on cashback, read here.